Santa's Pumpkins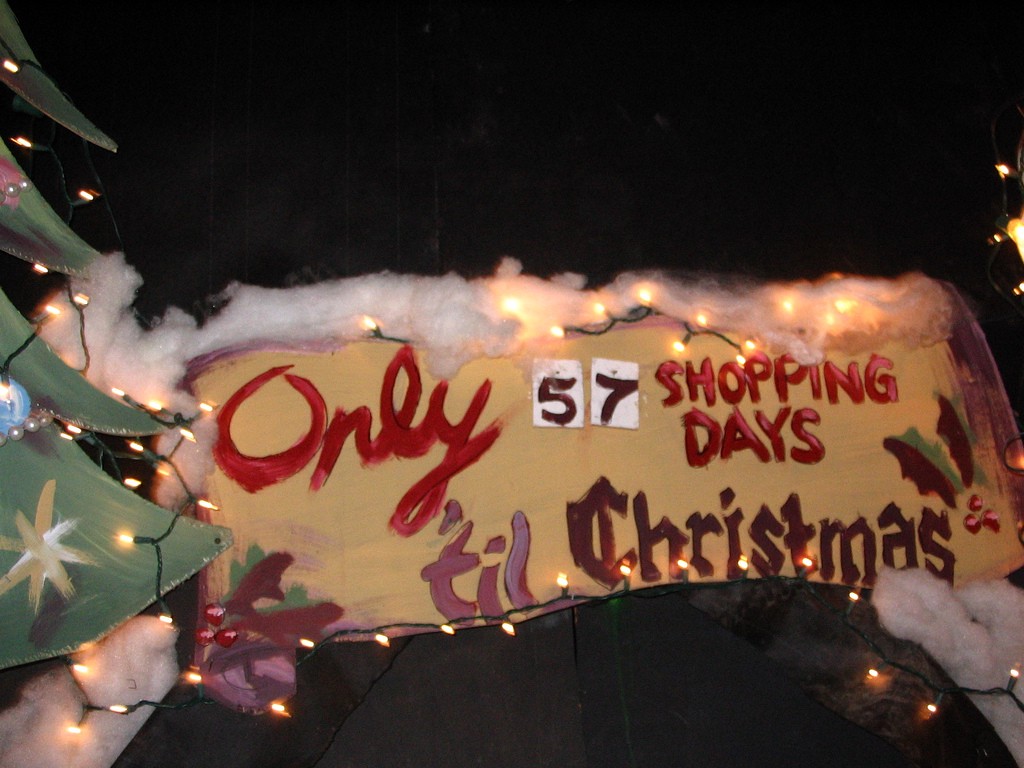 It is the beginning of October, with a hint of fall in the air, so it's time to start Christmas shopping. Too early? Not hardly. In late September, QVC started featuring Christmas trees. Many stores have Santa displays next to skulls and pumpkins. What better time to start on that Christmas list than when the store shelves are all stocked and the weather is pleasant?
Starting Christmas shopping in October is cost effective. Instead of being faced with a big bill at the beginning of January, you can take almost three months to pay for the holidays. That way, you will have money left to buy nice gifts for those of us with post-holiday birthdays, instead of regifting us with your Yuletime rejects. Some people think that it's best to start shopping for next Christmas on December 26. I don't like that logic any more than I like going to thrift stores the day after a 50% off sale — I don't like picked over crap. Sure, it's dirt cheap after Christmas, but there usually a reason why it's still there. Also, those of us who live in tiny apartments don't have the space to store stuff for 364 days. Just stocking up on clearance ornaments alone can quickly become overwhelming.
But I can live with just about anything for a few months. First, make a list of the people who you really want to buy presents for, not those who you have to gift because of social conventions or family obligations. You will enjoy spending time finding the perfect gift for these people, as you know that they will appreciate the time and effort that you took on their behalf. For years, one of my longtime friends and I have exchanged fun astronomical-themed gifts. When I went to the Griffith Observatory a month ago, I saw a lot of things that would put a smile on her face. But I didn't have the funds with me to buy anything. I checked the website, but they don't offer the same merchandise. I plan to schedule a weekday trip to Los Angeles so I can shop in peace, away from holiday weekend crowds. Does traveling to purchase gifts seem a little extreme? When you have several months to buy gifts, it doesn't seem so bad.
A few months ago, my best friend lost her favorite jacket, a trucker-style leather one that she found at a thrift store five years ago. Maybe if I hit up the local thrift stores every weekend, I can find a replacement. Most thrift stores have big sales on holidays. Between now and Christmas, there is Columbus Day, Halloween, Veterans' Day, and Thanksgiving — potential sale days at Thrift Town and Goodwill. Thankfully, I have a few other friends who would not scoff at a "gently used" present.
Books, electronics, and toys are popular gifts. Many books come out during the holiday season to entice buyers. If a friend or family member has a favorite author, look up their publisher to see if a new book is coming out soon. Some readers love being one of the first to get their hands on a new release. Most books can be preordered on websites, and many independent bookstores have websites these days. The trend forecasters already know what the hot electronic gadgets and toys will be for this holiday. Do a little research and get them first. If it's a pricey item, investigate getting more time to pay for it, but try to pay it off early. But even if you don't, you will have half of a six-month payment plan paid off by the start of the New Year.
Don't be afraid to pick up that cute Santa figurine next to the pumpkin. As new items come in, get the holiday decorations that you love, not the ones that are left. Early shopping gives you the best selection. I wouldn't advise putting them up until after Halloween, but that's your call. Last year, even though I didn't put up a tree, I decorated my apartment with some of my favorite ornaments. Do you have a friend or relative who loves vintage ornaments, trappings that remind them of their childhood? Start scouring garage sales, estate sales, fall rummage sales, and holiday sales sponsored by non-profits now, while the weather is still good and people are getting rid of the old to make room for the new.
Around this time of year, museums, concert halls, and other venues announce some of their events for the next year. If your friend's favorite pianist is playing nearby in April, now is the time to get tickets. Even though it may not seem like a great Christmas present, anticipating and enjoying a play or opening months from now will keep you in the thoughts of your recipient. Maybe Hamilton or the new National Museum of African American History and Culture in Washington, DC is on their wish list. Sometimes the tickets are free, but there is a long wait list or it is a timely event like a Presidential Inauguration. Getting a friend on the list to see an exclusive event can be a great gift (and maybe you can go too).
And of course, there are those gifts that you are obligated to purchase. Even if you aren't crazy about your boss or your mother-in-law, you are sure to find something nice for them in the next two months. Most people collect something, and if you find out what they like, you can be on the lookout for the perfect gift. Just make sure that they would welcome additions to the collection. I have a friend with a kitchen full of cow things and she doesn't even like cows. One bovine gift from a friend made everyone who visited her home assume that she collected cows. I have a pig collection (for obvious reasons), but most of my pig items are in storage because I don't have the room to display them. If they don't have a collection, find out their interests — such as a favorite sports team, movie/television franchise, or music genre.
I'm going to start making a list and setting aside space in my only closet for Christmas gifts and holiday items. It will be fun collecting things for the next two months and seeing the delight on the faces of my friends and relatives. It will be even more fun not to be broke after the holidays — especially since I have a January birthday extravaganza to plan. Remember, even Santa didn't make all of that stuff in one night! Put down that Halloween pumpkin and start planning now for a holly, jolly, stress-free Christmas!
Financial Graffiti is a column about middle age monetary misadventures — with a beat.
---
Support The Billfold
The Billfold continues to exist thanks to support from our readers. Help us continue to do our work by making a monthly pledge on Patreon or a one-time-only contribution through PayPal.