Getting Clear on Clearance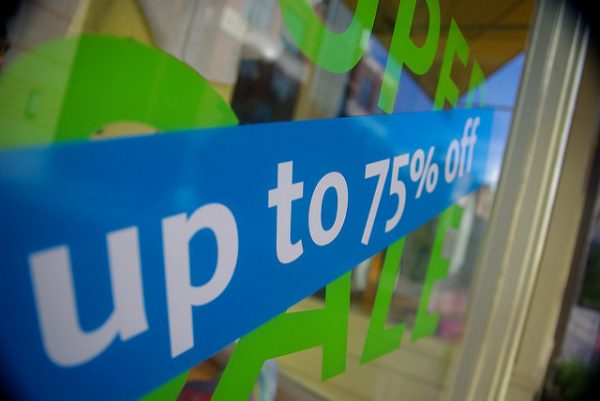 I love clearance sales, whether for Black Friday, After-Christmas, End-of-Season, or any other time when it moving a lot of merchandise is paramount. But to me, a clearance sale isn't worth its red tag unless the savings are HUGE.
When it comes to clothes and accessories, I look for the label. Designers or brand names that I couldn't afford at full price are what makes my heart beat faster at a sale. In November, I missed most of the Black Friday sales due to illness and lack of funds, but I did go to the Nordstrom Rack in a nearby town on Saturday. Instead of the usual 25 percent off clearance sale, during this weekend, all clearance items were 30 percent off. The clothes were picked over, but I found a few deals in the shoe department. I had been looking for some nice black leather flats that did not display toe cleavage. I found a pair of Gentle Souls by Kenneth Cole flats with a high vamp. The only catch was that at there was a fake feather pom-pom at the vamp, making them even vampier. But with a leather upper and leather lining, I knew that I wasn't passing these ones up. The original price was $139.95, but the clearance tag boasted that they were now $34.99, a 74 percent savings. With the 30 percent additional reduction, these beauties were now $24.49. I couldn't wait for the comments of my co-workers when I showed up in the office with feathers on my feet.
My other shoes were even a better bargain. The silver flats were originally $139.99, but my take home price was $8.39. After finding a $118 Rebecca Minkoff scarf for $9.97, I thought I was done. But on the way home, I had to stop by the Sacramento Nordstrom Rack. The gold Liebeskind Berlin bag that had been originally $278 was mine for $48.99, less than I would have spent on a used one at a secondhand store. My After-Thanksgiving shopping was compliete.
Post-holiday clearances are usually even better — but beware of stores that put out special "clearance" items after the holidays. In 1987, I was in London for the big Harrods sale. All through the holidays, I was mentally listing things that I wanted to buy when the sale started. When I fought through the crowds and entered the store on Sale Day, it looked like a different store. The merchandise on the shelves was unfamiliar. Even the iconic Harrods carryalls were different. Don't get caught up in the clearance frenzy, buying things that you will never actually wear or use once your return home. During that same week in London, I bought an ankle-length fake fur leopard coat that looked like a long bathrobe when I brought it back to the States.
The best after-Christmas sales are on lotions and fragrances, especially gift sets. Unlike carryalls, these items can't be stored away for next year. Gift sets in holiday boxes can be had for at least half-price after the holidays. If you have been wanting to try that expensive moisturizer or perfume, the smaller size that is usually found in gift sets will give you a chance to test it out without reducing your bank account along with your wrinkles.
My favorite sale is the Bath and Body Works Semi-Annual Sale. I love their holiday vanilla scent and I try to get enough scented liquid soap to equip my bathroom sink for the next twelve months. I also love the scented lotion, but apparently it is scooped up by other fans on December 26. When I went to my closest store a day later, there wasn't a tube to be found. A week later, I went to Las Vegas and after searching in three different branches, I found some in the store in the Forum Shops. But since I didn't want to have my checked bags weighed down by vanilla, I only bought one tube. When I went to another shopping mall in Las Vegas, I saw almost everyone carrying a Victoria's Secret bag. It must be semi-annual sale time for them too.
Mid-January to early February is the favorite time for hardcore clearance fans. The selection might be limited, but the savings can be huge. For those of us who like the weird, unusual fashions that may be harder to sell, even at Christmas, now is the time to scour the racks and shelves for something fun and unique.  In January, I went to a Nordstrom Rack store in a nearby town, where I got a pink, green, and blue python print leather Hobo bag for $23.99. The bag originally sold for $248, a 90 percent savings. That is the kind of bargain tale that I proudly share with friends, even if they couldn't care less.
End of season sales, liquidation sales, and even going out of business sales are the best places to find new things while trying to pinch that proverbial penny. Many times the sales are final, so make sure that one-of-a-kind item is one that you will truly cherish. But decide quickly, because once it's gone, it's gone and another bargain shopper might be eying that same deal.  Last year, I got a $400 Marc Jacobs bag for $50 because I refused to let go of the bag while I waited to for a salesperson to unlock it. Happy shopping! And stay safe out there — clearance shopping is not for the faint of heart.
Beatrice M. Hogg is a coal-miner's daughter and freelance writer who was raised in Western Pennsylvania and has lived in Northern California for twenty-five years, where she wrote her novel, Three Chords One Song, and continues to write about music and life in general.
Photo credit: Charleston's TheDigitel, CC BY 2.0.
---
Support The Billfold
The Billfold continues to exist thanks to support from our readers. Help us continue to do our work by making a monthly pledge on Patreon or a one-time-only contribution through PayPal.