On the Benefits of Escaping Family and Going to Europe for Thanksgiving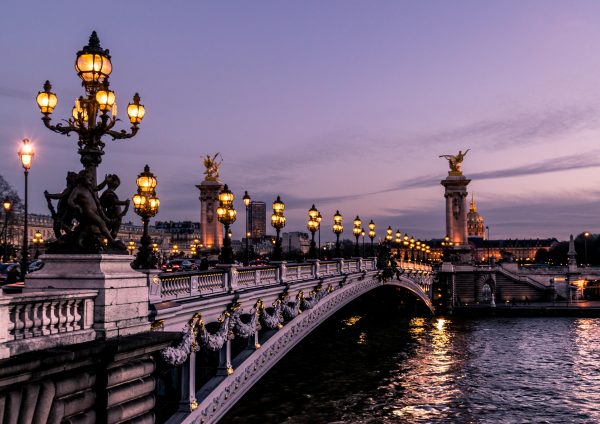 Last Thanksgiving I took a secret trip to London and Paris. You see, within the last few years I've learned that my mother is a narcissist, and while I love her, I've had to re-evaluate the time I spent with her. Holidays left me feeling emotionally decimated, and the more I learned about her personality disorder, the more empowered I felt to set boundaries that would keep me from ending up in her crossfire. So last year I fled the country without telling my family and had the time of my life.
The year prior, I had opted out of my family's Thanksgiving and had gone to dinner with a friend's family. They were lovely and Midwestern, and we drank mulled wine and sang songs around the piano. I got a repeat invitation the following year, but I was at a point in therapy where I was mourning the loss of the family that I wanted but didn't have, and I didn't think I could be around a real life Norman Rockwell painting while I was processing those feelings. I didn't want to mope around New York City alone either, so I started to look into the possibility of traveling.
It is very expensive to travel within the United States over Thanksgiving, but it turns out that flying to Europe is super-cheap because Thanksgiving has no meaning over there. I got a roundtrip, multi-city ticket from New York to London and then Paris to New York, for just $438. For comparison, it would cost over $500 to travel from New York to Chicago. We should all just go to Europe for Thanksgiving, always, right?
Despite the cheap airfare, I still felt guilty about opting out of the holiday with my family. The fun part about having a narcissistic parent is that even though you know that they're incapable of being the loving parent that you need them to be, a lot of the time you still feel like it's your shortcoming and not theirs. I didn't dare tell my mother about my trip because while not coming back to visit was one thing, taking control of my own Thanksgiving plans was something else entirely.
After booking plane tickets, the next order of business was finding accommodations. I found a bed and breakfast in London for $70 a night and an Airbnb in Paris for $63 a night. Easy peasy. I thought about what would happen if I shared my plans with my mother and shuddered. She doesn't understand why I want to travel, and whenever I do let her know about a trip, she offers helpful advice like "Be careful because everybody is out to get you" and warns me that "You probably won't have any fun anyway." Even though I had feelings of unease about making secret holiday plans, I was starting to get excited about finally taking a trip that my mother wouldn't have a chance to dump on.
Right before the trip, I turned all of my social media settings to private because I know that my mother likes to snoop on these accounts. A few friends and co-workers knew about my trip, but no one who might spill the beans. I knew I'd miss the quick dopamine hit of a rush of strangers' likes after an instagram of Big Ben or the Seine, but I'd do what I had to to keep my trip on the DL.
Any lingering hesitation over the trip vanished as soon I stepped foot into the Air France lounge at JFK. (FYI — my Chase Sapphire Reserve card has been entirely worth it, if for nothing more than the sweet lounge benefit. It makes me feel so much fancier than I actually am.) As I sipped champagne and watched planes taking off down the runway, I truly felt like I was off on an adventure. Instead of feeling the dread of heading off to a family Thanksgiving or having had someone rain on my parade before an impending trip, I could feel unadulterated excitement about crossing the pond.
Once I got to London and Paris, I struck the perfect balance of frugal and adventurous. I quickly familiarized myself with the local shops and markets, but allowed myself the opportunity for a bit of indulgence at dinnertime. In London I was able to score a cheap partial-view ticket for a friend's show at the Royal Shakespeare Company, and I took advantage of the many free museums. I made myself comfortable at the coffee shop and pub near my bed and breakfast and, even though I was away from home, still felt like part of the neighborhood. In Paris I ate my weight in baguettes, and on Thanksgiving I took a wine tasting class that totally upped my wine-drinking game. I ate raclette on a restaurant barge with friends and used my broken Duolingo French to order a rotisserie chicken from a butcher, which I proceeded to eat with my hands alone in my Airbnb kitchen. I was nourished in both stomach and spirit.
This year I'm in a healthy emotional place where I can accept the Thanksgiving invitation from the Norman Rockwell painting family, but I am still a believer in opting out of the holiday if you have to. Having a less-than-perfect relationship with your family can seem like a taboo, but it's more common than most people think. You don't necessarily have to leave the country (though I'd highly recommend it), but find a way to spend the day that isn't going to leave you feeling like you've been sucked dry by an emotional vampire. It's natural that you may feel a bit of sadness or loss, but find a way to fill the holiday with things that you love. Like an assortment of French wines.
Anonymous is a writer and healthcare analyst who lives in New York City. She'd like to thank the Raised by Narcissists Reddit forum and Le Derniere Gouette for getting her through last year's Thanksgiving.
Photo by Léonard Cotte on Unsplash.
---
Support The Billfold
The Billfold continues to exist thanks to support from our readers. Help us continue to do our work by making a monthly pledge on Patreon or a one-time-only contribution through PayPal.