Billfold Book Review: 'Pogue's Basics: Money'
If you've got a lot of time, you can save a little money.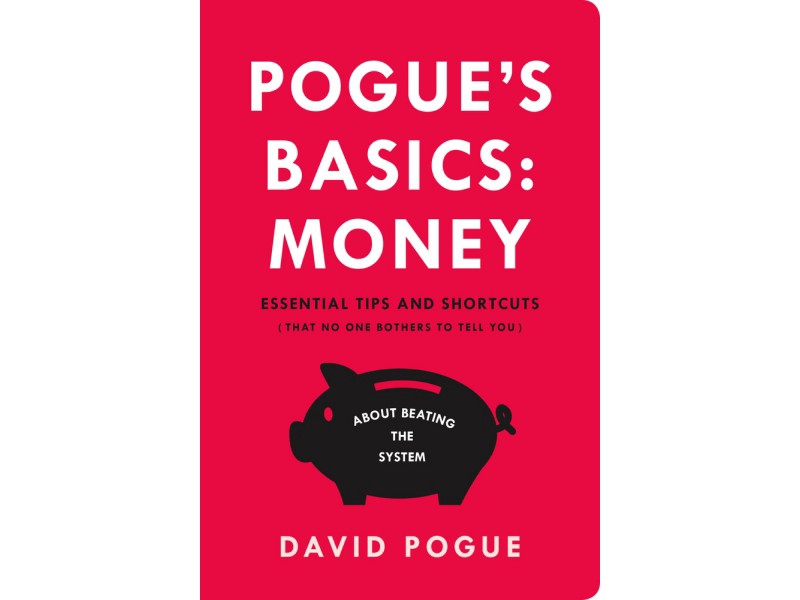 If you're looking for a last-minute stocking stuffer and/or a holiday present for the type of person who doesn't want stuff because they're lifehacking themselves towards minimalistic joy, you might want to consider David Pogue's new book: Pogue's Basics: Money.
Or you might want to tell that person to read The Billfold instead. Write it up on a fancy card and stuff the card into the stocking! The Billfold is free and it won't sit in the middle of your living room next to a pile of discarded wrapping paper while you try to figure out where to put it!
There's a lot to like about Pogue's Basics: Money, but the thing I most dislike about it is stamped across its cover: "Essential tips and shortcuts (that no one bothers to tell you)."
Really? No one has ever mentioned that there are websites where you can buy discounted gift cards?
My Discount Gift Cards, Myself
Nobody's ever suggested earning extra cash by renting a room on Airbnb?
Airbnb and the Promise of the Spare Bedroom
Nobody's suggested that you could save $1 by getting a free donut on National Donut Day?
Free Donuts For All! Except Connecticut
The "you could save $1" part is important, because Pogue ends each of his tips with a dollar figure. Getting a free donut will save you $1, blowdrying your disposable razors after every shave will save you $175 per year, and if you follow every tip in the book you could save $61,000.
And, to be fair, there are a lot of tips in this book that I had never heard of. I used to make my disposable razors last longer by sharpening them on my jeans, and now I know that I can blowdry them instead—but these are the kinds of tips that, like many financial lifehacks, eat up as much time as they save you money.
The thing The Billfold does really well, the thing I'd consider one of the top five reasons why this site is important, is that we take the step after "did you know you can save money with discounted gift card sites?" We put the tips into action and tell you what we learned.
Here's what Abigail Welhouse learned about discounted gift cards:
The Panera app wouldn't let me add a gift card as a method of payment, so I dutifully printed my gift card according to the instructions. I showed the printout to the store associate. She scanned the barcode. It didn't scan. There was no music playing in the store, so it was eerily silent except for the clicking of keys as she manually entered the long barcode. I felt terrible that I had inconvenienced her, and self-conscious that someone else had just gotten in line.
When I got a discount gift card to CVS, the barcode didn't scan there, either. Depending on who was working, sometimes they would type it in, and sometimes I would type it in. Every time, I felt like a nuisance.
But she also learned this:
I think the smartest and easiest way to use gift card brokers is to check to see if there are deals when you're already shopping online. For example, you see that a website is having a 30 percent off sale, and you add $50 worth of clothes to your cart. You search for a $50 discount gift card, and find one that costs you $40. You save money, and you avoid carrying around wrinkly pieces of paper that you can lose in library books — plus, you don't have to inconvenience anyone but yourself.
That's the kind of financial writing that really interests me, which is probably why I was less interested in Pogue's Basics: Money.
But it's a good option for someone who is very new to the idea of lifehacking and saving money, as long as you write the following inscription on the inside cover:
Dear Friend or Family Member,
Once you finish this book, make sure to visit The Billfold.com.
---
Support The Billfold
The Billfold continues to exist thanks to support from our readers. Help us continue to do our work by making a monthly pledge on Patreon or a one-time-only contribution through PayPal.