Show Us Your Grocery Receipts, Part 5: Peapod, Harris Teeter, Fred Meyer
Show Us Your Grocery Receipts, Part Five: Peapod, Harris Teeter, Fred Meyer
Today, we'll look at three grocery receipts that appear very different at first glance, but might all contain the same key data point.
Receipt #1: Peapod in Boston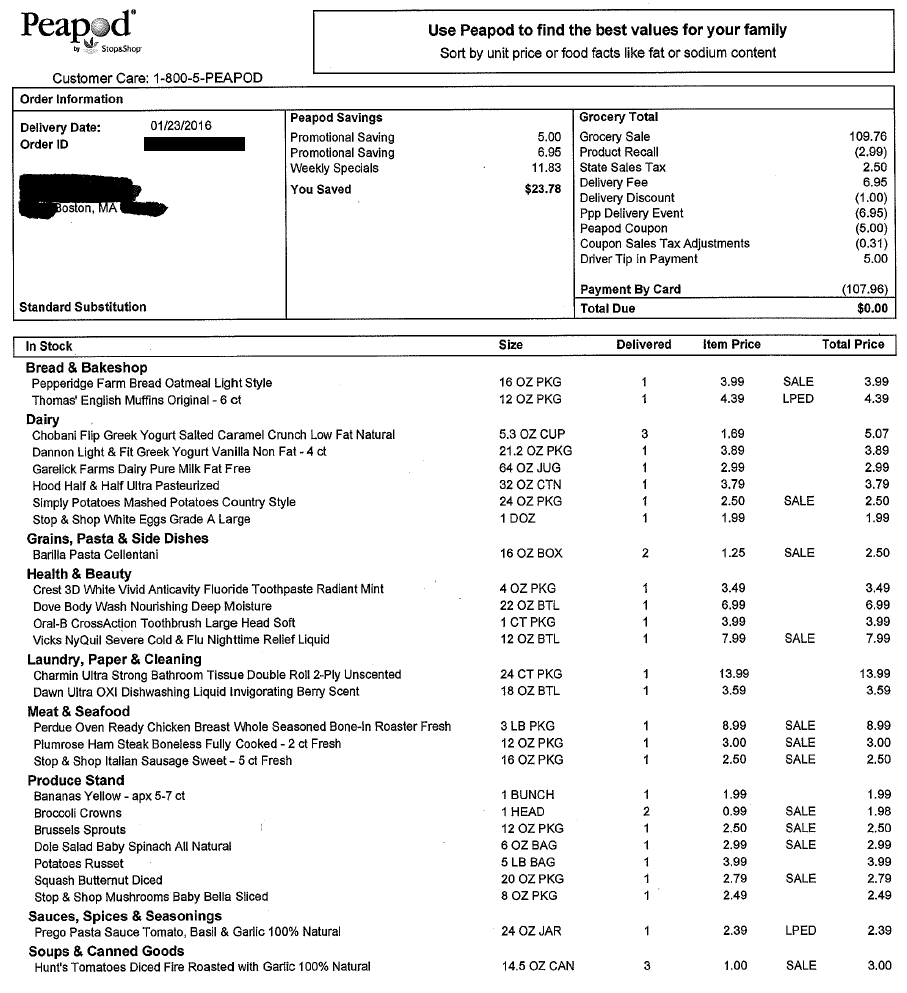 Billfolder PicNicole writes:
I don't drive so I do larger orders via Peapod every 2–3 weeks. The delivery fee if your order is over $100 is $6.95 and I almost always get emails for free delivery or $5 off, etc.
On this particular order, there are a couple coupons in the top right — I had $1 off because of the delivery time, $6.95 off because they had a promo that if I spent $30 on a certain category of products I would get free delivery, and I had a $5 peapod coupon in my email. The $6.95 off is why the Health & Beauty & Laundry/Paper/Cleaning purchases are on this receipt; I typically wouldn't get any these from Peapod with the exception of the giant pack of toilet paper.
I usually supplement produce/fruit between orders. I don't like to buy a ton of perishables unless I'm going to use them up/cook them in the first few days because it ends up being a huge waste (if something enters my freezer it never gets thawed/used. My brain just won't process how that works for some reason).
For this particular order: the chicken I roasted on Sunday and had for dinner, then cut up into five work lunches for the week (with the brussels sprouts, squash, broccoli, mashed potatoes).
The sausage I removed from the casing and cooked on Monday with mushrooms, onions, garlic, and the Hunt's diced tomatoes and made a sauce that I had with pasta with the BF and then as leftovers maybe three other nights.
One of the ham pieces I ate with roasted veg and the other I cut up into a frittata with spinach and broccoli that I had as dinner four-ish nights with roasted russet potatoes.
I also usually plan knowing I'll eat dinner out once a week so I think the above got me through maybe nine nights, plus two dinners out, plus one or two nights of having an egg on an english muffin or a grilled cheese & soup, etc. It comes out to about two weeks.
Receipt #2: Harris Teeter in Durham, NC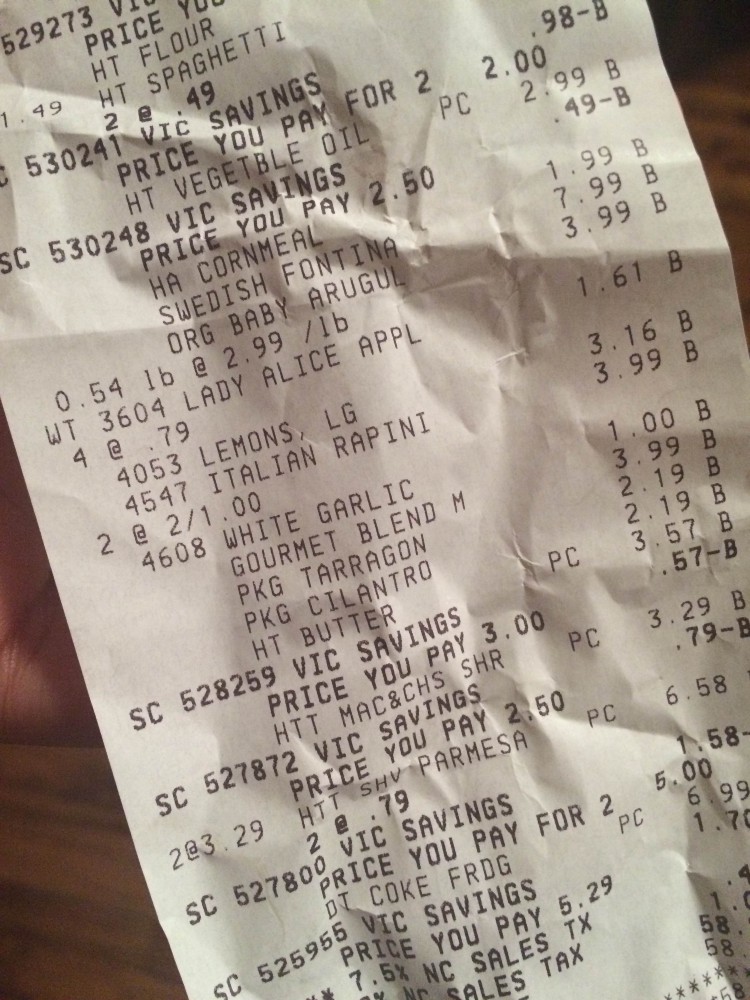 An anonymous Billfolder explains:
My wife and I live in Durham NC, and our main grocery store is Harris Teeter. We cook the vast majority of our meals and eat a lot of leftovers. We try to shop as many bargains as we can, which is why you see several VIC (Very Important Customer) SAVINGS on here.
This week we had one splurge (Swedish fontina for a spaghetti pie), and we usually try to restrict our recipe splurges to once every few weeks. We've also started buying meat at the farmer's market or local butcher's, so we can support local farms and cruelty-free farming. That's typically more expensive, so we're eating less meat overall.
This week's total grocery bill wound up at $65 — not too bad for two people's breakfasts, lunches, and dinners all week!
When I look at receipts #1 and #2, the big difference is that receipt #1 includes $40.04 of household supplies and toiletries. Subtract that out, and both receipts come to a little over $60—or $30 per person per week.
Receipt #3: Fred Meyer in Seattle
This receipt is from Billfolder Ruzielle Ganuelas, and yes, it is the same Fred Meyer at which her boyfriend Lukas bought a her a ring:
(I should visit this Fred Meyer, because it sounds amazing.)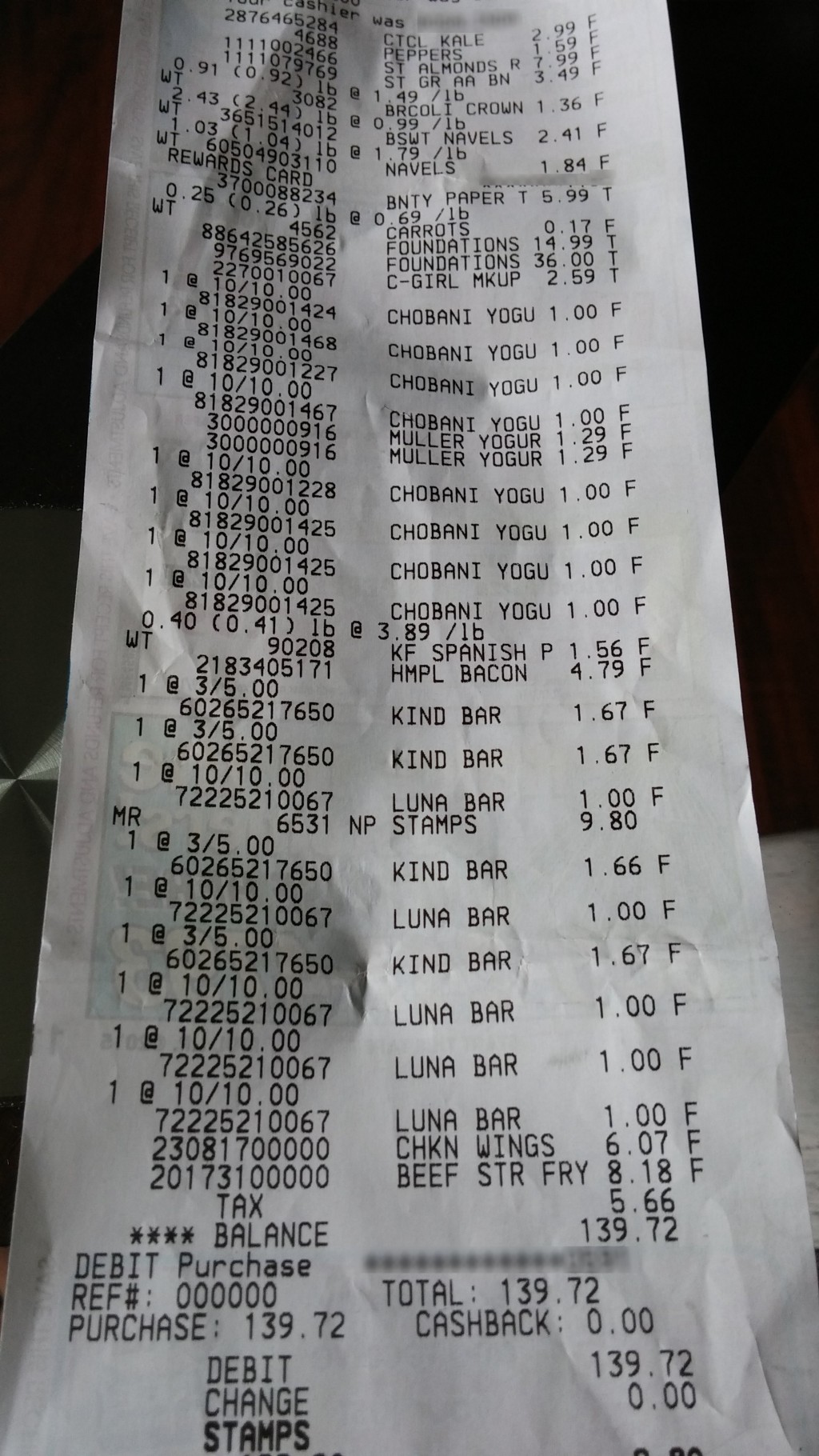 Here's what Ruzielle writes about her groceries:
This is a bigger than usual list just because I was by myself. If I was with Lukas, I would have spent less because he doesn't like to window shop too much at Fred Meyer's, which I tend to do.
I have a severe dairy allergy but Lukas eats about two yogurt cups a day for protein. I eat Luna bars as a snack. The "foundations" are bras, and I just returned the $14.99 one.
I get low blood sugar so I try to eat mostly produce and meats. "KF Spanish" are salted peanuts which I love to eat when lunch or dinner is not quite ready.
We eat at home six days a week and this is a fairly typical list for us: meat, nuts, produce, yogurt, and Luna bars.
This grocery list looks like it will cover about one week of food (Ruzielle mentioned eating at home six days a week, and I also counted the yogurt cups), and—when you subtract out the toiletries and the "foundations"—also comes to a little over $60.
So, a rough summary:
Receipt #1, $60 in food for one person (and occasional boyfriend) for two weeks
Receipt #2, $60 in food for two people for one week
Receipt #3, $60 in food for two people for one week
Does this "$30 per person per week" idea hold up with your own groceries? I know that there is other spending going on, like the weekly dinner out or the idea that they'll all combine these groceries with previously purchased food, but it's still an interesting piece of data.
Previously: Show Us Your Grocery Receipts, Part Four: Trader Joe's, Sprouts, and Target
---
Support The Billfold
The Billfold continues to exist thanks to support from our readers. Help us continue to do our work by making a monthly pledge on Patreon or a one-time-only contribution through PayPal.