What I Wore to Work From Home (and How Much it Cost Me)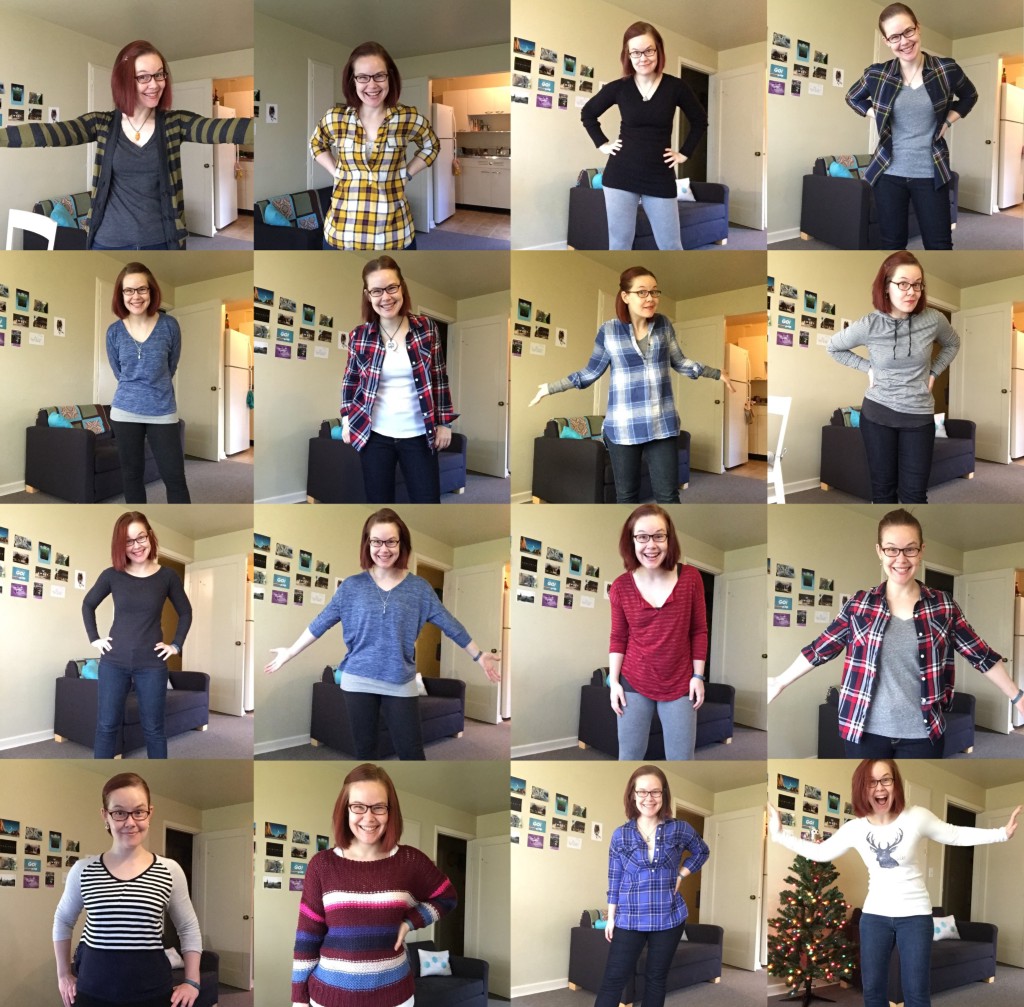 I write about my clothes a lot for The Billfold—seriously, every three months I do a variation on the "it's a new season, I have nothing to wear, let's go shopping" post—and I wanted to show you what my Old Navy shopping sprees look like in person. (Or, you know, on person. You get that I'm trying to make a pun here.)
So, for the past three weeks, I've been taking outfit selfies and sharing them on my Twitter and Tumblr with the tagline "What I Wore to Work From Home." I was inspired by Meredith Haggerty's Racked article I Dressed Like Me for a Week, which was one of my favorite pieces of 2015, and which prompted me to think more carefully about how I dress myself. (I went through a "leggings-exclusive" phase this year. It's over now.)
Not all of my outfits are great. My fashion sense is a lot like my cooking—I stack things on top of each other and hope they work out. You can tell, in that picture where I'm making the shruggie emoticon while wearing a blue-and-white plaid shirt, that I know when I'm wearing a dud.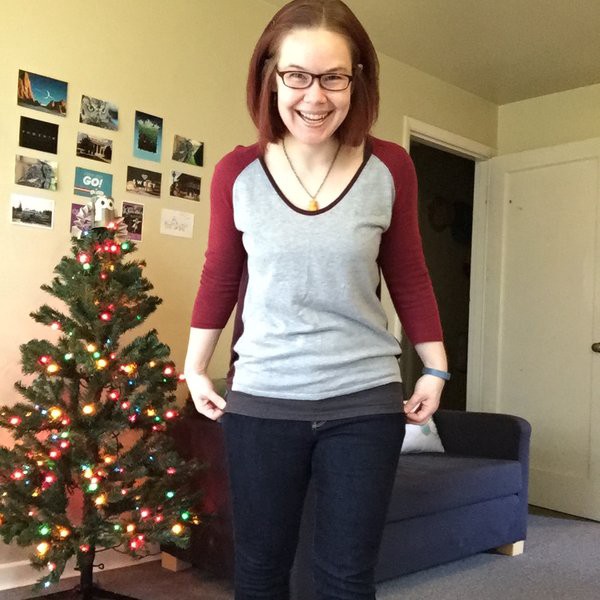 But today, I'm not. Today, I am wearing an Old Navy 3/4-sleeve lightweight sweater over an Old Navy charcoal tank top and a pair of Old Navy jeans, all from the 2015 Collection.
Nearly everything I wear comes from Old Navy. They hooked me with their 1998 Performance Fleece commercial—I'm sure some of you still remember all the words to that jingle—and since then I have been loyal to the brand, except for 2008–2012 when I bought Ann Taylor Loft because I was working as an admin in Washington, DC.
In fact, in that header photo there are only four items of clothing that were not purchased at Old Navy: the green and black cardigan and the two faded pairs of jeans, all of which come from Ann Taylor Loft circa 2010, and that horrible black laundry day sweater, which I bought at Deb a decade ago and wore to my first receptionist job. (I hated that sweater then and I hate it now, but I keep it around because there will always be a laundry day.)
Since I get all of my clothes from the same value-based fashion emporium, it easy to search my bank statements and tell you exactly how much I've spent on clothing for Fall/Winter 2015: $349.33.
That's actually a larger number than I was expecting. Still, it makes sense. With Old Navy, you can walk in with $100 and come out with 10 different pieces of clothing, and in the past four months I did that three times, plus tax.
I do not know how much a person should spend on clothes. I don't know how much this number compares to what other people spend on clothes, or how many different outfits people need to feel comfortable and secure.
For me, it's two weeks' worth. Two full weeks where I like everything I wear—except for that ratty old laundry day sweater—and everything fits and is in good condition. I used to do the thing where you had, like, seven shirts, and you wore the five best shirts in a different order every week and kept the two worst shirts for the weekend. I've also done the thing where you come home from work and change straight into your pajamas in order to keep your work clothes nice for as long as possible. I don't like wearing my sweaty, slept-in pajamas at 6 p.m. I want to look exactly like I look now—happy and color-coordinated and cared-for—even if no one is watching.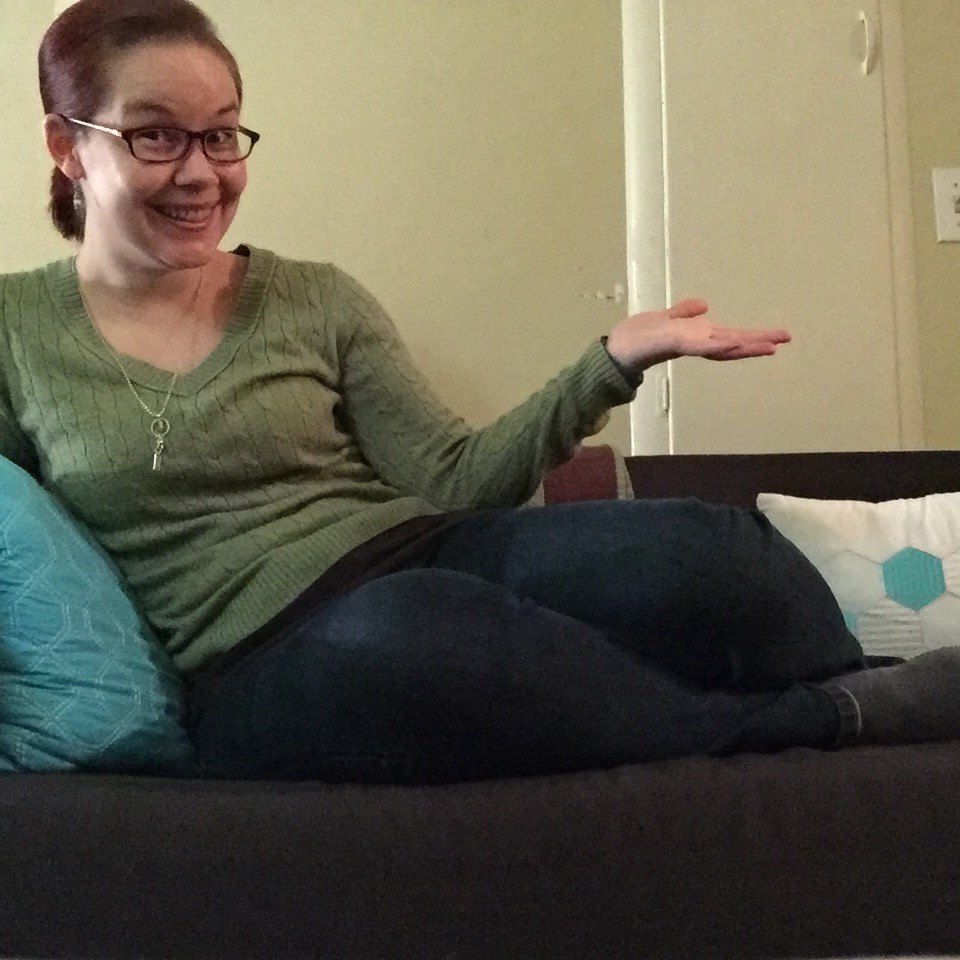 Of course, since I don't have an innate fashion sense I also get stuck in situations like "leggings are great so leggings EVERY DAY is GREATER," or the thing I wrote about a month ago where I looked at my "best sweater" and my "nicest jeans" and realized that both of them no longer fit the criteria—and then immediately bought myself $101.71 worth of sweaters and jeans from Old Navy.
(I told you: every three months I do a "MUST GO SHOPPING" post. Expect the next one in February.)
Clothing is interesting because it naturally degrades, and because if you don't replace it often enough it feels like you are wearing a previous version of yourself. I'm not that young woman who wore the cable-knit green sweater that everyone in my office's admin team bought in 2010. (We made jokes about having to schedule which days people got to wear it.) I wore that person out, and although I could put her on again and ask people how they take their coffee, she wouldn't fit anymore.
Now I get to be this person, who wears plaid popovers and that same black-and-white striped sweater that everyone else bought this year. I like who this person is, and I like that she likes what she's wearing. I also like that I look pretty good, in at least 15 out of the 17 "What I Wore to Work From Home" selfies.
That's worth $349.33.
---
Support The Billfold
The Billfold continues to exist thanks to support from our readers. Help us continue to do our work by making a monthly pledge on Patreon or a one-time-only contribution through PayPal.