Billfold Recommends: Cozy Products' SUPER FOOT WARMER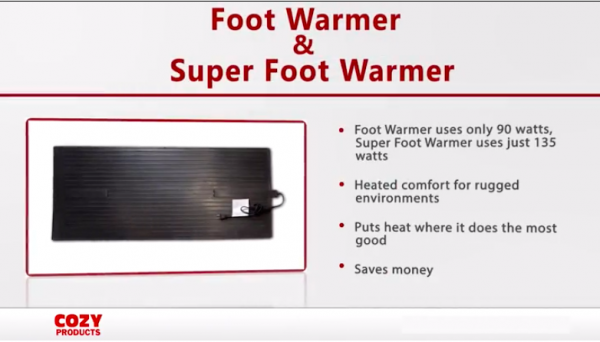 MUCH OF AMERICA IS CURRENTLY UNDER AN ARCTIC OUTBREAK
A POLAR VORTEX
DEPENDING ON WHERE YOU LIVE, THE NATIONAL WEATHER SERVICE MAY OR MAY NOT HAVE ADVISED YOU NOT TO GO OUTSIDE
MY GROCERY DELIVERY FOR TOMORROW GOT RESCHEDULED BECAUSE IT WON'T BE SAFE TO SEND DRIVERS OUT IN CARS, MUCH LESS HAVE THEM WALK THE TEN FEET INTO MY APARTMENT BUILDING
IT IS COLD
YOUR HANDS ARE COLD
YOUR NECK IS COLD
YOUR FEET ARE COLD
TIME TO BUY A SUPER FOOT WARMER
I don't actually own a SUPER FOOT WARMER (I put a space heater next to my desk when my feet get cold), but this product was recommended by Billfolder Meg Renninger and I trust her assessment that it gets the job done.
The SUPER FOOT WARMER is a heated rubber mat that fits under your desk. You put your feet on it, and your feet get SUPER WARM. The Amazon details claim the product is "not for use on wood, carpet, or other delicate surfaces," so only purchase the SUPER FOOT WARMER if you plan to put it on something SUPER TOUGH.
If you like ergonomics, there is also an ERGONOMIC VERSION, though neither Meg nor I can vouch for that one.
The SUPER FOOT WARMER. Buy it, or literally anything else, on Amazon — because even if you aren't currently under a RECORD-BREAKING POLAR VORTEX right now, you may well be in the future. Climate change will come for us all in the end, but we might as well have warm feet while we can.
Photo credit: Super Foot Warmer promotional video.
---
Support The Billfold
The Billfold continues to exist thanks to support from our readers. Help us continue to do our work by making a monthly pledge on Patreon or a one-time-only contribution through PayPal.