It's Billfold Book Giveaway Time!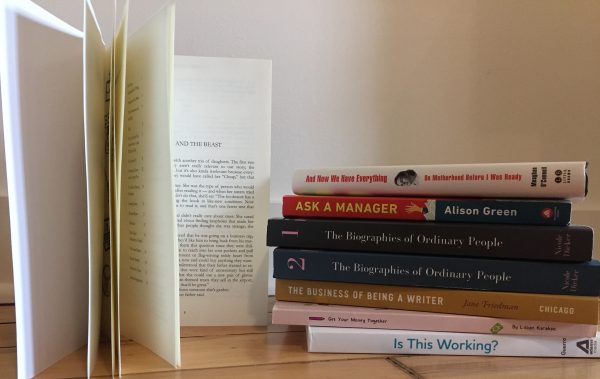 You've given The Billfold a lot, over the past year — your insight, your contributions, your patronage, your willingness to buy shower heads and juicers just so we can get a few extra affiliate dollars. (Which are seriously helpful, so thank you.)
Now it's time for me to give back.
Unfortunately, I cannot give each and every one of you a tangible physical object, because that would eat up all of those aforementioned affiliate and patronage dollars. However, I have collected a lot of Billfold-relevant books recently — and I thought it would be fun to share the wealth, if you'll pardon the cliché.
Which means it's time for a Billfold Book Giveaway (or, as it is legally known, a sweepstakes).
Official Rules
I'll provide a list of the available books. (Total value per book: ~$20. Total value of all available books, as determined by the price printed on the barcode: $153.95.)
To enter, email nicole@thebillfold.com with your name, your birthdate, and the book(s) you are interested in winning. Emails must be received by midnight Pacific time on Sunday, November 25.
On Monday, November 26, I will create a spreadsheet for each available book, listing each person who wanted that book with a number by each of their names. Then I will use Random.org to select the winners.
I will select the winner of each book in alphabetical order by book. (In other words: I'll use Random.org to select the winner of And Now We Have Everything, followed by Ask A Manager, and so on.) If you win one book, your name will be removed from all subsequent spreadsheets and you will not be eligible to win a second book.
I will email winners on Monday, November 26 to confirm eligibility and collect shipping details.
If a winner turns out to be ineligible, I will select an alternate winner.
Since I will be using media mail and other low-cost shipping methods, it might be a month or so before you receive your book.
Once all winners are confirmed and shipping details are collected, winners will be announced on TheBillfold.com in a post titled "Billfold Book Giveaway Winners." Due to various state sweepstakes laws, I will need to list your real names (but they will not be connected with your Billfold commenter handles, so you can still retain commenter anonymity). If you do not want your real name printed on The Billfold, please do not enter this sweepstakes.
You are responsible for any taxes associated with your winnings.
No purchase necessary. No Patreon membership required.
You must be a U.S. resident to participate. This is because each country has a unique set of sweepstakes/giveaway laws, and it is difficult to follow all of them simultaneously. (Sorry, international Billfolders!)
You must also be at least 18 years old.
Void where prohibited by law. The number of eligible entries received determines the odds of winning. If you're a member of my family, you're ineligible.
Privacy policy: Entrants must provide nicole@thebillfold.com with email addresses, names, and dates of birth. Winners must provide nicole@thebillfold.com with shipping addresses. The Billfold will not publicize, share, or sell any of this information, with the exception of:

Connecting the Is This Working? winner with Courtney C.W. Guerra so she can customize the autograph and ship their book (this will require the winner to email Guerra their shipping address).
Posting winners' real names on TheBillfold.com in a post titled "Billfold Book Giveaway Winners."
The Books
And Now We Have Everything: On Motherhood Before I Was Ready by former Billfold editor Meaghan O'Connell
Ask a Manager: How to Navigate Clueless Colleagues, Lunch-Stealing Bosses, and the Rest of Your Life at Work by Alison Green
The Biographies of Ordinary People, Vols. 1 and 2 by Nicole Dieker
The Business of Being a Writer by Jane Friedman (this is an amazing resource, btw)
Frugal and the Beast and Other Financial Fairy Tales by Nicole Dieker
Get Your Money Together: An Illustrated Purrsonal Finance Workbook by Lillian Karabaic (comes with stickers!)
Is This Working? The Businesslady's Guide to Getting What You Want from Your Career by Courtney C.W. Guerra (comes with a customized autograph from the author!)
I look forward to mailing out these books!
NOTE: RULES and BOOKS sections updated at 2:09 p.m., November 19.
---
Support The Billfold
The Billfold continues to exist thanks to support from our readers. Help us continue to do our work by making a monthly pledge on Patreon or a one-time-only contribution through PayPal.