The Cost of Halloween Decorating
Knowing my penchant for skulls and black cats, one of my Facebook friends recently sent me a meme of a lady with a shopping cart in a Halloween store. The caption said something like, "the new home décor is in." As a metalhead and black cat aficionado, Halloween gives me the yearly opportunity to get lots of cute stuff to decorate my work cubicle and my apartment. It makes me feel like Morticia Addams or Ozzy Osbourne on a shopping spree.
Halloween costumes haven't interested me since I was thirteen. But last year, after finding a "rock star wig" at a thrift store, I decided to dress up in a typical concert-going outfit for the office Halloween party. My wig, black velvet shirt, black jeans, black Doc boots, and a cardboard guitar from Goodwill garnered me Third Place in the costume party.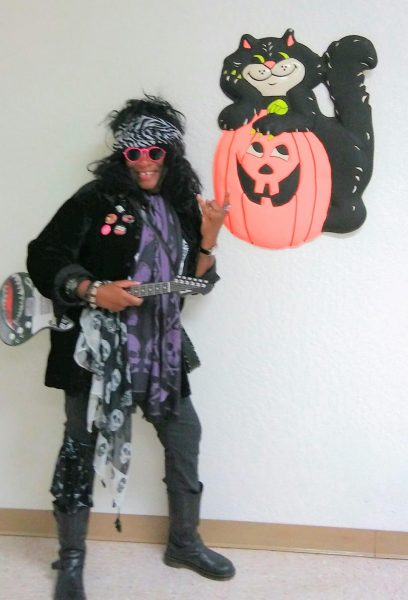 After realizing a dream that I didn't know I had of placing in a costume contest, I decided to return to my pursuit of skull and cat decor. This year, I started looking in the middle of September, hoping that shopping early would give me the best selection. When I got a Cost Plus World Market e-mail about Halloween stuff on sale, I headed to the nearest store.
In spite of loving both skulls and cats, I did not want to purchase a cat skeleton. Someone must have told their buyer that plastic animal skeletons would be a thing this year. Not for me. I did find a cute Halloween countdown calendar that I could put in my cube to mark off the days. It featured a cute black cat in a pumpkin, so innocent that even my co-workers who hate Halloween liked it. I put back the black dinnerware and the elaborate candles and glasses, as I'm not planning a Halloween party.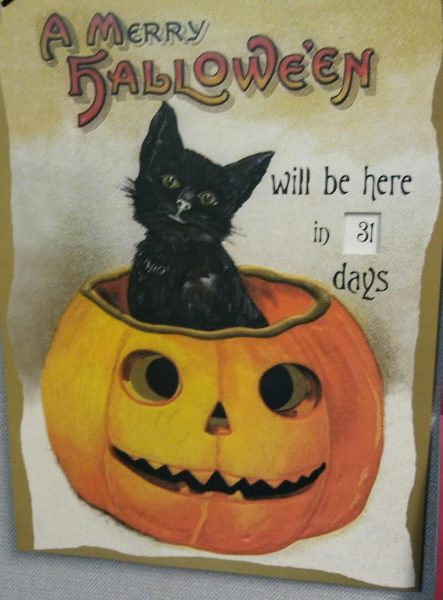 But I did need some new skull glasses. It was time to head to the 99 Cent Store, where many things now cost over 99 cents!
The first 99 Cent Store I went to did not have a good selection, but I did find a skull and roses tray and a skull bottle opener. A few days later, I stopped by another 99 Cent Store on my lunch break. I found a great selection of glass skull jars with handles, metal tops and straws. They also had bone-colored skull mugs. I bought three for 99 cents each, but I might go back for more. They had skull pitchers for $1.99 and I will definitely get one of those on my next visit.
At Bath & Body Works, I got a black pumpkin fragrance plug in/nightlight for $13.50, but the dim orange bulb inside made it more decorative than functional. I was really hoping that they would bring back the black cat soap dispenser that had been one of the highlights of my pre-eviction former apartment.
I also visited a Spirit Halloween store, but the emphasis was on costumes. There were a few towels with skulls and witches, but nothing that piqued my interest.
Then I got on my computer to do some more Halloween browsing. Pier 1 Imports had a black cat figure for $14.98. As much as I would like to have a LED Light-Up Black Cat, I wasn't ready to spend $52.38 on one. But they did have a cute black cat soap dispenser for $5.95, and one was available in a store near me. Black cat napkins for $3.98 to go with the silver skull placemats that I bought last year at DD's Discounts might make a nice touch for a holiday table along with the skull jars. Who has black cat and/or skull tablecloths? Kohl's and Target for starters. The next weekend, I went to Target, but since there weren't any skull tablecloths, I settled for a tasteful black spider web one. (Everywhere I went, I saw those animal skeletons—they really must be a thing this year.)
It was a week later when I made it to Pier 1 and Kohl's. By then, all the Halloween items were on sale. The black cat figure and the napkins at Pier 1 were flimsy, and they no longer had the black cat soap dispenser—but Kohl's had one on sale for $7.99. Since it is ceramic instead of plastic, I might just use it for decoration to reduce the chance of dropping it into the bathroom sink or accidentally knocking it on the floor.
I already had skull and haunted house dishtowels, but I couldn't resist black cat ones for half-off. Even though I vowed to contain my enthusiasm and only purchase one item per store, I got three dishtowels and the dispenser for $20. I didn't see the Light-Up Black Cat at Pier 1, but if it is on sale online, I might have to get it. It would look great in my bedroom. What would Morticia do?
Except for one more visit to the 99 Cent Store to pick up a skull pitcher and some more mugs (if they are still available), I think that I am done with this year's holiday decorating. Of course, most stores already have Christmas decorations next to the discounted Halloween finery. Maybe I'll do a themed tree this year. Time to start planning…
Beatrice M. Hogg is a coal-miner's daughter and freelance writer who was raised in Western Pennsylvania and has lived in Northern California for twenty-five years, where she wrote her novel, Three Chords One Song, and continues to write about music and life in general.
---
Support The Billfold
The Billfold continues to exist thanks to support from our readers. Help us continue to do our work by making a monthly pledge on Patreon or a one-time-only contribution through PayPal.