Our Apartments Are Too Small for Pottery Barn Furniture
That's why they're not making any money.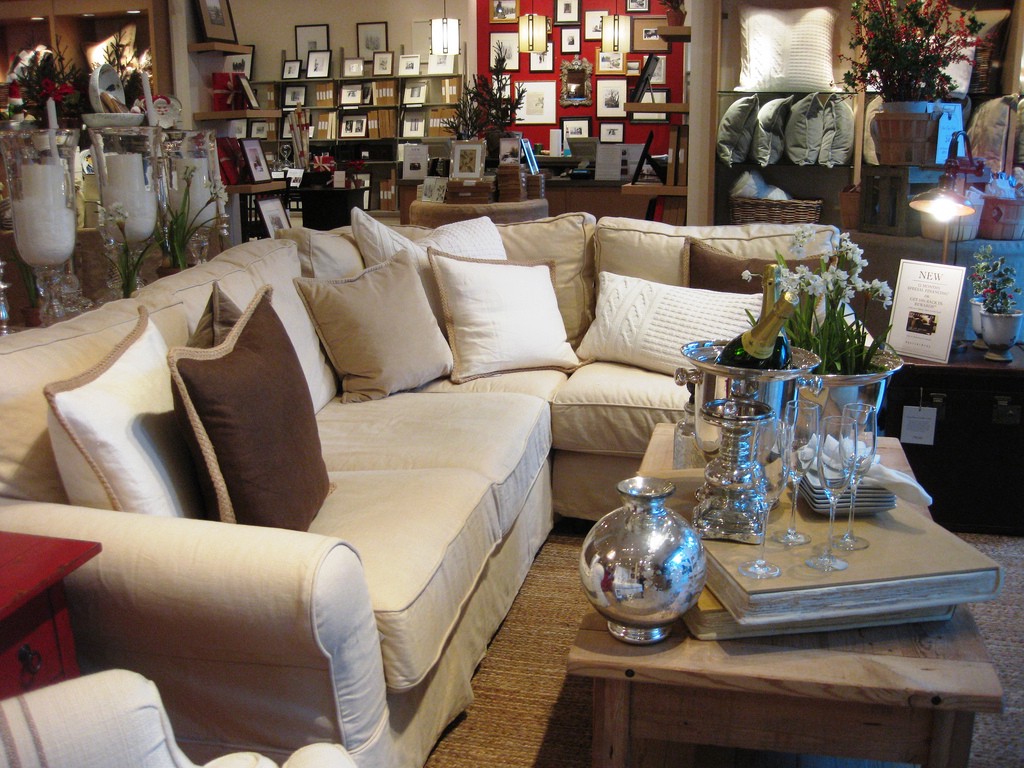 In the inevitable book about the end of retail as we know it and the rise of automated, online shopping experiences conducted by algorithm and robot, let's hope that there's a chapter reserved for the myriad of problems that millennials hath wrought when it comes to their purchasing habits. Millennials are buying plants because they're renting for longer. Some millennials are buying homes, if their parents aren't helping them out or not. Millennials hate grocery shopping…and now, maybe, millennials hate Pottery Barn?
Pottery Barn's big problem: Your tiny apartment
Think about the last time you were in a Pottery Barn, picking your way through the carefully curated vignettes — huge sectional sofas centered around a hulking slab of a coffee table, its surface cluttered with candlesticks and potpourri balls and tiny, expensive breakables. Maybe you sat on the couch and thought about how comfortable it was, but looked at the price and walked out. Or, maybe you consulted the note on your phone that has the measurements of your very well-appointed but still kind of small living room and realized that hey, this thing just won't fit.
According to the Washington Post, Pottery Barn is losing out on valuable millennial dollars to other home furnishing retailers like West Elm because the furniture that they sell is too damn big for your apartment and also maybe a little too old?
"We know that the opportunity is often size, because as people move to smaller living arrangements and the urbanization happens, the large-scale furniture is difficult," Laura Alber, the chief executive of Williams-Sonoma, told investors earlier this year about Pottery Barn…
Pottery Barn conducted extensive customer research last year to figure out how it was perceived in the marketplace. That effort revealed hard truths: Customers who weren't Pottery Barn loyalists often thought of the brand as "expensive, too predictable, and not for them," Alber has said.
Other tactics for attracting more young people to the brand included expanding their decorative impulse buy items in an attempt to build brand loyalty — if you love, love, love the silver-glitter encrusted reindeer you bought for $15 from Pottery Barn one winter, maybe you'll take the next step and buy a dining set that seats eight. It's the same line of thinking that causes luxury brands to offer wallets and tiny change purses every season — if you get them with the little stuff, they'll eventually move on to the big.
Pottery Barn is no longer the aspirational furniture choice of the discerning millennial. Think of all the people that dutifully bought a Peggy.
Why Does This One Couch From West Elm Suck So Much?
Regardless of the quality of that couch, it still cost over $1,000. But, when you compare it to this very comfortable sounding PB Air Upholstered 4-Piece Sofa With Chaise Sectional, the Peggy and anything else from West Elm, CB2 or Crate and Barrel is an excellent deal. Pottery Barn's sofa starts at $3,845 and while it's very nice, it's the kind of thing you'd find in the den of a very big and nice vacation home or the TV room of your rich uncle. It's a nice couch, but it's enormous and costs almost $4,000. It's not worth it.
---
Support The Billfold
The Billfold continues to exist thanks to support from our readers. Help us continue to do our work by making a monthly pledge on Patreon or a one-time-only contribution through PayPal.