I Want Bacon for a Year!
Dreaming of joining the Bacon All Year Club.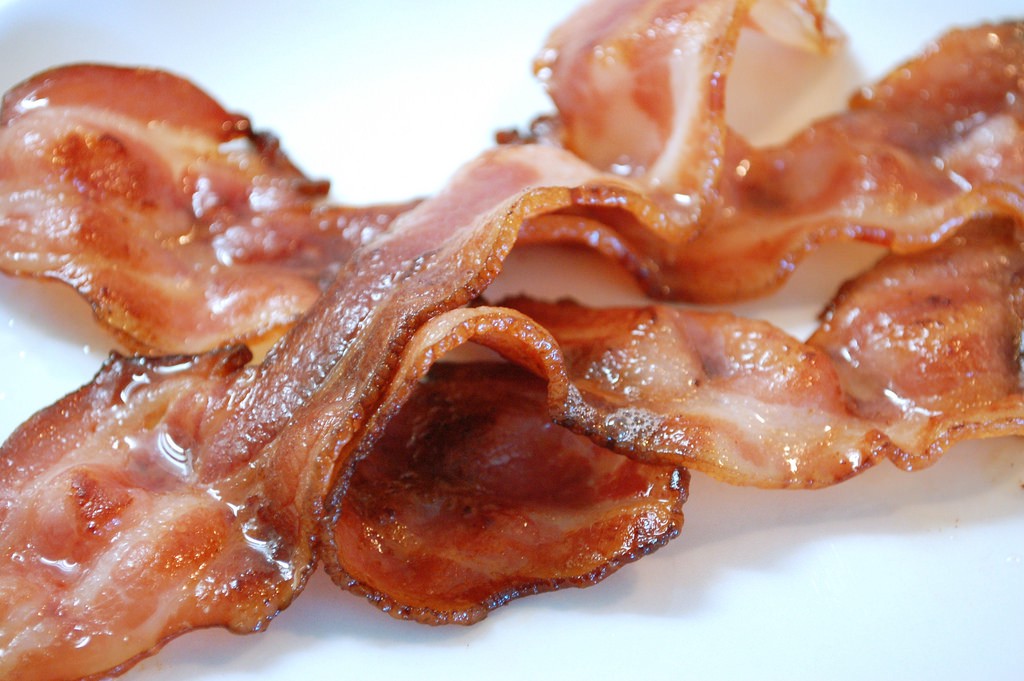 I know it's a cliché to like bacon as much as I do.
I'm not one of those people who claim to be "carnivorous." When it comes to meat, I can usually take it or leave it. I also don't actually think everything tastes better with bacon. Bacon does not (usually) belong in dessert. Or in vodka. Or soda. Or floss. (It's fine on peanut butter sandwiches, though.) Bacon can be a lazy chef's way of creating a surefire menu winner — and I don't like lazy. Generally speaking, I like my bacon in moderation.
But I do save a jar of bacon drippings in my refrigerator, and I use them to cook everything from cornbread to beans to roasted potatoes. I like to crumble bacon into a pot of greens or over roasted brussels sprouts, and add it to my recipe for potato chowder. Wilted spinach salad with bacon vinaigrette is a classic for a reason. When tomato season comes around, I will happily eat BLTs at least once a week. Bacon-wrapped dates and figs make for a divine appetizer or midnight snack—and I do recommend trying bacon in your popcorn at least once.
Then there's my family. I may like my bacon in moderation, but my restraint is not shared by my eight-year-old twin children or their father. My family probably goes through five or six pounds of bacon a month. We especially like it the old-fashioned way — fried up for Sunday breakfast. Sometimes with eggs, and sometimes with nothing more than a slice of buttered toast, plus coffee and tea and milk for the little ones.
I learned how to cook bacon in the oven just so I could handle the volume. This is an old catering trick: heat your oven to 375 degrees. Put a cooking rack on top of a rimmed baking sheet. Put your bacon on top of the rack. Slip the whole contraption into the oven and cook for about 20 minutes, until your bacon is browned and crispy. The bacon fat will conveniently drain into the bottom of the baking sheet, and you can pour it off into your waiting jar of drippings before it hardens into smoky sludge.
So when Zingerman's Spring Sale catalog arrived in my mailbox this month, I should have walked away. But I didn't. And that's when I noticed that their Bacon All Year Club was on special. Take $100 off the list price! A year's worth of bacon for only $300 could be yours! I'd get a different artisanal bacon delivered to my door every month. Juniper-smoked bacon. Cherrywood bacon. Peppered bacon. Jowl bacon. Back bacon. Double-smoked bacon. Is artisan bacon that much better? Is it worth the investment? There's really only one way to find out.
I don't need any of this fancy bacon. I just crave it. All the subtle variations on that smoky flavor. All the different textures — thick and thin, oleaginous and lean. The only problem is that even $300 is a lot for me to spend on something that isn't a necessity, like groceries or braces for Kid A or shoes without holes in the soles for Kid B.
If I could put it on a no-interest payment plan, I would sign up for the Bacon All Year Club in a heartbeat. I spend about $40 a month on bacon already, after all, so in one way, it's a bargain. But I'm a full-time freelance writer, which means I am as poor as dirt, and I can't quite talk myself into the up-front investment. My luxuries are, by necessity, small and utterly consumable. I'm not lusting after a sports car or a foreign vacation. Nor am I jonesing for anything that would clutter up my apartment long after the thrill of acquisition has worn off. Instead, I want to create food memories to last a lifetime. "Kids, remember that time we ate fancy bacon every month for a year?" we'll say, patting our bellies and dabbing at the corners of our mouths. "That was some good eating, wasn't it?"
Lori Selke lives and writes in Oakland, California. Her freezer currently contains six pounds of bacon and her drippings jar is full.
This story is part of The Billfold's I Want It Now series.
---
Support The Billfold
The Billfold continues to exist thanks to support from our readers. Help us continue to do our work by making a monthly pledge on Patreon or a one-time-only contribution through PayPal.