On Free Stuff and Birthday Priorities
Free donuts for all.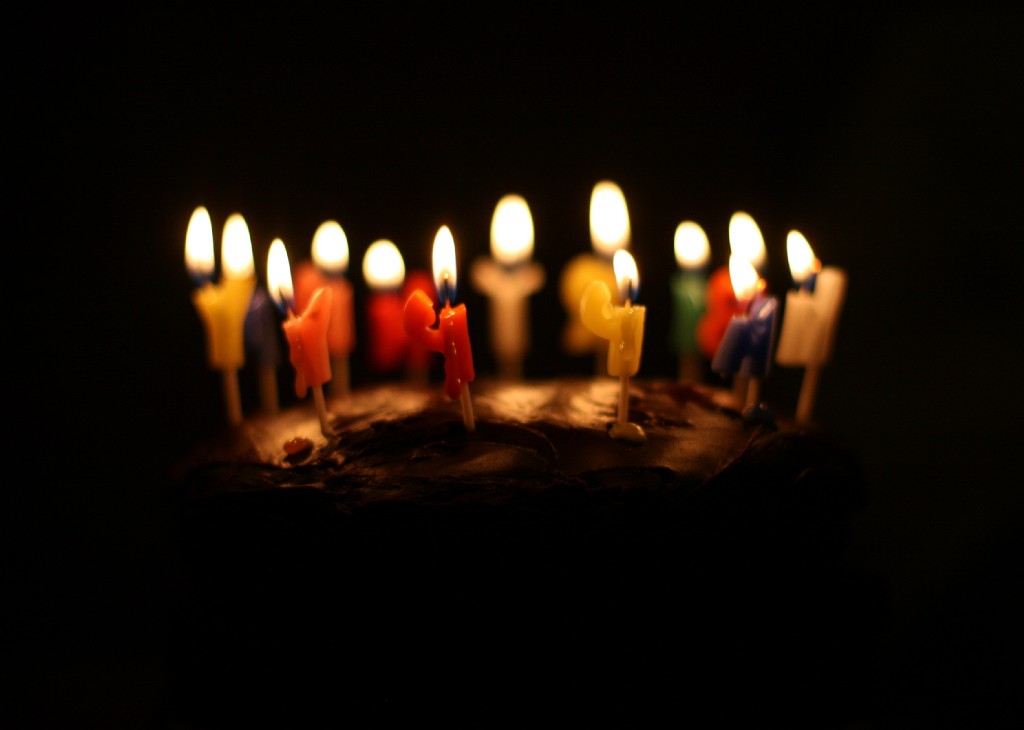 A couple years ago, when I was several years into my twenties, I realized I had been doing birthdays all wrong. "What are the things you can do on this day that you can't do on other days?" I asked myself. You can get your friends who hate karaoke to sing karaoke with you, or eat the last cookie without shame because you know that today it is meant for you. You can also defraud companies of free stuff in the name of building customer loyalty. Past birthdays had been spent doing the things I liked best, but what I should have been doing is spending my birthdays getting free birthday perks.
This may require advance planning on your part. You often have to sign up for companies' email newsletters days or weeks in advance of your birthday in order to receive your birthday coupons. These will be newsletters you do not wish to receive, and you will unsubscribe from them after cashing in on your free stuff.
Another important thing you need to recognize in advance is that many of these free things are things you wouldn't want if you had to pay for them. That's not the point. The point is to count up the value of the free foods and drinks you got, the extra money you can now spend on things you actually want because you have sated your appetite with free junk, and congratulate yourself on your excellent and strategic maneuvering.
This spring I moved to New York City from Portland, Oregon. Now I work in midtown Manhattan, close to Rockefeller Center and Times Square, a mecca for large chain restaurants and fast food places — exactly the type of businesses that want to give me free things on my birthday. Central Portland lacks many chains that are reachable by bike or on foot, which I consider an advantage on an average day, but a disadvantage on my birthday.
Despite that, it was still pretty good: I spent my birthdays in Portland enjoying a free one-hour soak at a crunchy wellness center, eating a free dozen mini-doughnuts from a cozy local doughnut shop, and getting a free handmade pasta lunch downtown. My partner offered to meet me near my office to take me out for lunch on my birthday, but I turned him down, realizing that the only thing I would enjoy more than a lunch I didn't have to pay for is lunch alone that no one had to pay for. I've always regretted the fact that I failed to take advantage of a free knife-sharpening service at an independently owned cutlery store in my neighborhood.
One of my proudest moments was when I walked into Blue Star Donuts, a fancy third-wave doughnut shop (you know what I mean) and told them I had heard they gave away free doughnuts on a customer's birthday. I was lying, but I thought it seemed like the type of place that would give me one anyway if I asked. I was right. "No," the guy at the counter said, "but is it really your birthday? Pick any doughnut you want!" I told him I was having trouble deciding between two, and he gave me both. It was the best birthday ever.
This year, in a new city, and surrounded by easily accessible overpriced chain restaurants, I did my research, entered my email address, confirmed subscriptions, and waited for the coupons to roll in. For the first time, I tried a Jamba Juice smoothie. It was better than I thought it would be — delicious, actually. I'll never buy one. I got a free sandwich from Au Bon Pain. It was disappointing, like I expected, but it was a full meal. I got a free scoop of mint chocolate chip ice cream from Baskin-Robbins. It was so bad that I don't think I would get it again, even for free.
Nearly a week after my birthday, just before my coupon expired, I traveled a bit further uptown to harvest my free Sprinkles cupcake. "Happy birthday!" said the cashier joyfully. "Thank you," I said, "Thank you." On my receipt was a buy-one-get-one-free coupon for another cupcake. Sprinkles' birthday perk is the gift that keeps on giving, apparently.
As a reward for signing up for the Buca di Beppo newsletter (not for my birthday), they sent me a coupon for a free small baked ziti, with no purchase necessary. Since their food is served family style, a small pasta is gigantic, costs $25, and is intended to feed two to three people. This was more than I could have hoped for, and I accepted it as another birthday present from the universe.
Their birthday deal, on the other hand, was just a coupon for a discount on dinner when you make a reservation to dine in with four or more people. For me, this sort of discount is worse than nothing, because it is predicated on my desire to spend a significant amount of money (and my birthday) at the business. Definitely not worth it.
But deciding any of these things are worth it requires a delicate appraisal of the value of your own time. Is it worth it to traipse around midtown Manhattan collecting an assortment of foods and beverages you've never bought and rarely desired, all in the name of saving money and fleecing businesses? Is it worth it to create calendar reminders and rearrange your schedule to make sure none of your birthday coupons go unused? If all you're getting out of it is the tangible items, then absolutely not. But if, like me, a certain portion of your self-worth rests on your ability to derive enjoyment (or at least sustenance) from life without spending any money — well, you can't put a price on dignity.
Amelia Ayrelan Iuvino is a writer and editor on culture, gender, and books for Bitch Media, Atlas Obscura, GQ, and more.
---
Support The Billfold
The Billfold continues to exist thanks to support from our readers. Help us continue to do our work by making a monthly pledge on Patreon or a one-time-only contribution through PayPal.