I Went to the New Amazon Books Store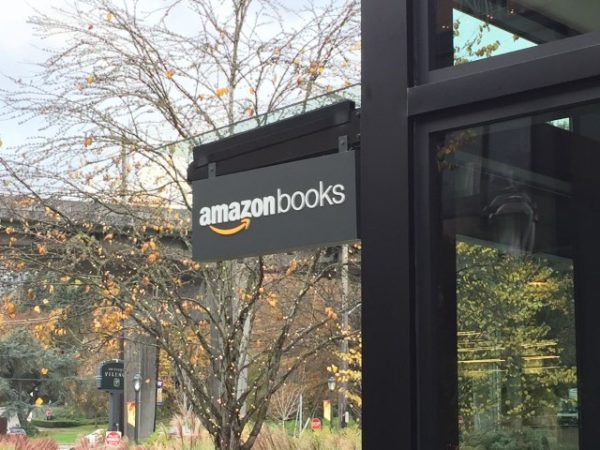 Amazon opened a bookstore in Seattle yesterday.
I was there by 2:30 p.m.
(I would have been there sooner, but it takes forever to get out of Ballard by bus.)
It was pretty much exactly what I expected, actually. A comfortable, well-organized, well-lit bookstore focusing on popular titles while simultaneously highlighting the popularity of these titles.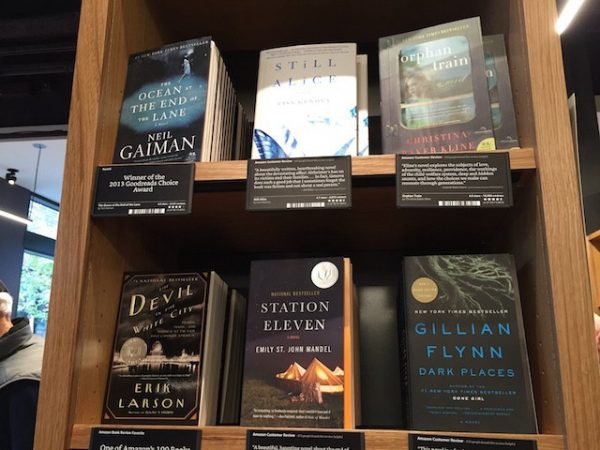 Here's one Amazon shelf featuring books that are popular on Goodreads. I've read half of the books on the shelf. I gave my mom Dark Places for her birthday. I checked out Devil in the White City from the library, and never made it past the first few pages.
You'll probably notice that each book has a reader review at the bottom. Here's one up close: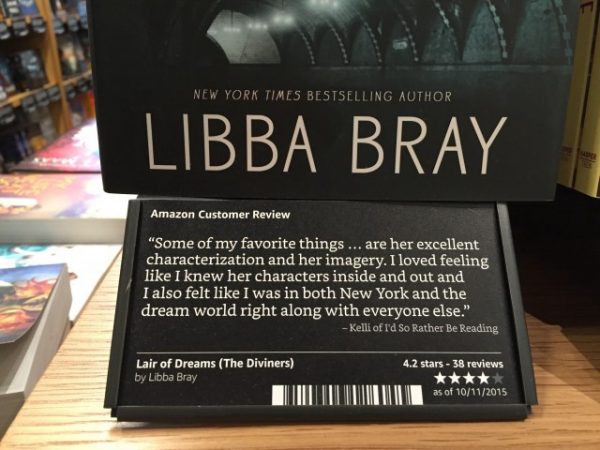 The star ranking is also important, because Amazon Books sorts its books by stars.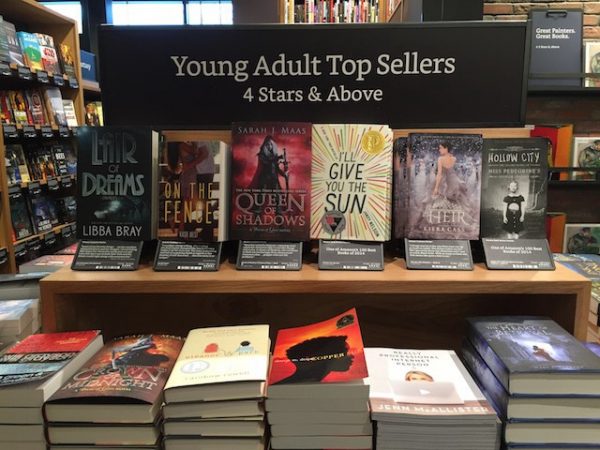 If you think "4 Stars & Above" sounds impressive, consider that I walked past a shelf labeled "4.8 Stars & Above." Clearly I am not optimizing my book-browsing experience.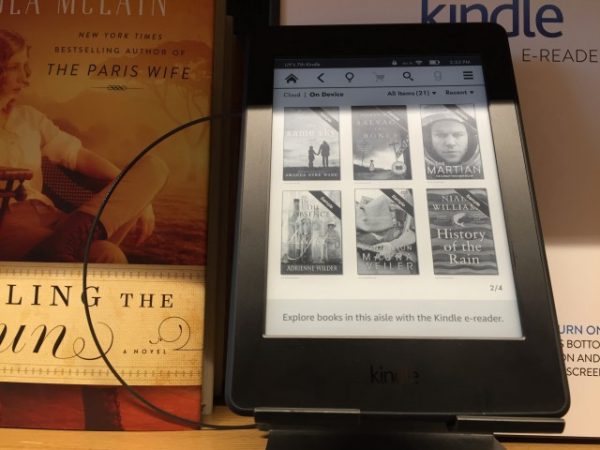 On the subject of book-browsing: Amazon Books encourages readers to explore titles via the Kindles it conveniently stations in many of its aisles. I could tap any of the featured books to read an excerpt. I could also have picked up the nearby book to read an excerpt, but of course I tapped the Kindle because touching electronic stuff in stores is always cool.
There were racks of Kindles available for purchase, along with an enormous Fire TV display that really, really made me want a Fire TV. (I do not really want a Fire TV. I will keep telling myself that I do not really want a Fire TV.)
All the books in Amazon Books cost the same as they do online, so shoppers can grab titles without worrying that they're overpaying. If you still want to check the price online, Amazon provides step-by-step instructions: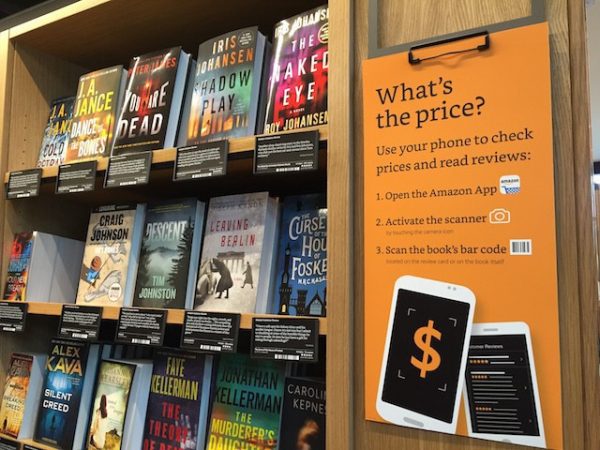 This also answers the big question I had about Amazon Books, which was: can I just point my phone at the book and buy it for my Kindle? Essentially, yes — although that might not count towards Amazon Books' revenue.
The other big question I had was whether Amazon Books would try to be a "third place" for people to gather, in the manner of Starbucks or Barnes & Noble or the many Seattle independent bookstores that offer coffee and meetup spaces.
The only chairs I found were in the children's section, which was cordoned off from the rest of the bookstore by a few high bookshelves and seemed to be one of those places where an unaccompanied adult was clearly Not Welcome.
There was no coffee shop, and no space that seemed to indicate a coffee shop was coming soon. No place for people to open up their laptops, so I couldn't actually draft this post from inside Amazon Books (even though I wanted to).
There was free Wi-Fi, and there were spacious gender-neutral restrooms with changing tables. There was a community bulletin board for people to post upcoming gatherings that take place outside Amazon Books, but no place to gather inside.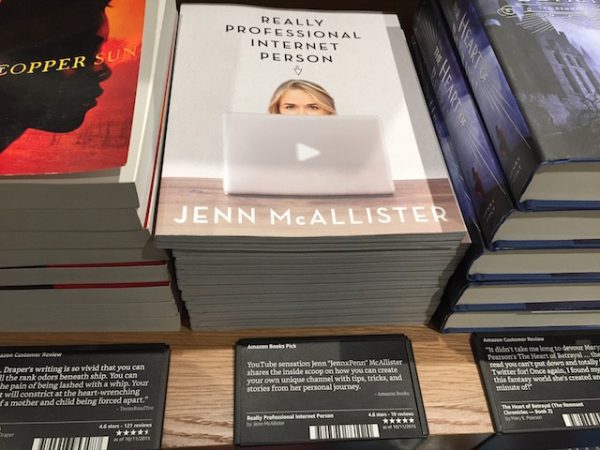 Overall, Amazon Books seemed pretty cool, in part because I walked inside and immediately came face-to-face with a lot of books I had already read. (That means I'm pretty cool, right?)
It made me think about how popularity and personality drive so much of what I read — as a professional internet person who is making good, I am a sucker for "I'm a professional internet person who made good" memoirs, for example — and how popularity and personality seem to be driving most of what's on Amazon Books' shelves.
Which is, in itself, not that big of a deal. If I want an unpopular book, I can buy it online at Amazon, and it's usually super-cheap. If I want to learn more about the books that are currently driving the cultural conversation, I can go to Amazon Books, tap their Kindles, and read excerpts.
But I can do that on Amazon's website too, which asks the question: who is Amazon Books for? On Opening Day, it was for a lot of people — there was a line out the door both when I arrived and when I left. The store is in the University Village outdoor shopping mall, which also suggests Amazon Books might be for people who are out shopping for something else and then realize they also want to buy a book.
I'd love it to be a place where Seattle's tech and writing-oriented people met to discuss the intersection of storytelling/publishing/online innovation — because Seattle could seriously benefit from that kind of space — but it would need chairs for that.
Right now, I think it's a place that people will visit primarily because of the novelty. I mean, it's Amazon's first bookstore. If you're in Seattle, you have to go, right? Just to see what's there, and to confirm it's all the same books you already like on Amazon.
---
Support The Billfold on Patreon
The Billfold continues to exist thanks to support from our readers. Help us continue to do our work by supporting us on Patreon.