Facebook Announces $15 Minimum Wage, 15 Paid Days Off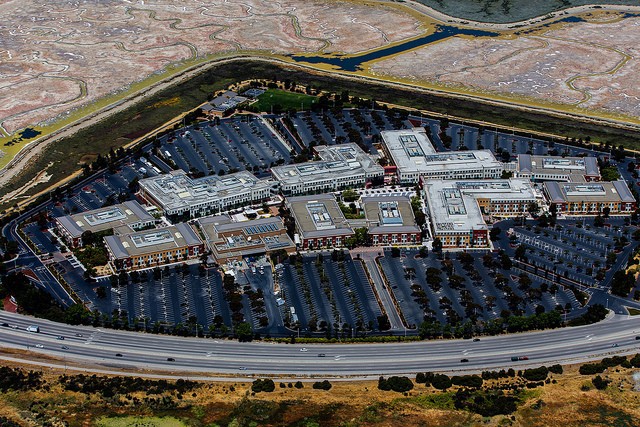 An overhead view of the Facebook headquarters in Menlo Park.
It's a good day to be a Facebook contractor. The company just announced that they were raising their minimum wage to $15 an hour, and giving contractors at least 15 paid days off to be used for vacation, sick leave, or holidays.
As Facebook COO Sheryl Sandberg explained:
Today, I am pleased to announce that we are implementing a new set of standards on benefits for contractors and vendors who support Facebook in the US and do a substantial amount of work with us. These benefits include a $15 minimum wage, minimum 15 paid days off for holidays, sick time and vacation, and for those workers who don't receive paid parental leave, a $4,000 new child benefit for new parents. This will give both women and men the flexibility to take paid parental leave, an important step for stronger families and healthier children.
It is interesting to hear Facebook use the word "contractor" instead of "employee;" ThinkProgress clarifies that these are "third-party contract employees" who include "contract employees who work as cooks, janitors, security guards and other support staff at Facebook's headquarters in Menlo Park, California." Facebook plans to expand these benefits to cover contractors at its other campuses as well.
Now, let's just get it out of the way: 15 days off including holidays isn't that much. $4,000 for workers who don't receive paid parental leave isn't that much either; at a $15/hr, 40-hour workweek, that comes to six-and-a-half weeks of parental leave, if you want to think of it that way. (Did you see the Last Week Tonight video about America's lack of decent parental leave? Go watch that.)
But that just means that whatever Facebook had before was worse! This is an improvement!
I'm suddenly curious about the median rent in Menlo Park. If only there were an interactive chart that listed median rents by county… okay, I looked it up, and median rent in San Mateo County is $1,432/month. A person earning $15/hr for 40 hours/week in a five-week month will be making $3,000 pre-tax and could be spending 48 percent of their pre-tax income on rent. Let's hope there's another wage-earner in the household.
There's one more point worth noting about this minimum wage increase, and it's that Facebook isn't going to be the company paying for it, long-term. When Sandberg writes "imposing a new set of standards on benefits," she means "making our third-party contractors/vendors increase their benefits, or lose Facebook as a client." ThinkProgress reports that "Facebook will also absorb extra costs from the new program until contract companies can meet the new standards," but still. The third-party companies are doing the real work here and Facebook is getting the credit!
As conflicted as I am about these benefits that are okay-but-not-GREAT, I am still happy that one more company has decided to raise their minimum wage (or to pressure other companies into increasing their minimum wage). Facebook, I'll click the like button on this one.
Photo credit: Austin
---
Support The Billfold
The Billfold continues to exist thanks to support from our readers. Help us continue to do our work by making a monthly pledge on Patreon or a one-time-only contribution through PayPal.