The Cost of Getting Into the New York City Marathon
by Rick Freeman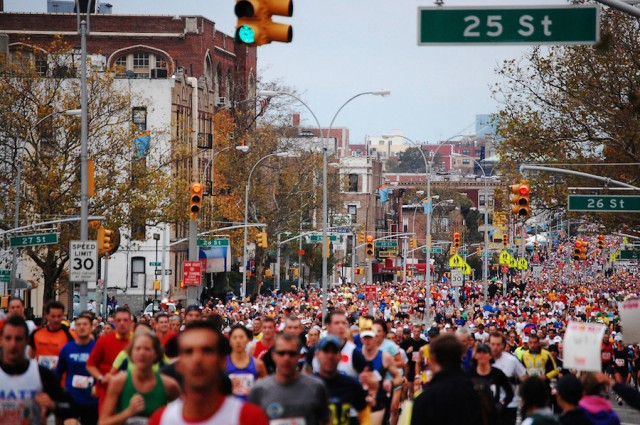 The New York City Marathon has once again come and gone and, after a day spent outside cheering for runners and surreptitiously sipping bloody Marys from a paper coffee cup right in front of some cops, it's easy to think "I should totally run this sometime."
You should! It's awesome; 50,000 people from all over the world do it every fall. It also — like almost everything in New York — can be kind of expensive.
There are various ways to get in. The cheapest and easiest way is via the entry lottery. As with most lotteries, it works like this: You fork over a small amount of money and then you are informed that you did not win.
That's what happened with me for 2014 — which is why I decided to enter next year's race through a program offered by the race organizers. The deal is this: Run nine New York Road Runners club races and work a volunteer shift, and you're in.
Paying for nine races is a not-insignificant amount of money. It's also a logistical and organizational challenge. How much did it cost me to run the necessary races and secure a spot? Let's find out.
January. No races. What a start! But in fairness, it was pretty cold.
Running total: $0. Progress: 0/9 races.
February. I ran a race in Brooklyn that cost $10, but it didn't count for marathon qualification. I also took a hilariously slow pratfall on some black ice. Total outlay: $10. Status: 0/9 races complete.
Al Gordon 4M. $10.
Running total:$10. Progress: 0/9 races complete.
March. Finally, a race that counted. It was a 5K in Washington Heights. I got a ride to it with some friends, and then we drove around forever looking for a spot. In the end, a couple of us bailed out of the car in time to make the start, and I wound up running the race without my headphones or phone, but with my wallet.
So my ace preparation needs some work, but at least I'm on the board here.
Washington Heights Salsa, Blues and Shamrock 5K: $23.
Running total: $33. Progress: 1/9 races complete.
April. I signed up for a race that I couldn't run because of a schedule conflict. Bah.
Scotland Run: $23.
Running total: $56. Progress: 1/9 races complete.
May. Time for my favorite race of the year, the Brooklyn Half. But first, there was a race in Central Park. I got there in time and everything! I ran pretty well, too. It may have been because I spent four miles really having to pee. The Brooklyn Half was tougher, but it is flat and fast and you get to go to Coney Island without standing on the subway for an hour. (You do have to run there.)
Japan Run: $23
Brooklyn Half: $55
Running total: $134. Progress: 3/9 races complete.
June. I needed to take a cab ($30) to the easiest race for me to get to, in Corona Park. Did I mention that I my prep skills are a work in progress?
Queens 10K: $34 (+$30 for cab)
Total outlay: $168. Progress: 4/9 races complete.
July. It was supposed to be hot, and I had some other stuff going on.
(no race): $0
Running total: $168. Progress: 4/9 races complete.
August. I ran a five-miler in Central Park and a 5K in Harlem. I took a cab ($25 — oops) to my friend's place in Harlem and we walked to the race together. (But her husband made us breakfast, so it was worth it) I also signed up for the Fifth Avenue Mile, calculating that I'd be able to knock off 11.1 percent of my race obligations in less than 10 minutes. I wound up having to miss that one, so there went that plan. I would now have to run a half marathon to qualify. That one took me significantly longer than 10 minutes.
Join The Voices 5M: $23
Percy Sutton Harlem 5K: $30 (+$25 cab)
Fifth Avenue Mile: $30
Running total: $276. Status: 6/9 races complete.
September-October. Another four-miler in Central Park, and then two long races and I'd be there! I got to the Central Park race in plenty of time via public transit, picked up my number, had a nice race. It was great. That left me two races and 23 miles away from my goal. I lurched my way 10 miles through the Bronx on an unseasonably warm day, then volunteered the following week ($0!).
This meant that all I had left in front of me was the Staten Island Half. It was around this time that I realized I could have done all of this far more efficiently, plotted out all the races ahead of time, gotten my act together so I didn't wind up taking cabs, or running races with extraneous objects in my pockets. (One time I carried a banana the whole race without eating it.)
But, that's not how it worked for me. In fact, I didn't sit down to even do an accounting of how much I spent on this race until I wrote this story. But once I crossed the finish line at home plate of the Staten Island Yankees' stadium, I was in.
Autism Speaks — 4 Miles of Hope: $23
Bronx 10 Mile: $35 (+ $20 cab)
Staten Island Half: $40
Running total: $374. Progress: 9/9 races complete.
(OK, so this cab was totally worth it, because the subways were apparently a mess that morning.) Now that I've made it, all that's left is to pay the actual and not insubstantial race fee. I already paid my NYRR membership for this year and for the "backup" race I signed up for in case I wound up not finishing an earlier race. I also need to pay for next year's NYRR membership. The good news is that the race discounts make it worthwhile.
2014 NYRR membership $40
2015 NYRR membership $40
Dash to the Finish Line 5K $40
2015 New York City Marathon $221.
Total: $715.
On one hand, that seems pretty expensive for one day, no matter how awesome it is — even if you prefer to pay for experiences, and not things.
On the other hand, the costs are spread out across a whole year. So in exchange for the cost of one decent-but-not-crazy night out a month, I get one of the best experiences of my life, and some marginal benefit to my health and fitness, to boot. Viewed that way, it might be one of the savviest money moves I've made in 2014.
Except for all the cabs, because get it together, man.
Rick Freeman writes and runs and does other things in New York City.
Photo: Rebecca Wilson
---
Support The Billfold
The Billfold continues to exist thanks to support from our readers. Help us continue to do our work by making a monthly pledge on Patreon or a one-time-only contribution through PayPal.