The Real History of Madewell, 1937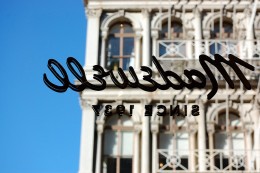 Last time I mentioned Madewell here you guys had a lot of feelings about so I am very excited for you to read this Dan Nosowitz piece, How Madewell Bought And Sold My Family's History.
I stopped dead on Broadway, in the middle of the sidewalk, and stared, not up at the beautiful wrought-iron SoHo buildings, as would befit someone who'd moved to New York in the past month, but at an ordinary sign advertising a small clothing shop. The logo, a casual cursive scrawl with both E's capitalized, jumped out at me like a beacon from a lighthouse somewhere deep in the back of my brain. That was the logo emblazoned on my baby clothes, the logo my great-grandfather created. It was, I thought, forgotten family history, the factories having shut down shortly after I was born in the '80s. After a moment I took out my phone and called my mom and asked her what the hell was going on.
Nosowitz's great-grandfather, a turn-of-the-century Russian immigrant, started the real Madewell, a workwear company (in the um, actual sense) in 1937. Mickey Drexler bought the logo, and the right to put "1937" on all their shit, in 2006.
This piece is a wonderful reclamation of family history as well as a meditation on the (bastardized) notions of authenticity in consumerism. It totally upended my readerly expectations and I'm obsessed with it.
"We didn't do too much of that designing bullshit," my great-uncle Aaron told me.
Aaron bristled when I asked if the Madewell clothes were high quality — "Oh, yes, they were very well made," he said — but these weren't exactly pioneering designers crafting original clothing out of a deep passion. They weren't inventors or artists. They looked at what was selling and made some of that to sell. It was a business, and Madewell did what made sense from a business perspective. J.Crew's Madewell is grasping to emulate some sepia-hued commitment to quality in the original company, some moral or ethical standard from better, more authentic times. But that's not what motivated my great-grandfather at all — his motivation was profit, and quality was a means to an end.
Also this:
If Julius were alive, I think he'd be very impressed that a company called Madewell posted revenue of over $180 million in the fiscal year 2013. He would care not at all about whether it was authentic, or what the word "authentic" even means.
Photo via Flickr
---
Support The Billfold
The Billfold continues to exist thanks to support from our readers. Help us continue to do our work by making a monthly pledge on Patreon or a one-time-only contribution through PayPal.