Fall Haul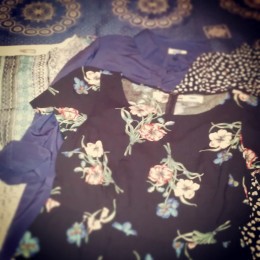 Last week I wrote that I was desperate for some new fall fashion, that I had gone so far as to pair a thin cotton sundress with leggings and hope nobody would notice that these two outfit components belonged in entirely different seasons.
So I went shopping.
I was hoping I could find everything I needed at the thrift store, because I like the low prices and — honestly — because you get that little extra cachet when someone compliments your outfit and you can say "Oh, this? I got it thrifting." (It's like getting to say "I am the best person at recycling and looking good.")
I did not find anything I liked at the thrift store. Most of the stock was still summer wear, probably people who were dropping off their sundresses after realizing they didn't work with leggings.
So I went to Old Navy, a trusted resource in inexpensive clothes for slightly pear-shaped people. (That should be their next slogan.)
I found three dresses that were exactly what I was hoping to find: a cute black dress with a large floral print, and two shirt-dresses that I'm hoping give the visual message "I may be sitting in this coffee shop and/or library, but I am actually a serious person doing a very serious job right now."
Total cost: $88.75.
I also got a "Save $30 (if you spend $75)" coupon for my next visit, so, like, you know, savings!
And then I went into Forever 21, which, I mean, I'm not even 31 anymore, but a friend turned me on to the idea that maybe I could branch out my sense of style a little bit, I don't always have to look like I'm shopping at Functional Wrinkle-Free Clothing Unlimited?
So I got an ivory dress with blue stripes and flowers, and a gray cardigan, and then I grabbed three T-shirts out of their $3.90 T-shirt bin, because it was a $3.90 T-shirt bin.
Total cost: $47.52.
The woman at the checkout asked for my email, and I said "you already have my email," and she told me that I should give my email every time because "the more times you give your email, the more Forever 21 knows you're shopping, and the better coupons you'll receive."
So now I have a "Save $30 (if you spend $150)" coupon in my inbox, which… sorry, Forever 21, Old Navy offered the better deal.
As far as shopping goes, $136.27 for a new fall wardrobe isn't that bad. I had hoped to spend around $100, which means I did the usual thing of exceeding my budget by what feels like a nominal amount of money and then not worrying about it.
How about you? Anyone else do any fall shopping last weekend?
---
Support The Billfold
The Billfold continues to exist thanks to support from our readers. Help us continue to do our work by making a monthly pledge on Patreon or a one-time-only contribution through PayPal.