There's a New Chicken King in Town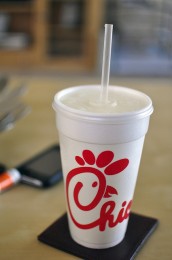 And he opposes gay rights?
Big news in fried chicken land, courtesy of Businessweek: Chick-fil-a has now outpaced KFC as the #1 chicken provider in these here United States.
Last year Chick-fil-A only had about 1,775 U.S. stores to KFC's 4,491, and most are in the South. Yet in dollar terms the Colonel is coming up short even with that much larger footprint: Chick-fil-A's 2013 sales passed $5 billion, while all of KFC's U.S. restaurants rang up about $4.22 billion, according to Technomic. And that's with zero dollars coming in to Chick-fil-A on Sundays, when every restaurant is closed.
Apparently KFC sales have stagnated over the past decade, where Chick-fil-A's have grown, averaging about $3.2M in sales per store.
I haven't eaten chicken in about six years* so I thankfully haven't had to reckon my progressive politics with the sheer deliciousness of that fried chicken sandwich, which I remember fondly to this day. Fuck. But I boycott them in my heart. While acknowledging their product to be superior. Which makes the boycott all the more sacrificial. Or it would, if there were an easily accesible Chick-fil-A in New York. And if I weren't a vegetarian.
*OKAY I ate two of my niece's dinosaur-shaped chicken nuggets over Christmas break but the baby made me do it.