Google Buses Now City-Approved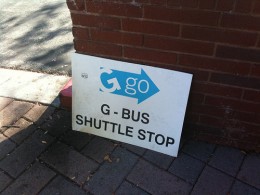 There was an unusually well-attended transportation board meeting at San Francisco City Hall yesterday, as the topic of debate for the evening was the new pilot program for Silicon Valley commuter buses. The San Francisco MTA board of directors approved the proposal unanimously, which means that companies can buy passes to use city buses at cost, which come to about $1/stop per day, or about $100,000 per year.
But, as Kevin Roose at NYMag's Daily Intelligencer points out, "the Google bus wars have never really been about the Google buses."
For concerned locals, the shuttles symbolize their collective fears about the rise of the tech sector — that rents are spiking, that long-time residents are being pushed out by coddled 22-year-olds with Stanford BAs and venture funding, that a great American city with a rich countercultural history is turning into a staid bedroom community for Silicon Valley. It's hard for people to put these feelings into words, and even harder to get them heard in front of cameras and policymakers.
It does seems wild that Google gets to commandeer city buses for a year for about the annual salary of a single entry-level engineer, but state law prohibits the MTA from charging anything higher than cost (since you know, PUBLIC transit, not a private corporation that can charge market rates).
Roose argues that the bus thing was a foregone conclusion, more or less, and calls for "massive citywide reconciliation effort" that focuses on the larger cultural clash at hand:
…perhaps starting with a series of town hall meetings — that can serve as a venue for tech workers to hear, in moral terms, why their proliferation is worrying residents of San Francisco, and for anxious locals to better understand, in utilitarian terms, that the city's development rules and the basic laws of supply and demand are doing far more to cause displacement than the Google buses.
I think Roose is right that this is part of a bigger issue of gentrification, but I do think the bus issue is germane, if not emblematic, and justifiably frustrating to longtime city residents. After all, do public policy, city planning, and government resources not typically serve as mitigating factors to the "basic laws of supply and demand"? Why should policy allow "the market" (Google, its employees, then effectually the real estate market) to be unnaturally bolstered through access to public resources, outside market rates (cheap buses)?
Whether some mitigation is in order is up for debate, but I do think residents/activists (or "tech resistors" as Roose calls them) are right to look to local government for policy change on the issue, even if it ends up coming off as one big "venting session."
Photo: david.orban
---
Support The Billfold on Patreon
The Billfold continues to exist thanks to support from our readers. Help us continue to do our work by supporting us on Patreon.