Things I've Gotten for Free at Airport Clubs
by Maria Aspan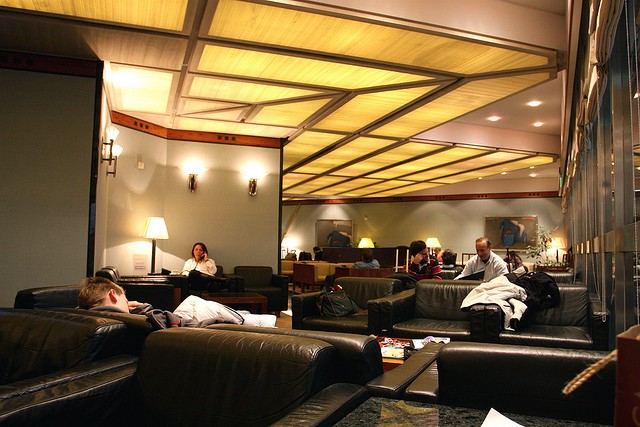 Admirals Club at Buenos Aires Airport.
I travel enough to reach a status I'll call frequent-flier-minus — not quite enough to get free upgrades or even those coach seats with better legroom, but often enough to be wistfully aware of the Up in the Air luxury happening all around me. Recently, though, I've stumbled into one corner of the true frequent-flier life: I've been invited into the airport clubs.
In the past few months, I've found myself deluged with free passes to the various fancy lounges that airlines offer to their frequent-flier customers, and sell for an average of $50 per visit to the rest of us. A couple of those passes came with a new credit card, while a few others came in more random ways: being good enough at social media got me one, while threatening to close an old credit card resulted in the bank begging me to keep it open, and sending me two more passes as a sweetener. I have a full stockpile of passes now, and while I'm generally a last-minute airport arriver, recently I've found myself planning to build in an extra hour to my departures, so I can use one of the passes before they expire.
This is what I've learned so far from my adventures in elite-traveler waiting rooms: They can be just as crowded and awkwardly-arranged as regular airport waiting areas, but they have more comfortable chairs and free booze. They will try to shame you into not ordering the free booze, by advertising expensive "Fine Wines" on the bar menu and making you ask the harried bartender what the "house red" is. (The bartender will not understand what you mean when you ask for the "un-fine wine.")
They will provide you with an unlimited supply of mixed nuts and other elegant snack food, but only snack food, as if everyone in the lounge is partaking in a school field trip and someone's overachieving parents have thoughtfully packed individual bags of mini-carrots and Pepperidge Farm crackers and Lite Ranch dip packets for everyone. They are not necessarily the best places to wait for flights you are worried about missing. And they have vastly differing levels of welcome towards — and scrutiny of — potentially unqualified visitors.
These are some of the things I've gotten for free at the airport lounges I've visited, and what I've learned about them so far:
Delta Sky Club, Atlanta, June 2010
How I got in for free: On the way back from a wedding, a friend who's definitely in the frequent-flier-plus ranks brought me in as a guest. It was my first introduction to the world of airport lounges — I remember waiting nervously while my friend talked to the host, worrying less about being rejected than about the potential embarrassment to him if the host deemed me unsuitable — and so being allowed through the sliding doors seemed like an unobtainable, once-in-a-lifetime treat.
What I got for free: I'm pretty sure there was hummus, and also those Biscoff cookies that Delta gives out on its flights. It was the only business lounge I've been to so far where the free wine felt standard, rather than something they would reluctantly give us cheapskates who couldn't pay to appreciate the finer things in life. (This was a few years ago, though; Delta may have joined the ranks of the alcohol upsellers since then.) I do remember being somewhat disappointed with the layout and décor, which basically looked like Delta had stuck a bunch of padded chairs in a hallway and was charging admission to sit there. But it had a lot of television screens with updated flight info and was the only lounge so far where I haven't worried about missing my flight.
What I took away: A gateway drug to the frequent-flier lifestyle, a more comfortable chair in which to start recovering from a raucous wedding weekend, and a reminder that sometimes the best way to get things for free is to have money already — or at least to have generous friends.
American Airlines Admirals Club, Miami, June 2013
How I got in for free: Sending 4,000 Tweets can apparently get you a free hour in an airport lounge. I had narrowly squeaked by the score cutoff for a Klout promotion that rewarded social-media activity with a lounge pass, so on my way back from a hectic work trip I zoomed through the Admirals Club. I was rushed enough not to feel intimidated by the imposing lobby, which was on an entirely different floor from the lounge itself, and the friendly host complimented my necklace, giving my first solo visit to an airport club the proper Sense of Occasion.
What I got for free: The opportunity to take a shower in one of six separate bathrooms, which seemed like a nice if mostly-pointless luxury. (I passed; I want to shower once I'm off the airplane, not before I board.) There were canisters of some sort of generic Chex Mix, good iced tea, and lots of crudités to go with the Ranch dip. The lounge was essentially a large, glassed-in balcony above the concourse and the gate where most of my fellow coach travelers waited, giving me a sense of physical superiority to go along with the lifestyle superiority. But my smug elevation almost made me miss my flight — a small sign by the flight-status monitors informed me that American would not make announcements in the lounge. By the time I saw that sign and took the elevator back down to the mundane realm, I was one of the last people to board my plane.
What I took away: Some mini-carrots, iced tea on a wobbly table, and extra stress. My quick stop to see how the other half flies yielded a rather disappointing answer: sometimes crammed into their leather armchairs above where the coach fliers cram into their polyester chairs.
United Club, Chicago, July 2013
How I got in for free: I had a credit card coupon in my bag, but I also had what I hoped would trump it: a first-class ticket. (When I used frequent-flier miles to book tickets to two friends' wedding, the first-class option was the same price as the coach option, so I got to spend the two hours back to New York observing that 1) even on short trips, first class fliers get drinks in real glasses and warm nuts and warm towels and hot soup in porcelain bowls and 2) the drinks in real glasses and hot soup in porcelain bowls become hazardous during violent turbulence and 3) forget the real glasses and porcelain bowls, first class is luxurious just from the legroom and the wide windows for the dusk approach back to New York.)
I showed up at the club's front desk to see if my first-class ticket included lounge access and was waived through by a bored host who didn't stop talking to her companion enough to smile or welcome me. I was disappointed with her lacking Sense of Occasion until later, when my flight was delayed and I asked the new front-desk clerk if I could leave and then come back. She looked at my ticket and said I'd been let in by mistake. "You're not supposed to be here," she said, as I slowly backed towards the leather armchairs and the yogurt-dipped raisins. "Who let you in here?" Fortunately, someone else came up and distracted her then — I was much less embarrassed than I would have been three years ago, but I wasn't eager to find out if United hires bouncers to protect its airport lounges.
What I got for free: Dark Chocolate Milanos — instant win. United had the best food by far: mini-packets of butter cookies, the aforementioned raisins, individually wrapped pieces of Monterey Jack and cheddar cheeses. It also had a "no cell phones" quiet room, free WiFi, lots of floor plugs, and windows that looked out directly onto the tarmac and the planes. I took my small glass of (house) wine back to a table and spent an hour writing emails and clicking through all the wedding photos that had already been posted to Facebook.
What I took away: Cookies in my carry-on bag and a sense of cheating the system — even if I have four more passes to make me a legitimate part of it for a little while longer.
Maria Aspan writes about banks and other things. Photo: Traveling Otter