The Cost of the Luxury Items Mentioned in Cardi B's "I Like It"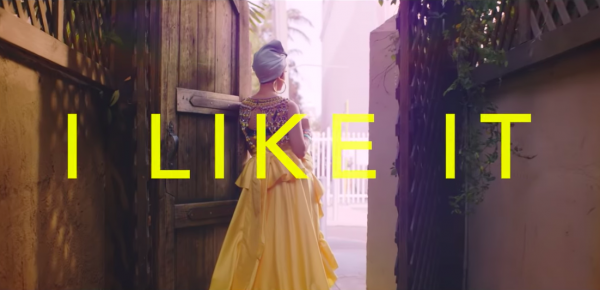 No one stunts like rappers and hip-hop artists, but do they make enough money to spend as much as they claim they do? Unlike many of her peers, Cardi B has said on camera that she doesn't like to sing about objects she doesn't actually own, and those claims seem to bear out — though when you do the math, it looks like Cardi's been doing some serious shopping. Let's investigate some of the high-end financial transactions made in the Cardi B, Bad Bunny, and J Balvin song "I Like It."

I like those Balenciagas, the ones that look like socks: $945
Cardi B has been photographed wearing Balenciaga's Stretch Leopard-Print Over-the-Knee Boots, which do indeed look kind of like socks, though mostly in the way that a pair of snakes trying to swallow your legs might look like socks. The price for these boots seems to change by the day; as of publication, Neiman Marcus was selling them for $945, down from their original price of $1,890 — but you get free shipping! 
I like going to the jeweler, I put rocks all in my watch: $100,000
This video from November 2016 shows Cardi B showing off her $100,000 diamond-encrusted watch. She is pumped and appears to consider this a smart investment in case her funds dip due to the presidency that had just begun… and she's not wrong.
I like texts from my exes when they want a second chance: too much
Do not respond. I don't care how many $200,000 Lams Offset buys you. Nothing is as precious as trust.
Hotter than a Somali, fur coat, Ferrari/Hop out the 'stu, jump in the coupe: $1,377,836.97
Cardi has worn a few fur coats in her time, but for this one I'm going with her infamous lime-green Saks Potts Belted Shearling-Trimmed Leather Coat, currently priced at $1,750. During her Carpool Karaoke segment on Late Night with James Corden, Cardi B claims to own a Lamborghini Aventador S roadster, a Lamborghini Urus, a Bentley Bentayga, a Mercedes-Maybach S-class, and a Chevrolet Suburban.
Now, as I hinted at above, her ex Offset gave her the Urus, so we're not going to charge her for that (don't text him back, Cardi!). The other Lamborghini, however, according to this video, comes in with a whopping price tag of $548,736.97. For that much money, your car better come with a bathroom. Also a backyard. Because it should be a house.
And there's still three more cars to go — the total of which is, if she got them all at base price (which seems unlikely), would be an additional $412,800. If the internet is correct and Cardi B's net worth is approximately $8 million, these cars alone represent more than 17 percent of her net worth. It's important to note, as Cardi states in the above-mentioned video, that none of these cars are leases; not just because she can afford to buy them outright, but also because Cardi B does not, in fact, have her driver's license.
Eating halal: $10.49
A combo platter from The Halal Guys is $9.99, but don't tell me Cardi B isn't going to splurge for that extra white sauce on the side. Don't tell me. Also don't eat that in the Lambo.
Tell the driver close the curtains: approximately $55,000 a year
In New York a personal driver can cost between $50,000 and $60,000 a year. I have my driver's license, but if I had Cardi B's money, this is a splurge I would also make (for the one hybrid I would own) because I H-A-T-E driving. I also dislike sitting in the backseat, though, so I'd have to sit up front with my driver, which would probably be weird for him. Or her. You know what, I'd definitely get a female driver, and we'd probably end up becoming best friends and pitch our friendship as a reality show, but they'd only shoot us in the car, singing, playing road games, having deep and meaningful chats, engaging in high-spirited antics, and/or making a bank robbery getaway or two. Our show would be so addictive and beloved, James Corden and Jerry Seinfeld would not only retire their respective car-based shows but also give up driving for good out of sheer embarrassment.

In summary, Cardi B owns a lot of really expensive cars, which, though they have curtains, are not in fact real estate. Her boots have lost their value, and that lime green fur coat only goes with so many things. On the other hand, not only is halal food is pretty cheap and healthy, putting $100,000 into diamonds in a watch is probably smarter than putting it in our current rock 'em-sock'em stock market. Whether or not I agree with all her financial decisions, as the old saying goes, let she who can't afford a chicken and gyro place herself — #stillfurloughed — be slow to judge.
Because, ultimately, Cardi B is both honest in her song lyrics and appears to be very conscientious about money and what it means to her. As Cardi would say, I like it like that.
Kati Stevens is a public affairs specialist in Washington DC. Her first book, Fake, came out in September from Bloomsbury, has (almost) nothing to do with politics, and would look really good on your bookshelf.
---
Support The Billfold
The Billfold continues to exist thanks to support from our readers. Help us continue to do our work by making a monthly pledge on Patreon or a one-time-only contribution through PayPal.