I Want to Spend 2019 Sending Handwritten Cards to My Loved Ones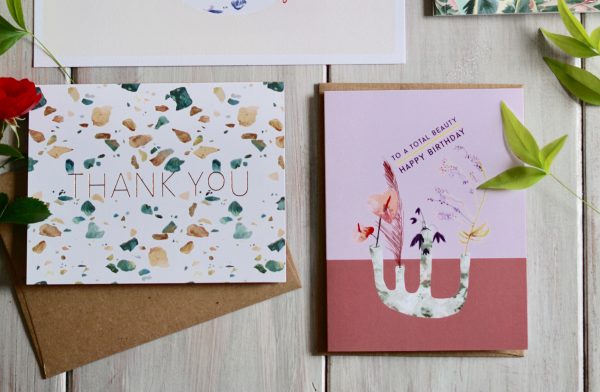 The pomp and circumstance of the holidays continues to push on — with twinkly lights popping up in stores, a "Santa Claus" marathon on the Freeform channel and retailers aggressively pitching toys, cars, and gadgets on commercials — but it's difficult to be in the mood to celebrate when we've collectively had such a challenging year. (Okay, let's be real: it's been two challenging years.)
What can we honestly say that's been positive about this past year? Sure, Ariana Grande released "Sweetener," Congress will now have more women than ever before, and my husband and I bought our first house (why yes, those are listed in the correct order of importance), but it's impossible to smile at the goofiness of a mall Santa when my phone is vweep vweeping with the following news alert: "US Border Agents Tear Gas Migrants."
Through the swarm of dreadful political news, mass shootings, and the Brett Kavanaugh hearings, one of the good things that's gotten me through this year (besides the occasional bottle(s) of wine) are handwritten cards sent from my friend Nora.
A rare moment of kid-like excitement washes over me when I find a brightly colored envelope in the mail addressed from my dear friend, who lives about 1,000 miles away. I usually know the card is coming because she'll ask me for my address (it's not that she's forgetful — I'm just a serial mover), but I'm still eager to rip it open and feel, just for a moment, that she's in the room with me. As I read the card, I can pretend that we're gossiping about people we know from high school or that we're watching Queer Eye while wearing matching JVN crop tops, not that I've moved hundreds of miles away from her and most of my other friends and family.
These cards, no doubt carefully picked out at some millennial haven — a locally owned shop that used to be a hardware store that faintly smells of incense and natural cleaner — are covered in feminist doodles and a friendly font. Her swooshy handwriting takes me right back to our school days when we would all send notes back and forth to each other between classes.
This past year, she sent me one card for Galentine's Day, one after I bought my house in the summer, and one right after the Brett Kavanaugh hearings, when I admitted to her through a text message exchange that my #metoo story was a lot like Christine Blasey Ford's.  
A few days later, after revealing my deepest and most shameful secret, a white envelope with her handwriting arrived in the mail. Her words were simple in that card — "I hate what he did to you, but know that you're strong" — and they resonated in a way that no phone call, no email, and no Facebook message ever could have.

In a world where we are so instantly connected through FaceTime, text messaging, Skype, and international phone calls, it can ironically often feel as though we are very alone. Making a real connection feels increasingly difficult, especially in a time of abhorrent news alerts, negative Twitter threads, and alt-right aunties' Facebook posts that deliver a barrage of bad news and bad takes on news.
I can't do anything directly about the chaos of the world. I can, however, spend all of next year attempting to make and re-make connections with loved ones miles and miles away through the use of handwritten cards. I'm dedicated to making this my 2019 mission.
This simple and inexpensive gesture will not only be a surprise for my friends and family throughout the year, but it will also likely lead to good feelings on my end as well. (What was it again that Phoebe Buffay taught us about no good deed being unselfish?)
And the research backs me up. A 2011 study from researchers at Kent State University examined the effects of writing letters of gratitude. A group of participants were assigned to write letters of gratitude over a three-week period to friends and family members. The letters couldn't be thank you notes for gifts or contain anything trivial like "thanks for saying hello to me this morning"; they had to be thoughtful, expressive statements. The results from this simple — almost silly — act were pretty extraordinary.
"The more letter writing people did, the more they improved significantly on happiness and life satisfaction. The new and potentially important finding is that depressive symptoms decreased. By writing these letters — 15 to 20 minutes each, once a week for three weeks to different people — well-being increased significantly," wrote Dr. Steve Toepfer, the lead author of the study.
The authors of the study also reported that writing letters of gratitude improved family bonds and decreased "perceived criticism from the family." I have a hunch that writing notes will do more good than the occasional Instagram DM, and definitely more good than commenting on the political rant that an uncle posted on Facebook.
I'm not going to naïvely pretend that the act of writing notes to friends and family is going to change the world — or even make the gruesome news cycle any more bearable. I'm also not going to say that we should long for a simpler time when everyone had personalized stationery and the internet did not exist. But I am hoping that writing and sending handwritten cards will help me make more meaningful connections on days I want to throw my phone in the river and give my router back to the cable company. (If only I didn't make my entire living on the internet.)
This analog ritual of picking out the card, putting pen to paper, and licking the stamp sounds like a welcome reprieve from the addictive blue light of a phone and all of the negativity that's eagerly waiting for me in there. More importantly, I want to spend my next year trying to make my friends and family feel just as special and as loved as my friend Nora did with her adorable cards and unparalleled thoughtfulness.
Jamie Birdwell-Branson is a lifestyle freelance writer based in Ohio. Her work can be seen in Zillow.com's blog, Porchlight, BobVila.com, WeddingBee.com, and many others. You can connect with Jamie on Twitter at @jbirdwell or her website.
Photo by Jessica To'oto'o (cropped) on Unsplash.
---
Support The Billfold
The Billfold continues to exist thanks to support from our readers. Help us continue to do our work by making a monthly pledge on Patreon or a one-time-only contribution through PayPal.