Billfold Recommends: RSS Readers
I know many of us are at the "all spent out" stage of our year, so today's Billfold Recommends is ABSOLUTELY FREE and a great way to pare down and/or focus your media consumption for 2019, if you were looking for that kind of thing.
The RSS reader.
There are many — I use Feedly, but you can share your favorites in the comments — and if you are unfamiliar with how an RSS reader works, here's a really simple summary:
RSS stands for "really simple syndication," and it syndicates (or "creates a list") of all the new content put out by a given entity. In Ye Olden Days you had to look up a publication's RSS feed URL, which was enough of an extra step that it put a lot of people off RSS, but now you can just enter the name of a publication and the RSS reader will take care of pulling the feed for you.
You can also use RSS readers to follow social media accounts, which is where the real gamechangey aspect kicks in. You know how sometimes you want to see a certain person's (or personal finance website's) updates but you know that every time you visit the social media site you get eyeball-sprayed with a bunch of stuff you didn't want to see but can't stop looking at? You can pick the people (or personal finance websites) you want to follow and send 'em to your RSS Reader and ONLY SEE THEIR STUFF.
Some social media platforms play more nicely than others; I can follow a Tumblr feed just by dropping the Tumblr URL into Feedly (e.g. you could follow my Tumblr feed via the URL hello-the-future.tumblr.com) but Twitter deliberately made it difficult for people to follow Twitter users through RSS readers so now you have to go to https://twitrss.me/ to get the RSS feed URL (and even then Twitter will rate-limit the number of feed requests that come through so it doesn't always work).
I feel like I've just lost a couple of you there, but that's okay. You don't have to do the social media part, although if you do, you get this lovely bare-bones "here's the thing, click on it if you want to read it" presentation:

But you also get that for news sites and such. Here's what my "Money" news feed currently looks like: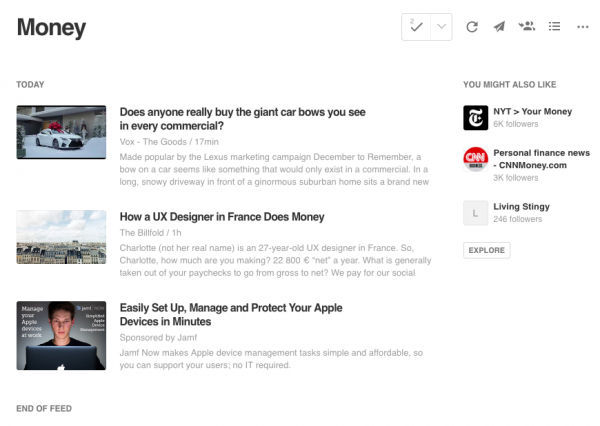 A simple list of articles with a bit of text to help me decide whether I want to read them, plus an ad. (There's always an ad, unless you pay extra to have it removed.)
You can sort your news and social media feeds into categories (I have a category set up just for my favorite writers' Tumblr feeds), you can flag articles you want to read later, you can skim past stuff that isn't interesting, and you can never miss another Billfold post again.
That's the real reason I'm recommending RSS readers, of course. So you'll never miss another Billfold post again.
One more note: it is possible to not only see but also read the article or post within the RSS reader — though some news sites deliberately only share the first paragraph of the article to force you to actually visit their site if you want to read the whole thing, and yes I need to figure out how to set that up for The Billfold. Why? Because if you read our articles through your RSS reader, we don't get ad revenue (which, as you might remember, is a large part of how we stay funded).
For now, I'll say that you should always visit the site because that's where you'll be able to read the comments. ❤︎
Previous Billfold Recommends: Tushy, Frugal and the Beast, Zep Commercial Acidic Toilet Bowl Cleaner, Top Rated Zulay Premium Quality Metal Lemon Lime Squeezer — Manual Citrus Press Juicer, Voting, the BugZooka, YNAB, Delta 2-Spray Water Amplifying Shower Head
---
Support The Billfold
The Billfold continues to exist thanks to support from our readers. Help us continue to do our work by making a monthly pledge on Patreon or a one-time-only contribution through PayPal.