Billfold Recommends: Tushy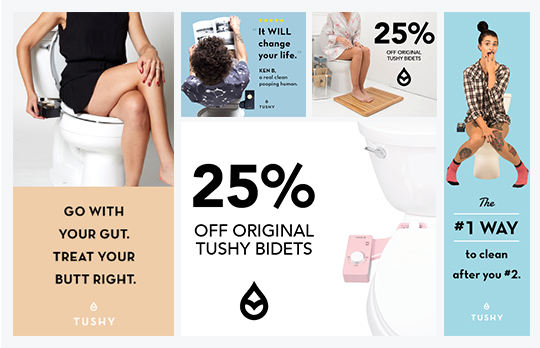 So we've got another Billfold Recommends from Billfolder Michelle Song, and this one is ALSO ABOUT TOILETS.
TUSHY is a bidet that can attach to most standard toilets in under 10 minutes; once attached, it does what a bidet does (if you don't know what a bidet does, look it up) and also helps you save money, forests, and your annual healthcare deductible.
Seriously. I'll let Tushy explain:
TUSHY saves 15 million trees from getting cut down annually for toilet paper production and saves us from getting infections like UTIs, hemorrhoids and anal fissures. TUSHY also saves consumers' cash by cutting their TP use by 80%! It's the perfect product for people who poop and key to a healthy, happy, and hygienic hiney.
I have had two of the three infections on that list, and they are NO FUN! (The worst part, by far, was learning what a suppository was.)
If you would like to save even more money with Tushy, they are currently running the following promotion: Take an Extra 25% Off All Original TUSHY Bidets at HelloTushy.com! No Code Required. Yes, that is an affiliate link, and yes, The Billfold has now recommended two toilet-related products! Should I start a spin-off toilet-themed personal finance website called The Flush? YOU TELL ME.
Previous Billfold Recommends: Frugal and the Beast, Zep Commercial Acidic Toilet Bowl Cleaner, Top Rated Zulay Premium Quality Metal Lemon Lime Squeezer — Manual Citrus Press Juicer, Voting, the BugZooka, YNAB, Delta 2-Spray Water Amplifying Shower Head
Photo credit: Tushy
---
Support The Billfold
The Billfold continues to exist thanks to support from our readers. Help us continue to do our work by making a monthly pledge on Patreon or a one-time-only contribution through PayPal.