In Praise of Pumpkinmas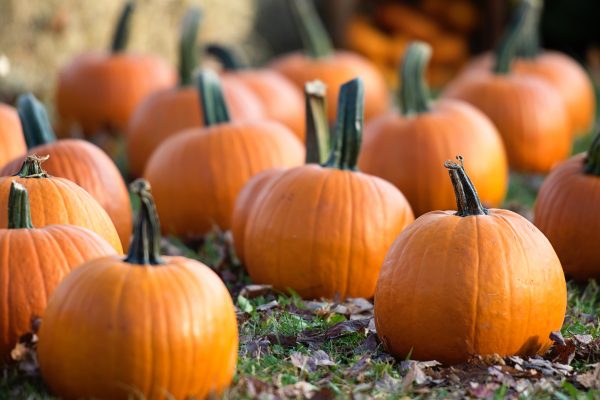 I'm a bit of a grinch when it comes to holidays. I usually try to sit them out, or else greet them with unseasonal irony. ("What are you doing alone, at work, on Flag Day?!?" "Will you be traveling home this year for Shark Week?")
But really, it's just one holiday in particular I can't stand. I can safely say I hate Christmas. Not the idea, just the execution. Honestly, I'm rather charmed by the idea of celebrating peace on earth and goodwill towards all. And I think I'd be fine with it if Chistmas were confined to a day, or even a week. But every year the season seems longer and longer that I find myself anticipating Christmas with the same blend of forced optimism and anxious dread that I usually reserve for elections.
So last year, for the first time, I opted out. I didn't go anywhere, I didn't do anything. I stayed home, ordered takeout, and watched season 2 of The West Wing. It was wonderful. This year, I plan on doing the same, though maybe switching the programming.
As for New Year's, though my general attitude towards resolutions is there's no need to wait for January if I'm of a mind to change, I do have one resolution for the coming year that I'm very much looking forward to.
Celebrate more holidays.
You may be wondering why. What could have happened to change my mind? I'll tell you what happened. Pumpkinmas happened.
What's Pumpkinmas, you ask? Pumpkinmas is a pumpkin-themed autumnal gathering. A celebration in which all invitees bring a pumpkin or a pumpkin-themed dish. I should state that I was not the inventor of this idea. For a few years a friend held a fall pumpkin party, I think as a something of a bewildered comment on the meteoric rise of fall coffee menus. (Suddenly, alongside "baseball" and "fire," pumpkin-spice lattes had their own season.)
I really enjoyed those pumpkin parties. But that friendship had waned, as had her interest in hosting any more pumpkin parties, and last year she decided not to throw one. I missed it terribly. Not wanting to head through 2018 un-pumpkined, I set about planning a pumpkin party of my own and roped a friend into helping organize. She asked how to describe pumpkin party to the uninitiated.
"Cozy fall feelings with lots of pumpkins," I said. "You know, like pumpkin Christmas. PUMPKINMAS! OH MY GOD, PUMPKINMAS!"
And thus a new holiday was born. We spent the month of October preparing, polling our friend circles for the most convenient date for a party, and settled on the Sunday before Halloween. We drew up invitations, letting everyone know they were invited to a celebration marking the turning of the seasons, and to please bring a pumpkin and/or a pumpkin-themed dish. We would be sure to have pumpkin soup and pumpkin pie available, minimum.
We spent the day before readying the house and garden, cleaning, preparing food, stacking firewood, setting a station for carving jack-o'-lanterns. That Saturday, the day before, I wished everyone a merry All Pumpkin's Eve. And on the day itself, I had gotten so into the Pumpkinmas spirit, I woke with a joy I hadn't known since childhood. Then panicked as I remembered I had forgotten to buy onions for the soup.
"Damn," I thought. "And all the grocery stores will be closed in observation of Pumpkinmas."
Almost immediately I chastised myself. They would be open, of course. No one cared it was Pumpkinmas. Pumpkinmas is a made-up holiday. "Now hold on," I rebutted myself again. "I care that it's Pumpkinmas. As for being a made-up holiday, they're all made up holidays."
Still, I decided not to fight the last-minute Pumpkinmas crowds and deputized someone else to fetch the onions.
When the guests began to arrive in late afternoon, pumpkin soup was ready, along with pumpkin pie, and all the pumpkin goods and cheer they'd brought with them. Pumpkin bread, pumpkin ale, pumpkin-and-bacon wrapped dates, and many, many pumpkins, whose seeds we scooped out and roasted, and the shells we carved into ghoulish and ghastly jack-o-lanterns. Then as it grew dark, set lanterns alight throughout the garden.
I enjoyed myself immensely. I think mainly because of the freshness. It was a holiday of choice rather than coercion. Since it was so new, Pumpkinmas felt unburdened by the aggregate weight of ritual, history, marketing and obligation. I don't believe a single person felt compelled to be there because their absence would be judged, nor that they had to spend any more than they wanted in time and money in preparation. I didn't have to convince myself that I was having a good time. My joy was genuine.
Every other holiday comes with some set of expectations — costumes, candies, carols, gifts. The only requirement of Pumpkinmas is pumpkins.
And because it was more of a holiday-by-consent than by fiat, as a group we could negotiate the most convenient date for all of us, rather than remain bound to government or religious edicts and suffer the consequences of holiday airfare pricing. We could make the Pumpkinmas we most wanted and schedule it when we most desired. Everyone was free to observe it in whatever way they felt best. Several friends got in touch the next day to say how nice a time it was, sitting by the fire as it grew dark, eating pumpkin pie, setting candles and jack-o'-lanterns burning in the shadows of the garden. A most festive and blessed Pumpkinmas it was for all, and for all a good night.
You, dear reader, may do the same if you choose, and let the blessings of Pumpkinmas into your own homes and hearts. For me, I will honor the spirit of Pumpkinmas and try to keep it all the year.
So what if it is a made-up holiday? I will make up even more of them. I'm already excited for Vernalia.
Cirrus Wood is a bike messenger and freelance writer/photographer. He lives in Berkeley and works in San Francisco.
Photo by Jonathan Talbert on Unsplash.
---
Support The Billfold
The Billfold continues to exist thanks to support from our readers. Help us continue to do our work by making a monthly pledge on Patreon or a one-time-only contribution through PayPal.