Checking In With My Savings Plan: May 2018 Edition
In May I received $4,421.57 in freelance income and $151.22 in book royalties, or $4,578.79 total.
Here's how I divided up the cash:
$228.94 went to my HSA
$228.94 went to my traditional IRA
$499.87 went to federal taxes
$124.97 went to state taxes
$274.73 went to my individual brokerage account
$274.73 went to savings
That left $2,946.62 for overhead, business, and personal expenses
I was expecting to get a little more cash in May than I actually received, but whatever I don't get in May I'll get in June, so it'll all work out.
Now let's look at the more interesting number: how my net worth has grown in the past month, and whether I'll hit $100K by the end of the year.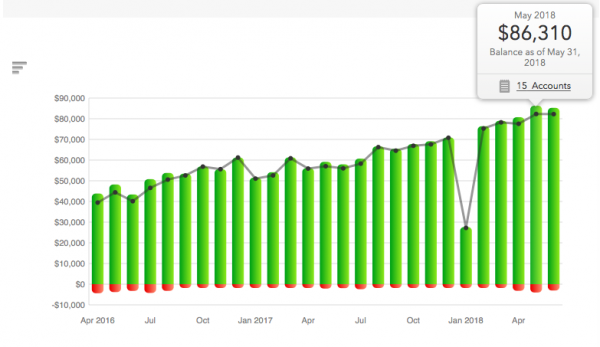 Mint says my net worth increased by $5,560 between April and May, and even though I lost $1,030 of net worth in the past five days thanks to all those rent, health insurance, and credit card payments, I'm still up by $4K somehow. I only put $1,474.95 into my savings/taxes/investment accounts this month, and we already know that I haven't seen a lot of market growth on my investment accounts, so where did that extra $2,500 come from? I bet it's the $2,518.62 in my checking account that's earmarked for a mid-month credit card payment. (Mint shows you your debts — they're the red marks at the bottom of the graph — but doesn't subtract them from your net worth.)
[Editor's note: As Billfolder cryptolect noted, Mint does show you your net worth minus debts… if you hover over the tiny black dot on your net worth graph.]
But even if my actual net worth only increased by $1,500 between April and May, it's still… wait for it… worth it.
---
Support The Billfold
The Billfold continues to exist thanks to support from our readers. Help us continue to do our work by making a monthly pledge on Patreon or a one-time-only contribution through PayPal.