Places I've Lived: China and Canada Edition
Kingston, Ontario, Canada, 2003-2005 ($345)
Six people can't fit in a standard car and I've come to realize that they also shouldn't fit in one house. After living in the dorms for my first year of university, I shared a six-bedroom house with five friends I had met in the dorm. Things felt just a little bit off-kilter at that size. We needed two full-size fridges but only had one tiny kitchen sink that quickly filled with dirty pots and pans. In the age before cell phones, we paid for two landlines to maintain long-distance romances and avoid the frustration of busy tones. We received our first $500 monthly heating bill and learned the expensive terrors of drafty old houses with single-pane windows. In the frigid winters, the temperatures in the common areas dipped. We retreated to our rooms and became increasingly distant from each other. We all moved on after two years.
Kingston, Ontario, Canada 2005-2006 ($330)
Despite prevailing stereotypes of female venom, living in a house of five young women and one bathroom went perfectly fine. Some potential conflict was avoided when I cheerfully volunteered to live in the smallest room that only fit a twin bed but also had the largest closet. The landlord owned a number of well-kept but moderately-priced student properties and had local notoriety for imposing rules of questionable legality, including limiting overnight guests and requiring quarterly cleaning inspections. Every few months, we dutifully studied the cleaning checklist and prepared for the inspection. This is where I first learned that you can and should scrub a wall.
Shanghai, China, 2006 ($400)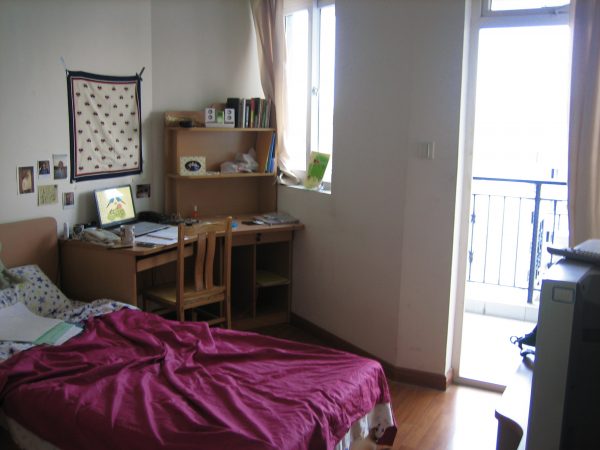 After a 13-hour flight to Shanghai, I heaved myself into a taxi that I hoped, despite my mispronounced Chinese, was headed to the university where I was to spend a few months studying Mandarin. When the taxi stopped outside the walled campus, what looked to be the foreign students' dorm high rise loomed down a long pedestrian walkway. Hesitating, I stared at a photo of the building and back again, eventually resorting to counting out each of the 26 floors of the building to verify I was in the right place before I pulled my luggage from the trunk and paid the taxi driver from a paper envelope stuffed with Chinese RMB.
The rooms at the foreign students' dorm came fitted with a single mattress that could most generously be described as a slab of wood with a sheet wrapped around it. The convenience store in the lobby sold extra pads for your mattress for $7. Many foreign students, unaccustomed to extremely hard mattresses, slept atop stacks of pads like a modern princess and the pea. I bought a new bicycle for $30 that was stolen within two weeks from the outdoor bicycle parking area. The entrance was monitored by dormitory staff and they guarded against overnight guests. I was occasionally called into service to assist friends as they hauled visiting guests through a hallway window on the second floor.
Shanghai, China, 2007 ($375)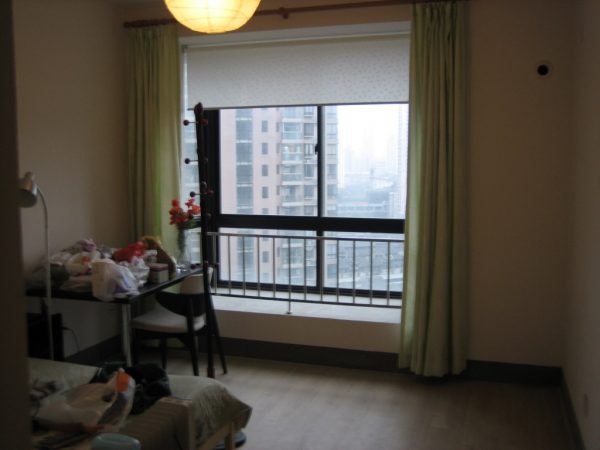 I was only supposed to be in China for a handful of months but ended up staying for two years. The city seemed alive with potential and purpose. With a transient expat population, it was easy to find a short-term room rental on a local rental website. This modern, furnished three-bedroom apartment was closer to downtown and I moved in by taxi, toting a blue Ikea bag and one suitcase.
My first two roommates in Shanghai were strangers, a businessman from Japan who crashed in the smallest room on business trips to the city and a graphic designer from France who smoked a lot of hash in the living room. We kept to ourselves and locked the doors to our bedrooms. The ensuite bathroom was unfinished concrete. A friend pointed out the danger of pairing a lack of shower curtains with exposed lighting wires. My solution was just to not think too hard about it. 
The neighborhood looked like so many other downtown Shanghai neighborhoods. There was the mix of modern high-rises juxtaposed with time-worn buildings and rambling alleyways where hanging laundry almost brushed the top of my head. There was a local spot to pick up crispy jianbing pancakes or hot buns for breakfast, all for under a dollar.
There were also a baffling amount of barbershops. While searching for the Chinese translation of the local intersection on the internet, I stumbled upon an international travel sex forum with dozens of threads of people looking for sex workers in my area. That's how I learned that the barbershops were brothels and I lived in the unofficial red light district of Shanghai.
Shanghai, China, 2007-2008 ($450)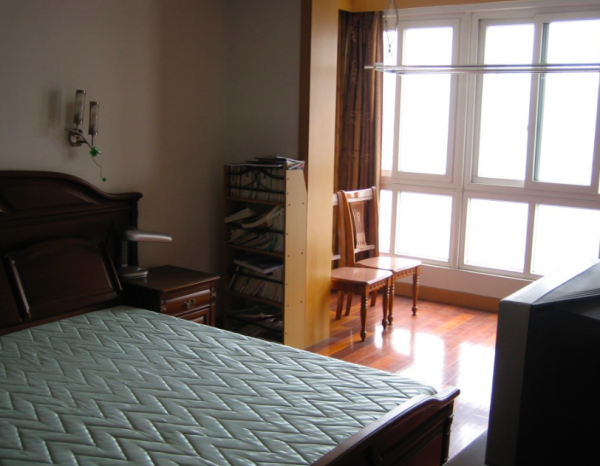 With the financial stability of a part-time office job at a PR firm along with some freelance gigs, I signed a one-year lease on a two-bedroom apartment in the central Jing An district. The second bedroom was initially filled with visiting friends and then eventually a permanent roommate. A recent graduate from the U.S. who also worked in PR, we were both in the same stage in our lives, ready to be a bit lost, explore, and throw ourselves into the energy of the city. We became fast friends.
Like most Shanghai apartments aimed at expats, the apartment came furnished. It included a textured white L-shaped couch that I considered at that time in my life to be the height of sophistication, an aesthetic judgment that I now question. To brighten up the living room, we bought the second-cheapest floor lamp at Ikea and I proceeded to see the same lamp in every young expat's apartment that I visited in Shanghai.
The apartment was relatively new and presented well. However, like much of my experience with material things that I could afford in China at that time, it only had the sheen of quality. We'd regularly open drawers and have handles come off in our hands. The bathroom water pipe burst one evening and the lock on the front door was a constant struggle, eventually breaking apart on the last day of our lease.
This is the only place I've lived where I walked to work. The 20-minute walk took me past local scenery, including a large musical fountain, and up the steps of a pedestrian overpass over a 10-lane intersection.
Beijing, China, Summer 2008 ($225)
My short stay in Beijing began with my crashing temporarily on the two-seater couch of a good friend before we flew away to backpack through Western China for a couple of weeks. When we returned, I moved into a room she had found for me in another apartment in the same building. I don't remember much of that time, except that I was grateful to have a good friend in the building. It wasn't at all like Melrose Place. Instead, we watched a lot of counterfeit Dexter DVDs in her apartment and ate hand-pulled noodles and spiced cucumber salads at the local Muslim noodle cafeteria. As the 2008 Beijing Olympics kicked off, I moved back to Canada and into my parents' house to start graduate school.
Downtown Toronto, Little Italy, Summer 2010 ($550)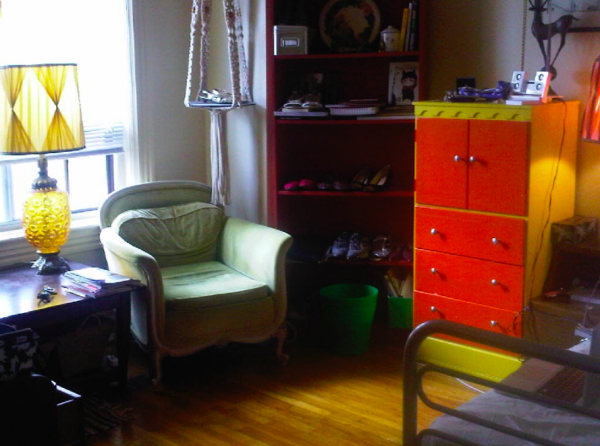 If you have the opportunity to live with your best friend, you should. Relatively inexpensive for this area of Toronto, this furnished room sublet was in a first-floor two-bedroom apartment that was decidedly shabby. It was telling that someone had seen fit to install bars on the back window. The apartment also had a sprawling backyard, free parking, and, most appealing, my best friend since junior high school already lived there.
It was a weird, hot summer in Toronto. Some weeks were electric, as the city hosted the G20 summit and its associated protests. We maintained an unruly vegetable patch and gently coaxed tomatoes out in late August. We planted asparagus, not realizing they wouldn't grow until the next summer when I was long gone. It wasn't exactly like the sleepover parties of our youth, but it was close. We learned necessary facts about each other as roommates: I leave the refrigerator door open for too long and she uses the same sponge to clean both dishes and the counters. I count it a great success that we are still best friends. Most credit goes to her rather than me.
Chinatown, Toronto, Summer 2013 ($700)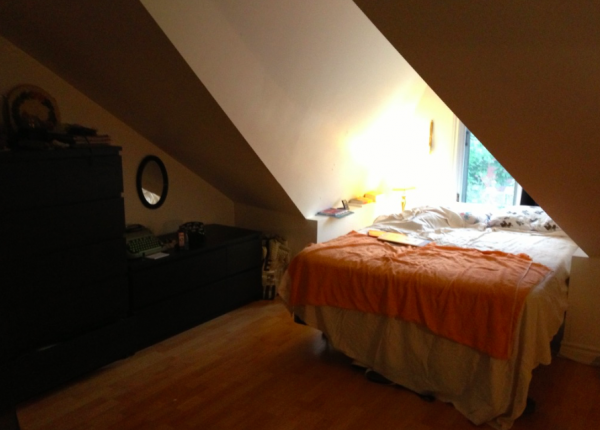 For one carefree summer when I was single and lonely, I sublet a cozy third-floor attic room in a four-bedroom house in Chinatown that I found on Craigslist. At $700, it was exactly the price a reasonable person would pay for the room. I would have paid infinity dollars because it was the only room on that floor and was blessedly air-conditioned, a necessity on an upper floor in a muggy Toronto summer.
The room was large, but the slanted ceilings compressed the usable space. I spent the first few weeks bonking my head against the ceiling until muscle memory prompted me to lean at appropriate angles. It is the most centrally located place I have ever lived. My financial district office building was only a seven-minute bike ride downhill, on a bike I would select every morning from the bikeshare station at the end of my street.
On lazy weekend laundry afternoons while my clothes tumble-dried in the on-site coin laundry, I would saunter down the street to the Art Gallery of Ontario and look at art for precisely 45 minutes, returning to warm socks. I subsisted on $4 BBQ pork and noodles and other Chinatown delights. I never got to know my roommates because I rarely stopped off at the second-floor kitchen to cook.
By the time my sublet ended at the end of September, I was no longer single or lonely, and I moved back to my parents' house.
Midtown Toronto, 2013-2014 (free, sort of, or $1,350)
When I started dating the man who would one day become my husband, he lived in a sturdy one-bedroom apartment in midtown Toronto. One day after I had stayed at his place every night for six weeks, I realized that I lived there now too. In the handful of months I spent there, I never pitched in for rent — but I bought all the groceries and furniture upgrades.
A former office building, the low-rise residence was utterly charmless. The apartment had the classic bland beige wood flooring and white walls that were thick from being repainted for every new tenant. Nestled in a dense urban intersection, we lived a five-minute walk from four Starbucks cafés. The window of one Starbucks looked out onto another Starbucks across the street. It was not uncommon to see a fearless Toronto squirrel streak along the patio fence with part of a discarded bagel in a Tim Hortons wrapper in its mouth. The busy intersection was perpetually under construction and the neighborhood felt impersonal. Shyly optimistic about the permanence of our new-ish relationship, we resolved to move into a new place together.
Downtown Toronto, 2014-present ($1,800 shared, or $900)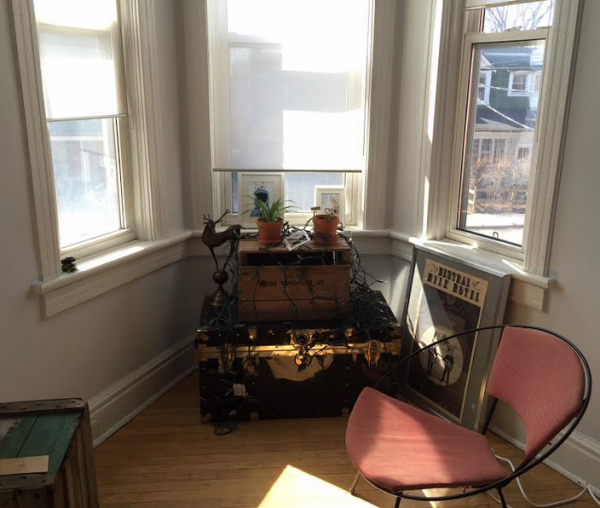 We immediately fell in love with this two-bedroom (plus attic) second-floor apartment and earnestly pursued the rental application in the competitive Toronto rental market. We touted our non-smoking, soft-footed, pet-lacking, young professional status in a desperate bid to have the landlords, who were another young professional couple, choose us to live in the apartment above them.
We positively danced a jig when we landed this place. It is our dream apartment, with built-in bookcases, soaring ceilings, and a west-facing bay window. You can see the entrance to the subway from our front door. Within a five-minute stroll are several independent coffee shops and a large park.
But, like any love, there is compromise. The bedroom floor is noticeably crooked and, despite occasional earnest scrubbings, the baseboards never really look clean. The pipes have frozen twice in winter cold snaps.
When we first moved in, $1,800 in rent felt like a good deal. As the Toronto rental market has inflated rapidly, it now feels like an absolute steal. The apartment could fetch several hundred dollars more in the current market, but our landlords have never increased the rent.
A few years ago my boyfriend took me up to the attic he'd decorated with homemade hot air balloons and asked me to marry him. We transitioned into our married life together in this apartment, which is to say that everything is the same except now there is leftover wedding décor stored in the attic. Someone once told me that marriage is mostly just two people shouting "What?!?" down the hall to each other, and this has proven to be true.
L.K. Gleeson lives and works in Toronto, Canada. She hopes to one day own a house with many windows.
---
Support The Billfold
The Billfold continues to exist thanks to support from our readers. Help us continue to do our work by making a monthly pledge on Patreon or a one-time-only contribution through PayPal.