Checking In With My Savings Plan: January 2018 Edition
In January, I received $5,483.51 in freelance earnings and $29.89 in book royalties, or $5,513.40 total.
Here's how I divided up the cash:
My HSA got 5 percent, or $275.67.
My traditional IRA also got 5 percent, or $275.67.
Then I set aside 25 percent of the remaining $4,962.06 for federal taxes, or $1,240.52.
I also set aside 5 percent of the remaining $4,962.06 for state taxes, or $248.10.
Then I put 5 percent pretax money into my personal investing account, or $275.67.
I also put 5 percent pretax money into my savings account, or $275.67.
That left $2,922.10 for overhead, business, and personal expenses.
As you might remember from our monthly check-in post, I ended January with a savings account balance of $4,783.85 and a checking account balance of $2,961.04.
My goal was to end the month with my checking account balance at $3,000 — that is, a fully-refilled checking account buffer — but I'll accept being $38.96 off, especially because I'm still waiting on two paychecks that I thought I'd get by the end of the month. (I have one client who either pays right before the end of the month or right after, and I should just start assuming the money will arrive at the beginning of the next month.)
This is the part of the post where I show you that graph of my net worth, but there's a problem: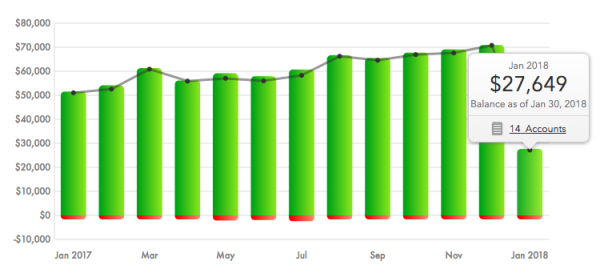 Mint thinks my net worth has dropped by $43,301 because the money that was in my TIAA 403(b) account is now in limbo (remember, Vanguard won't put that money into my rollover IRA account until they receive and process the documents I sent proving my identity).
Since TIAA is sending $44,574.70 to Vanguard, you could say that my net worth at the end of January is actually $72,223. December's net worth was $70,950, which means I increased my net worth in January even while paying $5,152 towards estimated federal and state taxes.
I'm fine with that.
---
Support The Billfold
The Billfold continues to exist thanks to support from our readers. Help us continue to do our work by making a monthly pledge on Patreon or a one-time-only contribution through PayPal.