The Cost of a Maternity Wardrobe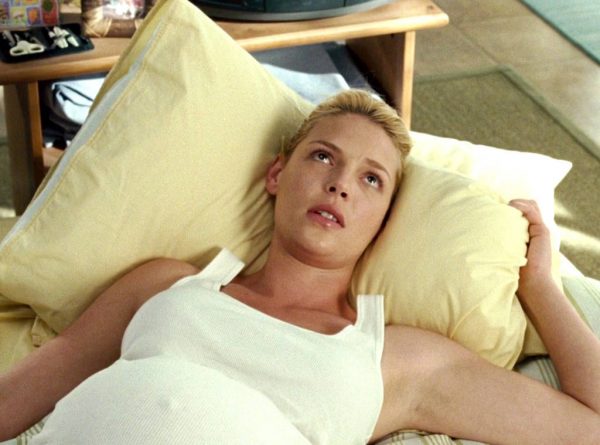 I used to teach an economics class in an Associate's Degree program, and in one lesson, to debunk the neoclassical economic idea that our purchases are the truest representation of what we actually value, I would have the students list things they had bought even though they didn't really want to. Crappy airport sandwiches, the textbook my students were using at that very moment—there were no shortage of examples.
I now have a new example of my own: maternity clothes.
I am lucky to be far from the first in my group of friends to get pregnant. I've gotten advice, encouragement, and a whole lot of hand-me-down maternity items. One friend gleefully brought me a huge tote bag of clothes—she's a mom of three, her youngest is eight months, and she unequivocally declared that she wasn't going to need anything in the bag ever again. Another friend handed me the no-longer-needed maternity bathing suit she had accidentally packed when we spent a weekend at an upstate lake house. And a third friend was very happy to lend me the foxy lace dress she wore to a wedding I officiated in April; I'm super excited to get to wear that dress to her wedding in November (and probably the other two fall weddings I have coming up).
The big bag from the first friend had a ton of stuff in it: T-shirts, maxi dresses, tank tops, a couple of work-appropriate shirts, and some long-sleeved shirts. It wasn't a complete wardrobe, though. For one, there were no bottoms. And second, the former owner is a size or two larger than me in most things, she works from home, and she had already gone through three pregnancies in these clothes, two of them while caring for a young kid or two—so most of the stuff isn't the well-fitting office wear my life requires. I needed to buy some maternity clothing of my own.
Though there are plenty of places to get hip stylish pregnancy wear—like JoJo Maman Bébé, where you can by an $80 maternity cape or a $60 pair of jeans—I opted instead for the frugal-but-fine Old Navy route. In round one, I went online and bought a pair of maternity jean shorts with a full panel that covers my belly ($14.97), a pair of linen shorts with elastic panels on the side ($14.97), a pair of black pants I can wear to work ($33), and a pair of black full-panel leggings ($12).
Minus promotions and a $5 reward I had earned on my Banana Republic credit card, the total came to $60.96. There are always promotions and discounts on the Old Navy website, so none of these items were actually the prices listed on the invoice that I'm copying these numbers from. I think each of the shorts were actually selling for about $10.
I ended up keeping everything in this order except for the linen shorts—they didn't fit great, and I decided that rather than swapping for a smaller size I could make do with the one pair of jean shorts and my assortment of elastic-waisted running shorts that work well enough with a long shirt. The return credit was $9.69 (less than the $14.97 because of the promotion).
At this point, I didn't look super-pregnant and could still fit into all my dresses and shirts, but none of my pants fit. So I took everything out of my pants drawer and put it in a suitcase under the bed. I put all the hand-me-down stuff, plus my new maternity clothes, in that drawer. (Even though the drawer is now a hodgepodge of tops and bottoms and dresses, I didn't want to integrate maternity wear with my regular clothing.)
The great pants banishment signaled that it was time to buy a pair of maternity jeans. I went back to OldNavy.com and bought one pair of blue jeans ($39.99) and one black tank top ($11). I also bought one high-waisted stretchy pencil skirt from the Gap, despite it being a very expensive $49.95. Until this spate of purchases, I didn't realize that the Gap and Old Navy had website integration—this was all included in one order, and I think I got the whole order for 30 percent off; the invoice lists a subtotal of $100.94, promotions of -$31.98, and free shipping, for a total of $68.96.
I kept all three of these items: the jeans are great, the tank top is a tank top, and though the skirt is a little strange (I can't tell if I'm supposed to fold the top panel part over, but it's very long if I don't), the high waist means I can wear all my regular shirts because I can tuck them in. (Most maternity wear is premised on these terrible-looking belly panels, where the pants fly is fake and just kind of disappears into a piece of stretchy nylon, all meant to be worn with a shirt that covers it all. The skirt avoids this situation.)
I thought I was done, but then a friend emailed me an article about Target's cool new maternity line, and I was drawn in by a grey cowl-neck maternity sweatshirt for $24.99. I ordered it online and picked it up at the new mini-Target near my office. You can't count on anything actually being in-store at a New York City Target, and there was free shipping if you pick it up. Easy. I haven't worn the sweatshirt yet, but I'm sure I'll get a lot of use out of it once fall really arrives.
So far, I've spent a total of $145.22, which doesn't feel like a lot for the amount of stuff I've bought, but feels like $145 more dollars than I wanted to have spent on clothes that are only for temporary use. I'm still worried that it's not enough, though—maybe I need an additional pair of work pants? Or another pair of leggings for when it's colder? About once a week I find myself loading up virtual shopping carts at Old Navy or Motherhood Maternity and then abandoning them, telling myself that I have plenty of things to wear. Then I look at maternity winter coats, because I can't zip or button any of my outerwear anymore, and then I tell myself that I'll find something when the temperature actually drops. Last week I realized that my rain jacket doesn't zip up, and I got soaked in a five-inch-wide stripe down my front when walking home from dinner. After telling my mom, she graciously mailed me one of her most stylish raincoats to borrow (she's a larger lady than I am, and it closes just fine).
I joke about having purchased a chic maternity capsule wardrobe, but in truth, much of my regular clothing still fits, especially the shapeless dresses, some of my elastic-waist cotton sundresses, the leggings I can wear under my belly, and some tunic-length shirts. And of course, all the cardigans (after nine years of graduate school, I have quite a collection). But lots of my clothes are currently unwearable, and I've packed those items into storage bins so I don't fret in the morning trying to pull on something that just won't go.
With less than half my clothing available to me, I still have many things to wear. I can get through life with one pair of jeans, rather than five. I can wear the same borrowed dress to three weddings. Maybe I'll take this lesson to heart when baby Thrasher comes (in December!) and finally live in a simple, minimalist wardrobe that utterly sparks joy. Or maybe I'll just have to spend more money on things I don't really want, like nursing tops and expensive dresses with clever boob-extraction slots, and the economists will think they're what I really want.
Total cost of maternity clothing (so far):
First Old Navy order: $60.96
Return credit: -$9.69
Second Old Navy/Gap order: $68.96
Target sweatshirt: $24.99
Total: $145.22
Dory Thrasher has a PhD in Urban Planning and works as a Data Analyst for the New York City Department of Social Services. She makes quilts, reads books, yells about inequality, and runs marathons (this hobby is currently on hold). She lives in Brooklyn.
---
Support The Billfold
The Billfold continues to exist thanks to support from our readers. Help us continue to do our work by making a monthly pledge on Patreon or a one-time-only contribution through PayPal.