Millennials ❤ Plants?
It's because they aren't buying houses.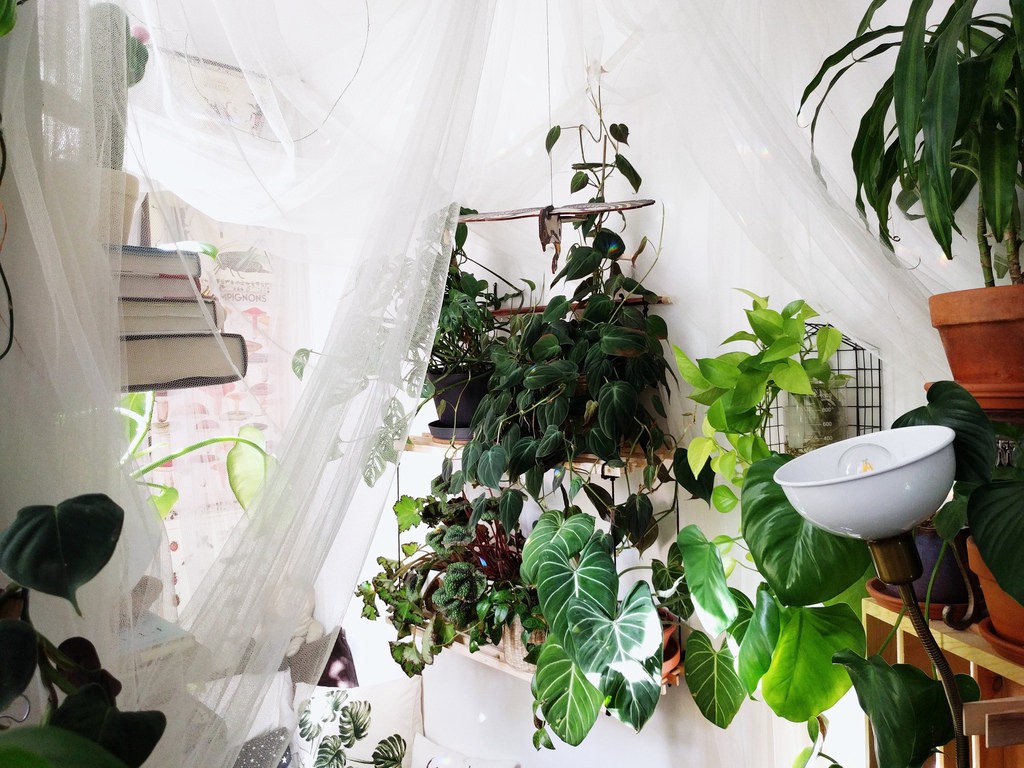 As of last count, there are 25 plants in my home. At the beginning of the year, there were exactly zero, but that changed very quickly. One stoned trip to Lowe's and $80 later, I had my first plants — a big palm that might be dying, a smaller palm that is alive and a prayer plant with oddly crsip leaves that I worry over every time I pass it.
Sometimes, Happiness Costs $80
My friends and I talk about plants now instead of whatever else it would be that we used to talk about — celebrities? our other friends? dinner? — and send pictures to each other with a variety of stressed out emoji, seeking diagnosis or advice. It's something in the air — maybe it's just getting older and not wanting hangovers or maybe it's just the way life goes. You grow up, you buy plants.
It turns out that millennials love plants and are buying plants at a rapid clip so much so that it has gone from casual observation to full-blown trend. And, if you believe the Toronto Star, it's because in part of The Way We Live Now — getting married later, having children later, and renting apartments for much longer than anyone had intended.
Why millennials are becoming proud plant parents | Toronto Star
This article points mostly towards Instagram as a driving force behind the millennial plant boom — plants look great on Instagram — but also notes that a lot of the impetus behind the blossoming(sorry) plant interest is because millennials are too cramped and too busy to take care of anything else.
Lack of time and limited space can also explain millennials growing interest in houseplants. This segment of the population is working longer hours and a higher proportion are living in condos that often regulate pet ownership, making plants a cheaper, easier alternative. Given the circumstances, a nursery for plants rather than for human or "fur" babies sounds perfectly logical….
"Plants are a great place to start if you're not sure you're ready to become a parent." He advises the newest generation of gardeners, "Move from plants to pets and then, just maybe, to kids."
Plants are a means of testing out the responsibilities of adulthood, with a much lower financial and emotional investment. You buy a monstera plant because you saw it on Instagram, you kill it somehow seven months later, drag it out to the curb and start again. At most, you've spent $120, tried taking care of something and failed. You can always buy a new plant — much easier than dealing with a pet or a child.
This bit from Nylon corroborates much of this information — a plant is an investment into making an apartment you rent feel more like a home. As less millennials are buying homes and more are renting or continuing to rent — millennials want to buy homes, you see, but can't afford it. So they make do with what they have. If what you have is an apartment that you rent from someone you've never seen in person, you probably can't tear down a wall or build a breakfast nook where the hall closet used to be. So you buy some plants because a guest bedroom full of ferns and peace lilies is much, much cheaper than a down payment, every single time.
Why Are Millennials Obsessed With Houseplants?
"Millennials are going to spend money on what makes them happy," [Tara] Heibel says. "They're getting married and potentially having children later in life — or not having children at all — and they're going to make sure that their surroundings are something that they want to be in. And thank god, plants are part of that."
Buying a home does feel out of reach for many people, myself included, but I've never really acknowledged that fact with any seriousness or thought. A house is not something I will ever own, but my current apartment might very well be my forever home. I've lived here for seven years and even though I have roommates, I'm determined to outlast them. Seems fine to just buy some plants.
---
Support The Billfold
The Billfold continues to exist thanks to support from our readers. Help us continue to do our work by making a monthly pledge on Patreon or a one-time-only contribution through PayPal.