The Cost of Marrying in Egypt
Cheaper than you think, but with a lot more paperwork.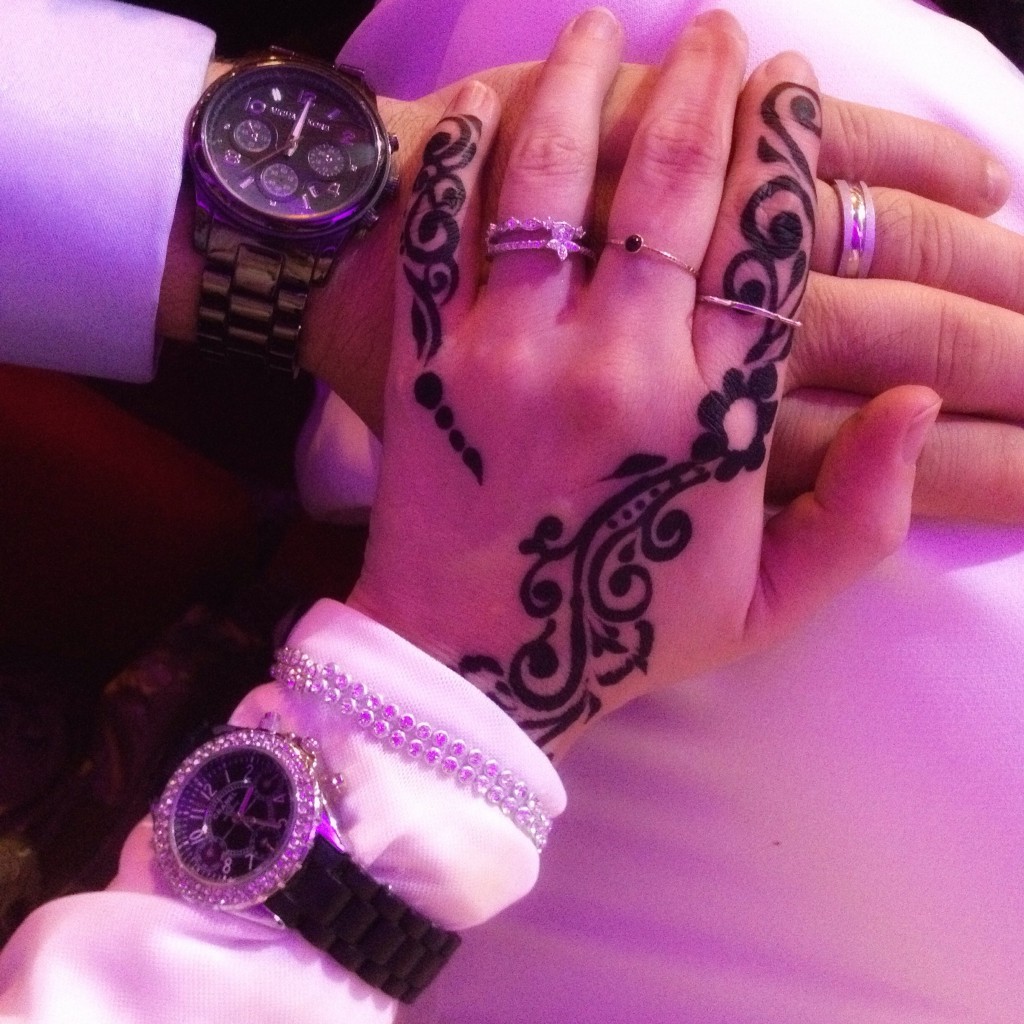 My second night in Paris I asked a guy at a cafe for a light, sat down at his table where he was eating alone, and talked with him for hours until the staff started stacking chairs and shutting off lights. Two nights later we went for dinner at an Indian restaurant and I moved into his place. Two months after that I wrote in my journal, "I'm going to marry this man." Four months later we flew from Paris to Cairo. I bought a dress for a few dollars at a marché in el-Mahalla, his sisters made me a veil, and my husband and I had a weird and wonderful wedding surrounded by all his family and a couple hundred curious onlookers from his parents' village.
I don't remember which one of us first brought up marriage; I know for a fact that neither of us dropped to one knee or ever asked, "Will you marry me?" We simply both knew without saying that we were meant to finish our lives together. Instead the most pressing question on our minds was: how will we marry?
Getting anything accomplished in Egypt is essentially hell. Every government office is hot, dirty, and dusty; every employee is ignorantly unhelpful at best and looking for a bribe at worst; and everywhere you go you can't escape the fact that you're in a sweltering hot desert in one of the most overcrowded, polluted cities in the world. As a Canadian engaged to an Egyptian the emotional cost of marrying in Egypt is entirely unquantifiable, but fortunately the monetary cost of marrying here is not high.
Getting There
Tourist Visa: 85€ ($90 USD)
Visitors to Egypt must obtain a 30-day tourist visa before entry. I get mine at the Egyptian embassy in Paris for 85€. The French man waiting in line next to me gets the same visa at the same embassy but pays just 59€. If you get one upon landing at the Cairo airport, rumour has it you only pay $25 USD. Welcome to Egypt, where fixed prices do not exist!
Flight: 995€ ($1,050 USD)
Two one-way tickets from Charles de Gaulle to Cairo International on EgyptAir for a whopping 855€. This would have been significantly cheaper if we hadn't bought our tickets five days before departure. Or if we hadn't been 2 kg over our luggage allowance and had to shell out an additional 140€ at the airport for our oversize baggage. Live and learn.
Travel Total: $1,140 USD
The Marriage
Drivers: E£1,130 ($113 USD)
Normally the estimated 90% of Egyptians who are Muslim marry in a mosque. However, Egyptians can only marry foreigners at the Ministry of Justice in Cairo. As my husband's village is a two hour drive north of Cairo, we hire men from our village with cars to take us each time we need to go into the city, paying them between E£350–400 each trip (depending on how many stops we make).
Declaration Letter from the Canadian Embassy: E£296 ($29 USD)
Foreigners are required to provide written proof that there is no legal impediment in our home country to us marrying in Egypt. For this I make two trips to the Canadian Embassy in Cairo, one to get a fill-in-the blanks form letter stating that I am single and free to marry that I type up in both English and Arabic, and another to have it officially stamped. The Embassy authenticates these letters for only one hour between 8:30–9:30 am three days a week, so we get there first thing in the morning and wait with six other couples as the woman behind the counter gives a cursory glance to my passport and stamps my declaration letter. The Canadian Embassy is clean and air conditioned and this is easily the most pleasant stop we make.
My declaration letter also needs to be stamped by the Ministry of Foreign Affairs, a seemingly pointless task that involves an enormous crowd of people pushing and jostling for entry to a quintessentially barebones and dirty Egyptian office set behind a courtyard not far from the embassy. A man out front asks for E£100 to get us to the front of the crowd but instead I queue in the women's line as it's shorter and seemingly more orderly, leaving my husband and translator outside. Fortunately I simply have to hand one man my letter, who waves me over to an adjacent queue where another man stamps the letter, then I shuffle over to yet another man who impatiently holds out his hand for the money. In total it takes less than three minutes once I'm inside but, like with all government offices in Egypt, I leave wondering why it took three people to do a job that could just as easily be done by one.
Medical exams: E£80 ($8 USD)
Before marrying we must present the Ministry of Justice with medical certificates attesting to our good health. Despite the petrified rat on a pile of empty boxes near one window, my husband assures me we're at the best hospital in el-Mahalla. We're required to take forms to multiple different offices to be stamped by various workers, including one biochemistry lab that has staff handling vials of blood without protective gloves and a room outside where a woman, presumably a nurse, takes a few seconds between playing Candy Crush while lounging on a cot to tick off a few boxes on our forms. After getting everything stamped and signed we're told to come back in a hour. We take a cab to a cafe and wait with mango yogurt shakes before returning to pick up our medical certificates. At no point did anyone medically examine me, for which I am eternally grateful.
Residence permit: E£0 ($0 USD)
I can get into Egypt on a tourist visa but I can't get married on one so I must get a residence permit at The Mogamma, a hellish government office in Tahrir Square that's considered a symbol for all that is wrong with Egypt's unbearable bureaucracy. All government paperwork in the country is done in this monolithic building, which means that at least a million people go through its doors each day. Amid the confusion of thousands of people running and pushing and yelling in the labyrinthian hallways we miraculously find the correct window. Again I queue in the women's line and hand over my passport that's stamped and returned immediately. Without paying any money or filling out any forms, I am officially an Egyptian resident for the next 30 days.
Marrying: E£270 ($27 USD)
The morning we marry, we wake up at 4am to drive to the Ministry of Justice in Cairo. At 8am, we are the first ones there and make it in to the building before they're even open, thanks to a lax security guard. At 8:30am staff begin showing up and we give a man at a desk all our paperwork. He sends us back to the waiting room — which reminds me more of a futuristic dystopian movie set with its flickering lights and one, old rattling oscillating fan in the corner — where we wait. And wait. And wait. Finally we find out we're waiting for a translator. Despite the fact that the sole purpose of this office is to marry foreigners, there is no English translator on staff and they have to call someone in.
The waiting room fills up with couples, the oppressive heat of Egypt in August makes its appearance, and at 11am we're finally called. We give our papers to a woman who asks me in English if I want to add anything to the marriage contract. At this point I can add anything — my Egyptian sister-in-law, for example, had it added to her marriage contract that her husband must quit smoking. Most Christian women add a proviso that their husband can't take any more wives as Muslim men are legally allowed four, so when I say I have nothing to add the woman looks at me incredulously and asks, "Are you sure?" Shaking her head, she hands back our papers, which we in turn hand off to a third person who tells us to go to another office across the hall and give our papers to a fourth desk.
Here is our mistake: The woman says she has to type up our information while we have to photocopy the visa page on my passport. Instead of waiting for her to finish typing, my husband thinks he'll speed up the process by popping out to copy my passport while she's working. But when he gets back not two minutes later she's put our papers on the bottom of the pile. Which means we now must wait for her to process every single couple who came after us.
Two hours later she's finished but now the office is having internet problems. We wait some more. Finally at 2pm, after lagging six hours in a hot, uncomfortable waiting room and watching every other couple leave before us, we're called back.
Tired and thirsty, we sink into the chairs in front of a man in a back office as he asks me, "Do you wish to marry this man?" Exhausted, I simply reply, "Yeah." He tells me to wait as he makes six photocopies of our marriage certificate that we sign and stamp our fingerprints on. Our long-suffering witnesses — my father-in-law and one of my husband's cousins — also sign, and then without any further ado, we're married. My husband pays E£160 for the marriage certificate plus E£100 in tips for the workers and we stumble out into the hall and kiss quickly as the workers are packing up to close the office for the day. On our way out, the security guard laughs, "You were the first ones to arrive and last to leave!" He takes a quick photo of us on the steps, we grab some falafel sandwiches for everyone to eat in the car (E£50), and immediately fall asleep on the drive home.
Marriage Certificate Translation: E£200 ($20)
We return to The Mogamma a week after marrying to pick up the official English translations of our marriage certificate. It is just as grueling as before.
Marrying Total: $197 USD
The Wedding
Drivers: E£1,000 ($100 USD)
A month after marrying, we have the wedding party. We hire four cars, one to stay with us all day as we take care of last minute errands in the city, and three others to drive family to and from the wedding. I barely notice them, which I take as a good sign.
The Dress: E£3,280 ($328 USD)
The dressmaker I picked assured me he can make anything I want, so I show him a simple 1940s style dress reminiscent of one Drew Barrymore wore as Little Edie in Grey Gardens. A week before the wedding, we pay him E£500 for labour and hire a driver to take us into the city (E£200) to buy fabric (E£1,000). Five days before the wedding, I go for a fitting. My dress bears no resemblance to the photos. Instead of the sleek satin dress I requested, he produces a remarkable facsimile of Lady Diana's puffy monstrosity. We measure and pin and tuck and try to wrangle the dress into looking like something I would actually wear, but by the time we go back for another fitting two days before the wedding it's still looking like a dated '80s thrift store find that wouldn't even pass for a joke Halloween costume.
The Friday before our Sunday wedding, we head into the city and I buy a simple white dress for E£630. The day of the wedding, my sisters-in-law make me a veil from a scrap of lace and a tiara we get at the coiffure for E£350, and, to respect local sensibilities, we also pick up E£600 worth of long-sleeved bodysuits to find one that matches my sleeveless dress and hides the tattoos on my arms.
Rings: E£450 ($45 USD)
Gold is ubiquitous and inexpensive in Egypt but both of us prefer platinum or silver — much harder to find. With only a few days until the wedding, we don't spend more than an hour looking for rings. We ask at the first gold shop we see in the market where we can find silver and he directs us to a store a short taxi ride away. The selection is dismal but we're not too worried. He gets a simple silver band while I choose two silver bands with unidentifiable gemstones that fall out a few days after the wedding.
Invitations: E£350 ($35 USD)
We choose 150 simple grey and white invitations from the only print guy in our village and receive instead a box of 200 hot pink invites with tacky dollar-store jewels and flowers glued to the cards. Half the jewels and flowers come unglued as I stuff them, but with only a few days left before the wedding and a dozen other things to think about, I barely care.
My husband's suit: E£50 ($5 USD)
My husband wears a Givenchy suit he already owns, spending just E£50 to have both it and his father's suit cleaned and pressed in an hour while waiting for me to have my hair done.
Coiffure: E£700 ($70 USD)
It's tricky finding a good hair stylist in a country where the majority of women cover their hair when they leave the house but there's one attached to a bridal shop in el-Mahalla. For E£500, I request pin-curled waves in my shoulder-length hair. Without so much as a shampoo and condition, my stylist grabs a flatiron and proceeds to straighten my hair while I am distracted with getting henna applied on my hands (E£100). By the time I notice what is happening on my head, I have half a bottle of hairspray holding what I'm positive was once hair but now resembles nothing more than scorched, brittle straw. I refuse her offer to do my make-up and return home to salvage what I can of my hair while scrambling to apply my make-up with less than an hour to go to the wedding. Meanwhile, my husband's cut and shave costs E£50 by his regular barber in the village and he's so happy with it he pays him double.
Photos: E£500 ($50 USD)
Every time you're invited into someone's home in Egypt they will show you their wedding photos. It is my favorite part of making social calls in my village. It doesn't matter how long ago they married, they will unfailingly serve you a plate of grapes, a Coca Cola, and an album of cheesy studio portraits featuring brides with enormous dresses and grooms with faces airbrushed and unrecognizable. We're late getting to the one photo studio in the village, but we still have a few minutes to do our own best pageant poses. A week later our photographer presents us with a glittery photo book of us flashing peace signs and heart hands plus personalized photo pillows with our smiling faces stretched over plush cushions. I love them unconditionally and plan to show them to everyone who visits.
The Hall: E£3,200 ($320 USD)
There are only three rooms that host weddings in our village and, as they're all more or less the same, we go with the one recommended by a cousin that includes in the price a DJ, two videographers, and the cake. It's dirty and small with worn threadbare carpet and torn chair seats but I see potential. I request that we dim all but 12 softly-lit chandeliers and hang white fairy lights along the walls and behind the raised chaise we'll be sitting on. The darker it is in there, the better. The manager agrees and suggests that he'll also build a small disco-lit dance floor, replace the ancient fake flowers with real ones, and hire a band to lead our procession inside the hall. Naturally, he does none of this and, as we're an hour late arriving to the hall and our musicians don't wait for us to arrive after being paid their E£600, we walk quietly into a brightly fluorescent-lit hall with just a few strands of green Christmas lights hanging on half the walls for decoration. Our family and neighbours dance to Hakim and Nancy Ajram since the DJ didn't play any of the English songs we requested.
Cafe: E£500 ($50 USD)
After the wedding, we drive to a cafe in the city with our immediate family. While everyone is eating and drinking amongst themselves, my husband and I take a few minutes to sneak away alone. A bit overwhelmed and dazed, we look at each other and, like when we decided to marry, don't have to say a word. We both just know, despite the difficulty of getting to this point, our wedding was absolutely perfect. It brought us together and gave us each a new family. And for that we'd suffer through a dozen trips to The Mogamma.
Before we got out of the car and entered the hall for the wedding, my husband looked over at me and said, "Be present. Remember it all." And I did. From being welcomed into his family with a kiss to the forehead from his mother, to dancing with my chronically shy sister-in-law who wouldn't even dance at her own wedding, to having the kids excitedly topple the three-tier cake I never got a chance to taste, every moment is burned into my head. Nothing went according to plan and yet, after it was over, I wanted nothing more than to do it all over again.
Wedding Total: $1,003 USD
Grand Total: $2,340 USD
Janelle Hollyrock writes about music sometimes at www.mongrelzine.ca
---
Support The Billfold
The Billfold continues to exist thanks to support from our readers. Help us continue to do our work by making a monthly pledge on Patreon or a one-time-only contribution through PayPal.