The Cost of Buying and Selling Your Tiny Dream House
A small home may require a bigger budget than you think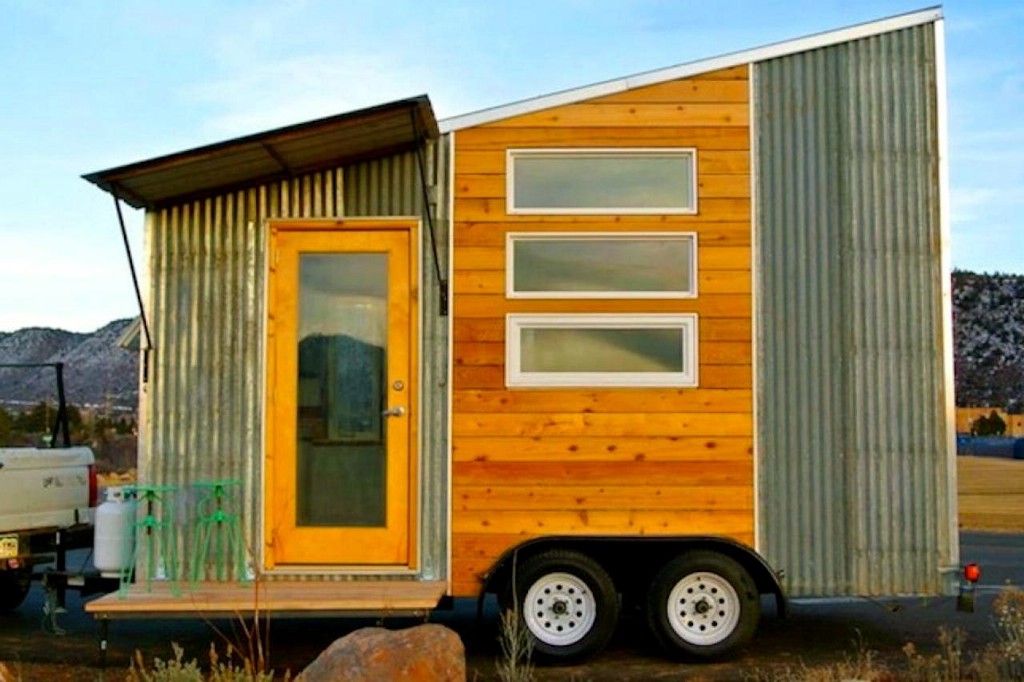 These days, tiny homes seem to be everywhere. With a thousand shows about them on HGTV, and the growing movement in real life, there are plenty of opportunities to watch buyers pin their hopes and dreams on smaller and smaller spaces any time you want. I go back and forth between being horrified at the prospect of cabin fever in 200 square feet I'd share with pets and the desire to throw out all my things and join them.
When I watch a buyer decide between small, smaller, and smallest, I relate most to the idea that a simple home leads to a simple life. Less space to take care of means less time spent cleaning or fixing things, and after a life dealing with difficult landlords, owning my own place is a particularly sweet dream. The more I watch, the more I find myself buying into the tiny home movement and the myth of the life that goes with it.
But buying a tiny home is not as simple as it seems. At an average of about $25,000, tiny homes can be too expensive to pay for out of pocket, but they're still too cheap to qualify for most mortgages. Some tiny houses with wheels qualify as RVs, but RV loans are tough to get if the RV is going to be a primary home. And the tiny house movement is about paring down, not doubling the number of homes you have or loans you have to pay.
Buying
The tiny house movement in the U.S. sprung from the depths of the recession. In an environment where people lost their homes because of mortgages they couldn't pay for, it makes sense to look for cheaper options, and many tiny house hopefuls say they dream of a home with no debt. But the reality is, if you don't have the money to buy one outright, you still may need a loan to buy a tiny house. Sites like TinyHouseLending.com and some tiny house builders, like Tumbleweed Tumbleweed Tiny House Company, can help connect consumers with lenders who provide loans that can be used on tiny houses. LightStream, the online lending division of SunTrust bank, has unsecured personal loans specifically for them.
"We provide financing for practically anything," said Julie Olian, vice president of communications of LightStream. This includes loans for weddings, adoption, RVs, plots of land, and tiny homes. "I think a few years ago the interest in tiny homes started to emerge, and we've seen this as a category that people are looking for some help in terms of financing."
An unsecured loan means there isn't collateral for the loan. In a mortgage, your house is the loan collateral. Because these loans are unsecured, you do need to have good credit, probably really good, to get one, and the interest rates are likely going to be higher than on a secured loan or a mortgage because they are a bigger risk for the bank. (Of course, specifics depend on the bank, loan, and your financial situation. Credit unions may have more options and better rates.)
If your tiny home has wheels, it may qualify as an RV, but RV loans are a little trickier. According to tiny home manufacturer Tumbleweed, banks typically don't lend to buyers who want to live full time in their RV because it makes it harder to repossess if the buyer defaults.
About a year ago, Tumbleweed reclassified its products to qualify as certified travel trailer RVs, which as you can guess by the name, are more often used for traveling than permanent living.
"We did it purely because our customers were having issues, and the issues were, gosh, how can I finance that and how can I get insurance," said Ross Beck, chief operating officer of Tumbleweed. But because of this change, Tumbleweed can't recommend their homes as primary housing.
Because so many banks see Tumbleweed's products and assume they are a type of RV often used for full time housing, Tumbleweed recommends talking with them before getting a loan, so they can help you explain their product to lenders and increase your chances of getting the loan approved.
Also, whether your home is on wheels or fixed to the ground, you will likely need to pay some kind of tax on it. For an RV, you would pay a personal property tax, like you would for a car or a boat. For a house — and for the land you put your tiny home on — you would pay real estate taxes.
"Generally speaking, all the rules that apply to a fixed house apply to a mobile house," said Jackie Perlman, principal tax research analyst at The Tax Institute at H&R Block.
How much you pay depends on how much your home and land is worth, and each state has different rules and ways of calculating that, Perlman said. For an RV, you would pay taxes according to where it is registered, similar to the way you pay taxes on a car, even if you drive it around. You could also be paying sales tax on top of property taxes in the year you buy it.
If your RV is your permanent home and you own the land you want to keep it on, you could end up paying property tax on the RV and real estate tax on the land separately, Perlman said. Depending on where you live, you could also need to pay particular attention to zoning codes.
One couple in Oregon recently had to move out of their tiny home after the city found their mobile home in violation of zoning codes because it was used as a permanent residence.
Building
There is also the option of building your own tiny home, rather than buying one. If you don't have a lot of cash all at once, you could buy the materials a little at a time and work on your home as you are able to afford to. But you'd still need to have, and pay for, presumably, somewhere to live while your house is under construction, and you would still need to buy or rent the land you're going to put it on.
Selling
If you do manage to get a loan and find a place to park it, a tiny house still may not be a good investment over the long term. Typically, foundation homes go up in value — or at least they are meant to if the economy doesn't collapse around them. But RVs typically go down in value, similar to the way a car goes down in value the more you use it.
When it comes time to sell a tiny house, many sales are by owner. Sites like Tiny House Listings provide a marketplace for people to list their tiny homes, sort of like a tiny house Craigslist. Realtors can also become involved in selling tiny houses and help get the listing out to a large number of people, according to Adam DeSanctis, the economic issues media manager at the National Association of Realtors. "I think that's especially important considering there's only a very few select buyers out there interested in purchasing a home that small," he said.
Last year, less than 1% of homes purchased were less than 1,000 square feet, according to data in the 2015 Profile of Home Buyers and Sellers. Tiny homes bought directly from the builder would not be included in this data, but likely wouldn't make too much of a dent in it, either. DeSanctis said that Realtors are open to working with tiny houses on wheels and do help sell mobile homes. "Especially as Baby Boomers retire, they are living in smaller homes, and it could be something we end up seeing a couple years from now," he said. But if you use a Realtor to sell your home, a part of the sale goes toward their commission.
For many tiny home owners, the difficulties of selling a tiny house may not matter. If the movement is about owning less, that also means having fewer assets to sell. And I firmly believe you should look for the house you want to live in now, not the house you want to sell later.
Depending on where you live and many other factors, buying a tiny house still may be the cheapest option — even phenomenally cheaper, according to Beck, who has lived in a tiny home himself. But a lot of things have to go into that calculation, which is not exactly the simple life I desire when I see it on TV.
Rae Nudson is a freelance writer and editor. She lives in a two bedroom apartment and loves every single square foot of it. Follow her on twitter @rclnudson.
---
Support The Billfold
The Billfold continues to exist thanks to support from our readers. Help us continue to do our work by making a monthly pledge on Patreon or a one-time-only contribution through PayPal.