The Cost of Cooking Black Bean Tacos With Avocado and Salsa Fresca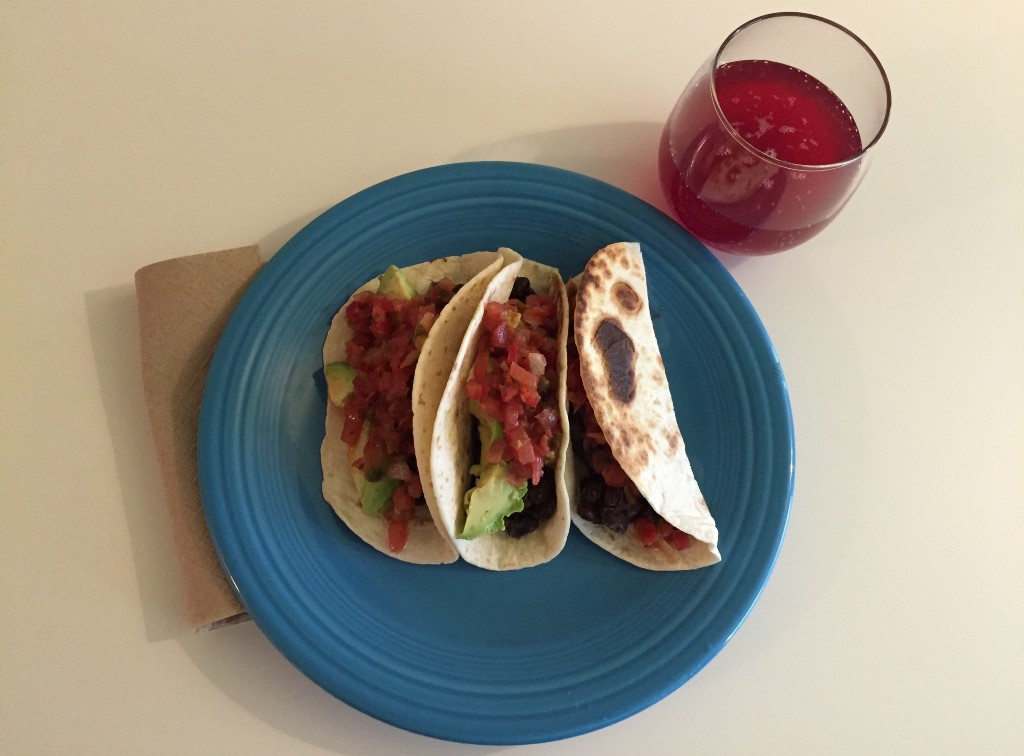 I don't know about you, but Taco Night was a staple in my family growing up. My dad would cook ground beef and cumin and sing "Sumer is icumin in," adding a little medieval music history to the classic dad joke, and then I'd help put all of the taco toppings into their own little bowls and we'd each make our own delicious tacos.
The thing about Taco Night is that it's hard to replicate as a single adult. I mean, I could cook up the ground beef and cumin and heat the beans and shred the cheese and chop up the green onions and the jalapeños and the tomatoes and buy a thing of sour cream and a jar of salsa and open up a can of black olives—because we were the kind of white people who put black olives in our tacos—but that's a lot of work.
It's also a lot of cleanup.
Most importantly, it's a lot of money for more tacos than I'd be able to eat unless I was ready to commit to Taco Week.
But I was browsing Reddit looking for low-cost, low-calorie dinner ideas, and one Redditor shared a photo of black bean tacos, and I was all wait, you mean you can do Taco Night without all the toppings? And it's low-cost and low-calorie?
So now I do Taco Night like this:
Signature Kitchens Low Sodium Black Beans: $0.40 (approximately half of a $0.79 15-oz can)
Signature Cafe Salsa Fresca, Hot: $0.94 (approximately 4 oz of a $3.79 16-oz tub)
Guerrero Fajita Flour Tortillas: $0.45 (three tortillas from a $3.00 20-ct package)
Avocado: $0.63 (approximately half of a $1.25 avocado)
Cost per meal: $2.42
Cost per taco: $0.81
Calorie estimate: 560, or 187 calories per taco (I'm not going to do this for every recipe I share with The Billfold, but since I claimed this meal was "low calorie" I figured I had to put that into context)
Signature is the Safeway store brand, so if you go with a different brand your costs might increase slightly. There are certain Signature foods I won't buy—like, I'm not subbing out my Wheat Thins for Signature Kitchens Thin Wheats—but black beans and deli salsa are fine.
The cooking process is pretty self-explanatory:
Heat the black beans in a saucepan. If you want to add garlic, cumin, crushed pepper, etc., have at it.
Warm up the taco shells either in the oven or by dropping them into your cast-iron pan for a few minutes. (They'll be crispier in the oven, but I usually do the cast-iron pan thing because I can quickly flip them over while I stir the beans.)
Once the black beans and taco shells are ready, either drain the liquid off the beans before adding them to your taco or skip that step and use a fork to add beans to your taco. (You could drain the liquid off the beans before you heat them, but they'll be more likely to stick to the bottom of the saucepan as they cook.)
Slice the avocado over your taco. You might be tempted to just glop it on there, but trust me: a nicely sliced avocado makes the whole thing taste better.
Add salsa to taste.
I ate this meal with a $2.99 bottle of GT's Synergy Organic Gingerberry Kombucha, bringing my total dinner costs to $5.41. (I drink kombucha whenever I'm not feeling well. It makes me feel better, for whatever reason. I feel like Audrey Ference might know why.)
The Cost of Making Your Own Kombucha
Do you do Taco Night as an adult? Do you put out as many toppings as I remember having when I was a kid, or have you also modified Taco Night into a "low-cost, low-calorie, low-cleanup" version?
---
Support The Billfold
The Billfold continues to exist thanks to support from our readers. Help us continue to do our work by making a monthly pledge on Patreon or a one-time-only contribution through PayPal.