Coat Season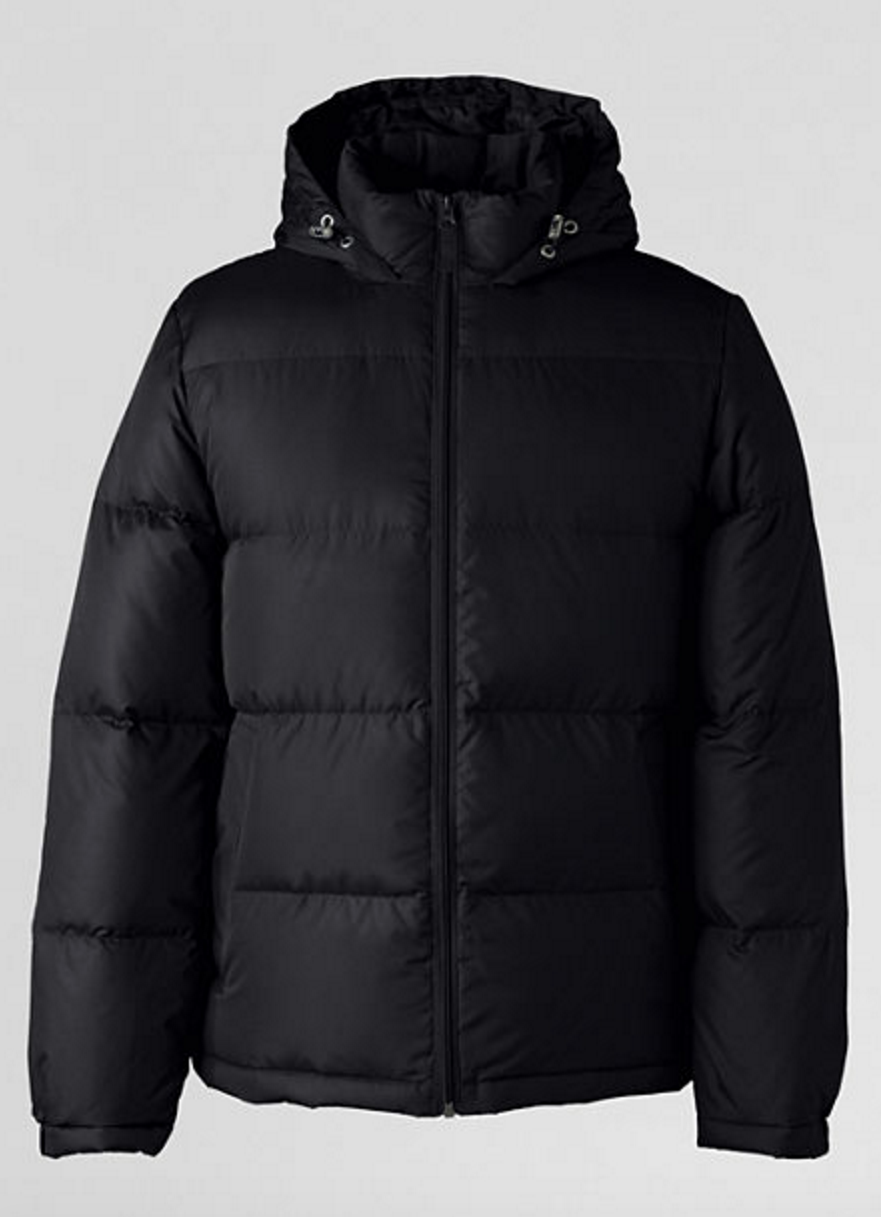 It's finally been cold in New York again, which means many of us are pulling our winter coats out of storage (i.e. from the box under our bed), and putting them back in our closets.
For me, that means a nice-ish hooded wool coat I bought for $200 at J. Crew, and a down jacket I bought from Lands' End a few years ago for $70 that's pictured at left. They look good on me, do a good job of keeping me warm, and will hopefully last for a good amount of years.
These are the coats—the perfectly fine coats from Lands' End or Patagonia or REI that don't make you look twice when you look at its price tag—that the vast majority of us buy, but I have learned this week, from a feature story by Chavie Lieber in Racked, that there is a fast growing market for "luxury coats" made by brands like Canada Goose and Montcler that start in the $500 range and go upwards to $2,000.
Logan noticed this far before I did. "I'm seeing all these people wearing coats with this patch on them—have you noticed?" she asked a winter or two ago, referring to the coats made by Canada Goose. I had not noticed, but Logan had been perceptive, which was precisely what the people who spend the money to buy the coats want—that is: to be noticed wearing them. From Lieber's piece:
These coats, like any true luxury item, have evolved to represent status.
"For many people, especially those living in cities like New York, your coat is sort of like your car," says Bloomingdale's Jaffe. "It has to work well, but it also has to look good." Adds Mulpuru, "All of these brands, Moncler especially, are known in elite winter sports, and those are the sort of things that investment bankers and finance bros do."
I mean, I don't think of my coat as anything but a coat to keep me warm. But I do want it to look good on me, and I also think of it as an "investment" in that I want it to last for several years.
There isn't anything interesting or new in the idea of "luxury coats"—Burberry, for example, has long filled a role in this market—but, as an editor at Outside Magazine points out, the shocking part is seeing the high price tag on something that could theoretically come out of Patagonia catalog:
It's not that a coat from Canada Goose is necessarily any better than what other companies offer. According to Jakob Schiller, an associate editor at Outside Magazine, traditional outerwear brands like The North Face and Arc'teryx are still more popular in the outdoor world: "It's shocking to see a $1,000 price tag for a jacket when a nice Patagonia jacket is just as functional."
The best memories are made outside. #AskAnyoneWhoKnows
Of course, fashion is not always functional. But if my winter coat is like a car, I'm perfectly happy with the functional station wagon that it is.
---
Support The Billfold
The Billfold continues to exist thanks to support from our readers. Help us continue to do our work by making a monthly pledge on Patreon or a one-time-only contribution through PayPal.