Taking Mom to Per Se
by Morgan Balavage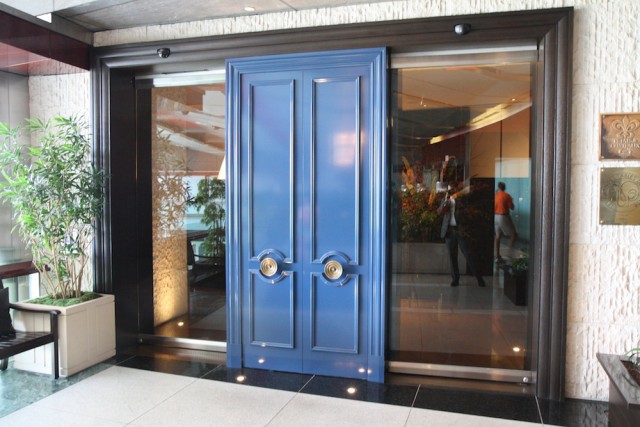 I experienced my first fine dining experience when I was a toddler. When I asked my parents how they managed to make sure my brother and I behaved, my dad said, "You didn't have a choice," and my mom said, "You both just seemed to enjoy the experience."
Not much has changed since then; I still enjoy a memorable dining experience. Give me a thoughtful prix fixe, personable but invisible service, and a glass of champagne, and I am a happy camper. Obviously, these sorts of experiences don't come cheap, and my income is well under six figures, so I have to plan ahead when I'm going to blow some serious cash on a single meal.
Because my parents have treated me to so many spectacular meals, for my mother's sixtieth birthday, I wanted her to have An Experience. I wanted to take her to Per Se, a three-star Michelin rated Thomas Keller restaurant, with one of the most expensive tasting menus in the world. I estimated that the cost of dinner would total $2,000 for the both of us, and dutifully socked away $333 a month into my savings account in the six months prior to our New York visit.
The rest of the vacation would be relatively inexpensive: We used credit card rewards for our first-class flight and for four days at the Millenium Hilton and one night at the Plaza. The total cost for airfare and accommodations: $80 in fees.
At Per Se, the menus are prix fixe and change daily, the wine list is extensive, and reservations are difficult to get. Per Se only takes reservations one month ahead of time, and when I called at 7 a.m. PST 30 days prior our trip to New York, they were already booked solid for dinner for the days we were going to be in town. They did, however, have a lunch reservation available, and since I prefer to eat my biggest meal in the middle of the day and because the lunch menu is slightly cheaper, this worked out splendidly.
We arrived in New York and ate our way through the city for four days before our lunch date. We were greeted and seated promptly, and our server explained the dining situation to us. While my mother perused the menu, he asked what kind of water we wanted (tap, always, I'm not made of money!), and when I looked over at my mother, she had a tear slowly sliding down her face.
I asked her what was wrong, and she showed me her menu: They had printed "Happy birthday, Monica!" at the top. I don't love making my mother cry in public, but fortunately, these were tears of job, and our table was tucked away and private. It would not be the last time happy tears were shed.
My mother chose the chef's tasting menu while I opted for the vegetarian option. I am not a vegetarian, but we are seagulls who pick off each other's plates so it seemed like a good way to try a bite of everything.
In my family, dining is a competition: She who orders the best meal is declared the winner. We often remember meals this way: "Remember that dinner at Quince? Mom, you totally won that one." Usually, it is a unanimous decision, but on certain joyous occasions, there is a tie. At Per Se, we were both winners.
First, the bread — the bread was served with two (!) different types of butter, an idea so bizarre and delightful I repeated it at my Thanksgiving dinner the next month. I made it a personal goal to eat all of it, and failed happily. Two different amuse bouches followed the bread guy's visit to the table, a light-as-air gougere and an ahi tartare cone, perfect salty bites before the courses began flowing from the kitchen.
There was the pumpernickel "blini" with vegetarian caviar made of crème fraiche; the salad with the most perfect tomatoes, even in October, that tasted like the way sunshine feels; the leeks, melted into a buttery puddle and punctuated by slivers of radish and mustard cress.
My mother, meanwhile, delicately savored her oysters and caviar; the bruleed foie gras that melted amidst the crunch of caramelized cubes of squash; a buttery scallop set amongst English peas that, she said, reminded her of gardening with her late father, snacking on peas popped off the vine and littering the pods while she weeded in the Midwestern humidity.
Dessert just kept happening. Like a fireworks finale, right when you thought it was over, there was another flurry of excitement. There was a selection of sorbet quenelles, a meringue that practically levitated to my mouth, followed by a sliver of torte so perfectly chocolate it sated a year's worth of PMS cravings.
And then we went off menu: There were the fluffiest dots of sugar donut, followed quickly by a cookie course during which stacked drawers of macarons were set on the table. We wondered if we were really expected to consume two dozen cookies after a nine course lunch. "This must be it," we giggled. We were happily wrong.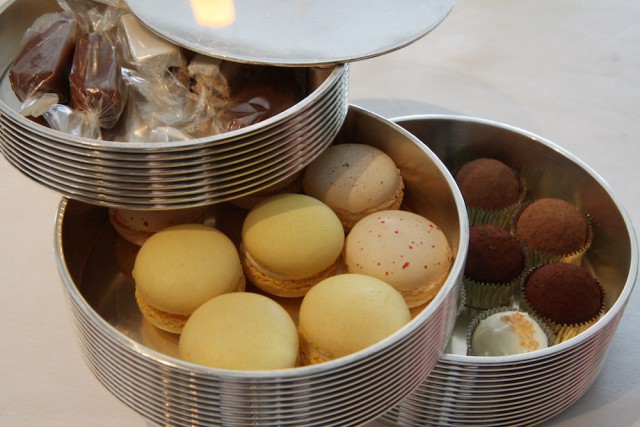 The chocolate course followed: truffles, more than anyone could eat in one sitting let alone after a nine course lunch and half a dozen cookies, were presented on a tray like cheese, and we were to pick our poison (the waiter kindly did not say if there was a maximum to how many we could choose, but we limited ourselves to two each).
"Surely, that was the end," we sighed, full and satisfied until the candy course appeared, with caramels and gummies and the Per Se version of Jolly Ranchers.
Finally, our waiter presented a dainty cappuccino served with what can only be described as a beignet snowman. And that was the end.
When the bill came, my mother reached for her purse, and I told her that it was on me. She teared up again and tried to talk me out of it, but of course I had planned for this and wouldn't hear of it. We excused ourselves to the restroom where we cried, not because it was over, but because it happened.
When we offhandedly commented that we might be interested in a few of those caramels — "and perhaps some of the macarons?" — our waiter essentially snapped his fingers, and a silver box filled with our favorite cookies, truffles, and candies was presented to us with a signed menu in a folder that must exist exactly for this purpose, as we left the restaurant.
We hugged our waiter goodbye and toddled out of the restaurant, arm-in-arm through the mall and into Central Park, sharing a Nat Sherman, grateful for a good meal and for each other. (I do not condone smoking, but sometimes, after a perfect meal, passing a cigarette back and forth is just the thing to do on a fall day.)
Even with some particularly decadent wine pairings, the total bill ended up around $1,400, at which point I had one of those ridiculous brain gymnastics rationalizations that I had actually saved some money since I'd budgeted to spend more.
Sure, there are an infinite number of ways I could have spent that $1,400. I could have donated it to charity, invested in a mutual fund, taken a course to expand my knowledge base — and I do all of those things regularly. But the opportunity to give back to my mother a sliver of what she's given me over the years was priceless.
This story is part of our food month series.
Morgan Balavage teaches yoga in Santa Barbara, where she cooks at home more often than not.
Photos by: Kowarski
---
Support The Billfold
The Billfold continues to exist thanks to support from our readers. Help us continue to do our work by making a monthly pledge on Patreon or a one-time-only contribution through PayPal.