Hosting a Brunch in a Small Apartment for 40 People
by Rachel Goldfarb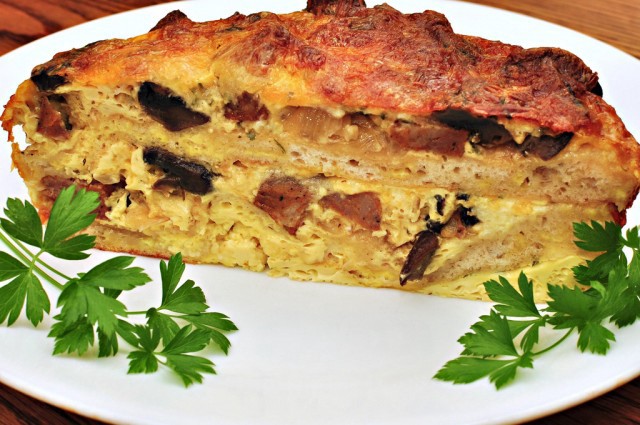 My living room is roughly 140 square feet and has a loveseat sofa and two dining chairs. We store five folding chairs in the kitchen, but if you unfold all of them in the living room, there's no way to get to all of the seats. It's not a party space by any means, but once a year, my roommate and I say "screw it" to our just-big-enough-for-two two-bedroom and invite all our nearest and dearest and then some to come hang out in our apartment, all at once, to be fed. Our friends tell us we make it look so easy, and to tell the truth? It is!
It took a bit of a leap of faith to invite 40 people to New Year's Day brunch in an apartment that is maybe 600 square feet, including the bathroom and the long awkward hall at the entrance of the apartment. We had no idea if the group of people who landed in our apartment would actually get along, but I knew we could handle the actual hosting part. I grew up in a household that hosted big meals. My mom cooked pre-prom dinner for my friends, because we couldn't afford a nice restaurant. My roommate had her own experience feeding crowds from her college co-op. With a few lists, and maybe 10 hours of work between the two of us, that part would be easy.
The real trick, of course, is that everything needed to be done long before our guests arrived. In fact, two of the four shopping trips could happen any time we want in December. For the past two years, I've made a trip to the Trader Joe's wine shops, probably one of the busiest stores in Manhattan, on Christmas Eve, in hopes that the Christmas-observing majority wouldn't be wine shopping at 3 p.m. on December 24. It usually works; there isn't a line to get into the store for my four or five bottles of $5 prosecco. My friends drink, so we won't do brunch without mimosas. Even if we were skipping the alcohol, I'd attempt a mocktail. Something about a bubbly drink in a champagne flute makes everything feel fancier.
That bubbly drink, unfortunately, necessitates a trip to a party store. There's no such thing as a good time to go to Party City. Buying the needed assortment of paper and plastic goods, including plastic champagne flutes, is an exercise in extreme patience. Either the store is packed, or there are only two cashiers, one of whom is slowly inflating a dozen helium balloons. But where else can we buy $40 worth of Happy New Year napkins and plastic silverware and walk them home?
The third shopping trip is a little more time sensitive: Either the afternoon of December 30 or the morning of December 31, I take a massive shopping list to one of the better grocery stores in my neighborhood. The spread has become pretty standard: trays of baked goods, at least one of which will be vegan; a green salad of some sort; some fruit; and a couple of massive stratas.
The limited menu is key, because it saves both money and time. I follow the Smitten Kitchen school of brunch, which is the same as my mother's: everything that can should be prepped the night before, or in this case, before I go out for New Year's Eve. Scones and muffins do just fine baked the day before, and fruit can be chopped in advance. My impressive-looking main dish is just a mixing bowl's worth of egg-and-milk soaked bread, mixed with cheese and thrown in a casserole dish to soak overnight. And this is not a place for fancy cheese. Store brand pre-shredded cheddar may not be the classiest cheese, but no one needs to know once it's all baked together.
By the time we wake up on New Year's Day, our to-do list is blessedly short. We stick the first strata in the oven. I walk the eight blocks to Starbucks for a box of coffee, the fourth and final shopping trip, because my four-cup French press isn't sufficient for this crowds' hung over caffeine needs. And we arrange the apartment. Our usual dining table, folded down, becomes a coffee-and-mimosas bar. We throw a basket of muffins and scones on the coffee table, and give the rest of the kitchen over to the bowls and trays of food prepared the night before.
And then we just get to smile and be delightful hosts on New Year's Day. Our friends trickle in over the course of the early afternoon, some more hungover than others, and for less than $100 each and a few hours of shopping, cooking, and cleaning, my roommate and I get to welcome in the new year with most of our favorite people in the same place. The food is homemade and tasty, the mimosas are plentiful, and it turns out that loveseat can fit three people, as long as they're willing to make close friends.
This story is part of our food month series.
Rachel Goldfarb is a writer, editor, social media strategist, and activist in New York City. She doesn't get a salary for any of that. Follow her on Twitter @RachelG8489.
Photo: Jeffrey W.
---
Support The Billfold
The Billfold continues to exist thanks to support from our readers. Help us continue to do our work by making a monthly pledge on Patreon or a one-time-only contribution through PayPal.