Examining My Grocery Spending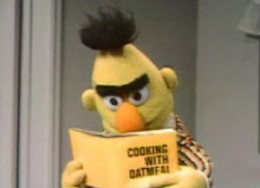 Since May is Food Month, I thought I'd share my recent grocery purchases.
Everyone does groceries slightly differently; I am a Bert, so I'm a list-maker and I have a place for everything in the refrigerator and I always put my refrigerated food back in the same spot.
I also eat pretty much the same meals every day: breakfast is cereal, fruit, and coffee with a multivitamin; lunch is a sandwich with either meat or PB&J filling, a cup of soup from a box, and more fruit; dinner is a big salad and something to go next to it (pasta, fish, rice, etc). I always keep frozen burritos and nacho supplies at the ready in case I need a really quick meal.
So here's what I bought this week at my local QFC. In this list, the "not purchased this trip" category designates foods I might otherwise have purchased if my refrigerator weren't otherwise stocked.
Breakfast:
— Kroger Bite-Sized Frosted Shredded Wheat, two 18 oz boxes: $5.00 (two for $2.50 special)
— Soy Delicious Unsweetened Cashew Milk Beverage, two 32 oz boxes: $5.00 (two for $2.50 special)
— Hurst's Berry Farm blueberries, two 6 oz packs: $5.00 (two for $2.50 special)
— VitaFusion MultiVites Complete Multivitamin Gummies, 150 ct: $13.99
(not purchased this trip: coffee, coffee filters)
Lunch:
— Franz Old Fashioned Buttermilk Bread, two loaves: $5.58 (two for $2.79 special)
— Kroger Chunk Light Tuna in Water, three 2.5 oz packs: $4.77
— Simple Truth Organic No Stir Creamy Peanut Butter, 16 oz: $3.99 (I don't like sugar in my peanut butter)
— Smuckers Natural Strawberry Fruit Spread, 17.25 oz: $4.29 (and I feel like I should avoid HFCS in my jam for some reason?)
— Driscoll's strawberries, 16 oz: $3.49
(not purchased this trip: boxed soup, mayonnaise, pickles)
Snack:
— Fiber One Oats and Chocolate Chewy Bars, 5 ct: $3.99 (there is one of these bars in my purse at nearly all times)
(not purchased this trip, and not sure if I should purchase again because of the California drought: unsalted whole almonds)
Dinner:
— Kroger mozzarella, 8 oz: $1.99 (I eat crackers and chunks of mozzarella drizzled with sriracha sauce)
— Simple Truth Organic Dressing, two 12 oz bottles (balsamic vinaigrette and goddess): $5.00 (two for $2.50 special)
— Theo Organic Fair Trade 70 percent chocolate, two 3 oz bars: $4.00 (two for $2.00 special)
(not purchased this trip: boxed pre-cut salad, frozen tilapia and cod fillets, frozen burritos, chips, salsa, rice, pasta, pasta sauce, pork in a tub, sriracha, Wheat Thins)
Household:
— Lysol Disinfecting Wipes, Lemon & Lime Blossom Scent, 80 ct: $5.49
— Kroger Home Sense Medium Trash Bags, 20 ct: $2.79
— Clairol Natural Instincts Cherry Creme hair dye: $6.99
— One paper grocery bag: $0.05 (I am more than happy to pay five cents because these bags make great recycling containers)
The grand total, including $2.81 tax, is $84.22.
I saved $20.50, or 20 percent of my total bill, by using my QFC Advantage card. My receipt also informed me that my year-to-date Advantage savings now totaled $238.90.
How long will this food last? I suspect I will have to do a mini-grocery run next week to stock up on more fresh fruit and dinner food, and then a big grocery trip two weeks from now.
I have no idea if what I'm eating is nutritious, per se; I mean, I have the VitaFusion gummies to take care of any vitamins that I'm missing, but I do eat soup from boxes, cereal literally covered in frosting, and that kind of shredded pork that comes in a plastic tub. The only reason there are so many organic items on the list this week is because those were the brands that were on sale; I tend to go shopping in categories — boxed milk, boxed soup, salad dressing — and pick whichever brand is cheapest within that category. (I have tried every kind of bar chocolate in the store. The Endangered Species chocolate is my favorite, plus I've heard it saves animals or something, but it wasn't on sale this week.)
How do you all grocery shop? Do you make lists? Do you eat pretty much the same meals every day? Do you make a little note in an online app as you get close to running out of an item so you always remain fully stocked? Do you have a separate area for every kind of food in your refrigerator? Do you walk past items you might otherwise buy because you want to keep your grocery bill down? (This week, for example, I elected not to buy wine.)
Most importantly, do you drizzle sriracha over your mozzarella cheese? Because I think this is the real question on the table, as it were.
This story is part of our food month series.
---
Support The Billfold
The Billfold continues to exist thanks to support from our readers. Help us continue to do our work by making a monthly pledge on Patreon or a one-time-only contribution through PayPal.