Where Is It Still Illegal To Buy Sex Toys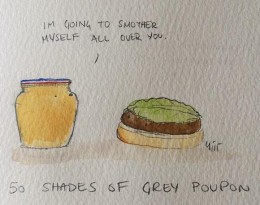 By Charrow
The film version of Fifty Shades of Grey has broken all sorts of February box office records. It has made $93 million, which means it now holds the title of President's Day Weekend champion. (Washington and Lincoln must be so proud.) It also tops a list called "Widest Opening" which sounds so dirty and is, thus, perfectly appropriate. Funniest of all, it surpassed Mel Gibson's Passion of the Christ for the biggest February opening ever. Jesus wept.
Or did he? My understanding of Jesus is that he was a pretty cool, feminist-y guy. He didn't ignore ladies or mansplain to them; he hung out with prostitutes and adulterers and seemed as comfortable with them as with anyone. He wasn't a sex-negative fundy. Maybe he'd be proud that a movie starring a woman, directed by a woman, written by a woman based on material by a woman and inspired by other material by and about a woman has caused such a stir.
Though I haven't contributed to its gross, and I think the book is breathless, poorly written, and almost laughably bad on a sentence-to-sentence level, I am on record as a supporter of the Fifty Shades of Grey phenomenon. Once upon a time, before I even tried to read the book, I defended its right to exist and the right of women to get off on it, if they liked. Because of that piece, I got interviewed by Geraldo, who asked me, on the radio, "What's a butt plug?" Just like Ana Steele asks in the movie!
For the record, I did not answer the question; I parried, using as an excuse that my mom might be listening to the interview, and suggested that he do some Googling. He laughed and said he would. (Isn't "butt plug" kind of self-explanatory, though?)
What I'm interested in is whether women go home after watching this movie and get curious about trying sex toys or kink themselves. And yes, it's worth mentioning that this movie is not a good template for BDSM. Responsible practitioners everywhere have pointed out that EL James's fantasy reveals an inaccurate, even potentially dangerous, misunderstanding of bondage. It's full of myths.
Sure! Smutty novel, not instruction manual. Got it. (Try these movies instead maybe? I don't know, I hated Belle Du Jour.)
But what if you yourself want to buy a butt plug or some Ben Wa balls? You might be surprised to learn that, in some places in America, your money is no good. Like in the entire state of Alabama.
Sherri Williams, an adult novelty dealer, and the American Civil Liberties Union challenged the statute on constitutional grounds. They argued that the precedent of Lawrence v. Texas, finding a right to engage in consensual gay sex, also guaranteed a right to sell sex toys. After initially winning their case, Williams vs. Alabama, in federal district court, Williams lost appeals to the 11th Circuit. The Supreme Court refused to hear the case.
Ross Winner, the owner of Love Stuff, a chain store which sells sex toys, subsequently sued to have the statute declared unconstitutional under the Alabama Constitution. Winner's position is that "a person should have the ability to come in and purchase a sexual device without having to have a reason." The Alabama Supreme Court ruled against him on September 11, 2009, and the statute's ban is now in effect.
State Representative John Rogers of Birmingham has repeatedly introduced legislation to repeal the ban, but each bill has been defeated. However, adult toys continue to be sold as novelty and educational items. Adult clothing is marketed as costumes.
One adult, married woman with MS in Sandy Springs, Georgia, is suing for the right to legally buy a vibrator:
A city ordinance deems "any device designed or marketed as useful primarily for the stimulation of human genital organs" obscene material, and prohibits their sale, unless "a bona fide medical, scientific, educational, legislative, judicial, or law enforcement purpose" exists.
Basically, in this town, you need a doctor's note to buy a dildo. Melissa Davenport thinks that's ridiculous, and has filed a lawsuit challenging the ordinance.
Davenport, who has multiple sclerosis, told TV station WSB that she and her husband started using sex toys after the disease made it difficult to be intimate. She says sex toys saved her marriage.
Though Davenport might qualify under the medical exception to the ordinance, the 44-year-old told WSB that she finds it insulting to ask a doctor to write her a sex toy prescription, so she's instigating a lawsuit.
Until she gets justice, there's always Babeland.
Illo by the ever-awesome Charrow
---
Support The Billfold
The Billfold continues to exist thanks to support from our readers. Help us continue to do our work by making a monthly pledge on Patreon or a one-time-only contribution through PayPal.