Freelancers, Take the Vacation Too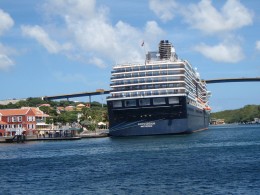 So yesterday I ran an estimate of the value of the freelance work I'm going to complete in January, and I came up with $6,012.80.
Why is that number so high? Because I'm going on vacation from January 31-February 8 (the JoCo Cruise) and I'm estimating I'll miss out on at least $1,000 in income unless I try to write a bunch of it in advance.
One of my other, non-Billfold jobs is writing a weekly Ask A Freelancer column for The Freelancer, and this week I answered a reader's question about how freelancers take breaks and vacations:
As anyone who's worked more than one job knows, planning a vacation when you have more than one set of responsibilities is difficult to manage. In my case, I need to figure out how to manage or rearrange responsibilities for seven clients.
If you've ever felt nervous before going in to your supervisor and saying you want to use the time off that you've earned, well: imagine that times seven.
And imagine that your clients are probably going to give you one response — "Have fun! Don't worry about turning in any pieces while you're away." — when you really want to hear "Why don't you write six extra things before you leave so you can get paid for them."
This year I solved this problem by giving a few of my clients a pre-emptive strategy: "I'm going on vacation, and before I leave I am going to turn in these extra pieces." What was unstated, of course, was "so I don't lose any income while I'm away." Mwah ha ha.
You should read my entire Ask A Freelancer piece, because it goes into detail about what percentage of small business owners don't take vacations, and why it is so important that everyone should take a vacation, but here's the part that is relevant to this conversation:
I'll probably be cramming two weeks of writing into the week before my vacation, but I've planned ahead and am ready for a few long nights.
So how much extra work am I going to be doing before I get on that cruise ship? Right now, I'll be writing two 1,200-word pieces, one 900-word piece, and prepping at least two pieces to run on The Billfold while I am away. That's actually not that bad, as far as an extra writing load goes.
Of course, because the JoCo Cruise is less of a Caribbean vacation than "a chance for people to work on creative projects together," I'm also writing two new songs and prepping a bunch of stuff to perform on the boat as part of its Shadow Cruise, which is a volunteer-prepared schedule of entertainment that runs alongside the regularly-scheduled entertainment.
I am currently planning out every night for the next two weeks. Including the work I'm going to be getting done from my hotel room while I'm in NYC for The Billfold LIVE, which is Wednesday, January 28.
I'm so excited.
Photo credit: Lydia Fizz (and yes, that's an actual JoCo Cruise pic)
---
Support The Billfold
The Billfold continues to exist thanks to support from our readers. Help us continue to do our work by making a monthly pledge on Patreon or a one-time-only contribution through PayPal.