$16 Then And Now
by Sarah Feldstein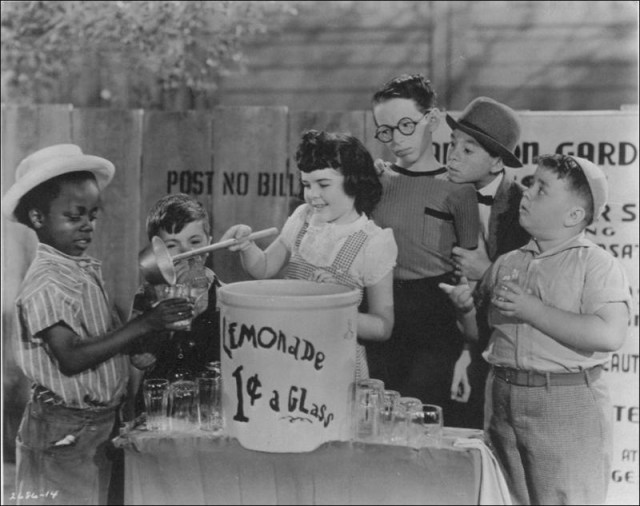 $16 Then:
It felt like every summer my parents would have a yard sale. They had prime yard real estate, with a driveway and front yard big enough for unwanted items collected from friends and neighbors, a garage for stocking up in the weeks prior, sufficient room to park on the street, and a corner lot to catch attention in several directions. Yard sale season felt like a carnival. Sellers would stop by the week prior, excited about the potential haul for getting rid of their unwanted things. Colorful dot stickers would appear everywhere, as the adults agonized over what an appropriate asking price might be for my old toys or my neighbor's old linens. The rusted tackle box appeared on the morning of the sale, and I would be amazed by the stack of cash that it would collect throughout the day.
At age eight I wanted my own piece of the pie. I didn't have anything that was my own that I could sell, so I needed to come up with a service I could provide. I decided that added value was my game, so I pitched the idea of a snack/beverage station to my parents. As long as I did the work, they were happy to invest. A capable recipe follower, I baked chocolate chip cookies and brownies from a box. I paired these with an illogical beverage counterpart, lemonade and limeade, because they were already in the freezer thanks to my primary business investors, Mom and Dad. The details are fuzzy, but I remember having about three pitchers of beverage, a tray of brownies, and a few dozen cookies. They probably were quite delicious, but the buyers probably didn't know an eight-year-old made them. I can guarantee there were some shells that snuck in. I do not remember what my rates were, but something about twenty-five cents for a cup of flavored sugar water sounds about right. At the end of the day, I had my own private stash of $16, my coins traded against my parents' stack of cash so I could have bills. I do not remember what I bought with my $16, but I remember feeling as though I had accomplished something big.
$16 Now:
Apartment living doesn't lend itself to hoarding tendencies very well. I love books but I only have two bookshelves. The collection at my house ranges from favorite fiction to outdated textbooks. In an effort to simplify, last weekend my husband and I went through our collection to weed out the titles we will never ever open again. We stacked about forty books that we wanted to sell or donate, so that they might enjoy a second life. We let go of well-loved loners from acquaintances long forgotten, used books from classes that helped us get to our degrees, and brand new books that had never been opened in favor of class lectures or senioritis. We chuckled as we looked at the shelves full of the literature we decided to keep, seeing his Jewish Book of Why, given at his Bar Mitzvah, next to my New American Bible for Catholics, given at my First Communion; Fart Proudly, a collection of scatological essays by Benjamin Franklin, next to Profiles of Courage in Our Time, a collection of essays by leading female game changers. My husband loaded these all onto his back and we took them to a used bookstore. The clerk looked at every cracked spine and rejected them outright, accepting only books without notes, without turned corners, without character. The rest could be donated or recycled, and we would receive $16 for our contributions.
We hadn't expected to make much money at all from this endeavor, so we used it as treat money. We spent $9 on fancy beverages at a coffee shop nearby on our way to run other errands. We tipped the barista $2. The remaining $5 went toward picking up ice cream for a movie night at home that evening.
According to an inflation calculator, my $16 twenty years ago has the buying power of $25.70 today, a difference that my eight-year-old self would have viewed with the same reverence, and my current self would have probably turned into laundry quarters.
Sarah Feldstein feels sheepish now for not selling her college books back to the university, which would have been more lucrative and prevented moving an entire box in four subsequent relocations.
---
Support The Billfold
The Billfold continues to exist thanks to support from our readers. Help us continue to do our work by making a monthly pledge on Patreon or a one-time-only contribution through PayPal.