Two More Reasons to Feel Awkward About Using Uber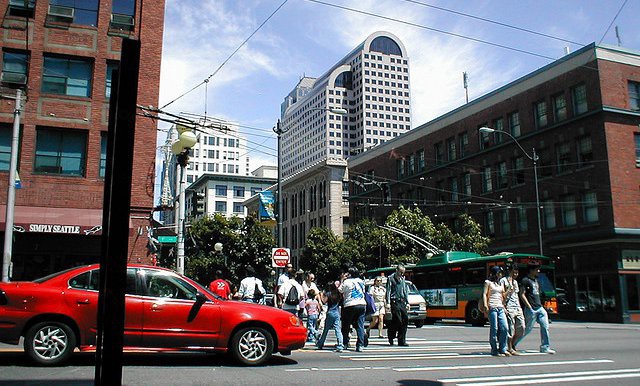 Who here loves Uber and simultaneously feels badly about loving Uber?
I know it's not just me. Whenever I talk about Uber with friends, it seems like we start off all saying the same thing: "Yeah, Uber is so great! It's so much better than taxis!" and then immediately switch into "Except for the surge pricing… and I'm not sure how the insurance piece works… and I heard they still haven't worked out the regulation thing…"
The trouble with Uber is that the parts of the service that we love — fast, clean cars! getting to book rides and pay from our smartphones! — are all on the surface, and the parts that we probably wouldn't love if we thought about them are hidden from our view.
So here are two more reasons to feel awkward about using Uber:
1. Drivers are experiencing pay cuts
On Tuesday, September 2, Los Angeles Uber drivers assembled in North Hollywood to protest pay cuts. CBS Los Angeles quoted one Uber driver as saying "I've experienced four cuts since I started. It was $2.50 a mile when I started a year-and-a-half ago, and now we are at $1.10 a mile. You can't make a living off of that."
Seattle Uber drivers held a similar protest in August. According to GeekWire, Uber Seattle General Manager Brooke Steger issued a response claiming that the reduced fares and pay cuts would actually enable drivers to earn more because of the increased demand. The drivers, on the other hand, dispute her math.
The Washington Post also recently quoted a former Washington, D.C. Uber driver who quit driving for Uber because he wasn't making enough money: "I had to pay taxes, gas, mileage and for car maintenance and repairs. I was spending time and making $3 per hour." (The Washington Post article reports that Uber recently cut prices for D.C. rides by 15 percent, but did not clarify whether that meant drivers experienced rate cuts as well.)
2. The insurance issue isn't fully worked out yet
Earlier this week, the New York Times reported on the complicated ethics of Uber drivers and car insurance:
They could tell the truth about their commercial use of the car and run the risk of the insurance carrier getting mad and canceling their policy altogether. Or they could simply avoid mentioning their rides-for-rent operation during any claim process and hope the insurance company didn't ask what they were doing with the vehicle.
So was Uber, the biggest company in this arena, encouraging drivers to commit insurance fraud by hiding the truth about how they were using their cars? No drivers have come forward to make this assertion publicly. But industry observers are skeptical. "There is no honest answer that doesn't include, 'I hope the drivers lie,' " said Brian Sullivan, editor of the Auto Insurance Report newsletter, which has reported on the issue extensively. "It's just a little lever they were using during their early days to build the business."
Lane Kasselman, an Uber spokesman, said that Uber does not encourage lying. "When driver partners ask us about the process for making a claim to their personal insurer, we recommend that they are honest and clear with their insurer," he said in an emailed statement.
Well, sure, it's easy for Uber to say "tell the truth to your insurer" because any associated penalties will fall towards the Uber driver, not Uber the company.
Uber started offering improved ridesharing insurance coverage this past July, but the coverage only applies when cars are actively engaged in transporting passengers, not when cars are driving around with the Uber app on looking for passengers. (The argument there is that drivers with the Uber app on waiting for passengers are not technically working for Uber during that time; they're just hanging out, hoping a passenger will ask them to start working for Uber.)
So there you go. Two more reasons to feel just a little uncomfortable every time you book an Uber car. I've got my fingers crossed that Uber and its drivers will sort all of this out, because I really do like Uber as a service. But — well, there's always a but, in the sharing economy. At least for now.
Photo: Mike (cropped)
---
Support The Billfold
The Billfold continues to exist thanks to support from our readers. Help us continue to do our work by making a monthly pledge on Patreon or a one-time-only contribution through PayPal.