The Cost of Missing Your Flight
by Erica Taddeo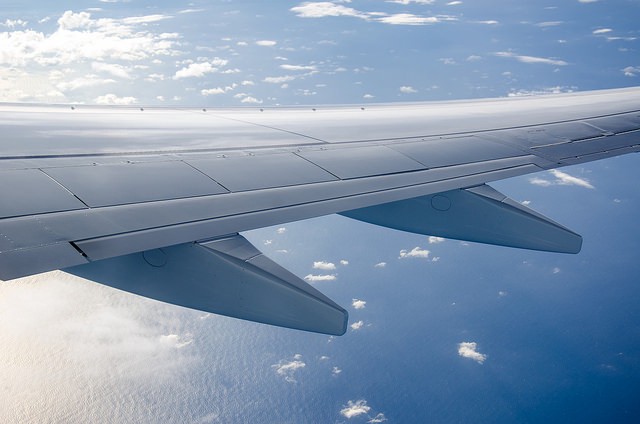 I spent a week in Seattle recently — my sister had a wedding to attend, and I tagged along to shop and explore the city. The wedding was on a Saturday night. Our flight home was booked for the following day, connecting through O'Hare, and we were scheduled to arrive home just in time for her to get a full night's sleep before her nursing shift early Monday morning.
We ended up missing our connection because we were stupid enough to think we had enough time between flights to go to the bathroom and get something to eat without running through O'Hare like romantic comedy heroines chasing after Chris Pine or whatever. We showed up at the gate two minutes after our plane finished boarding, and we knew it was the last flight home to Montreal that day.
So, here's what it costs to be an idiot and miss your flight:
$30.70 USD: a turkey sandwich for me that ended up being cold and bland, and a lemonade and soup for my hung-over sister. Luckily her soup wasn't as bad as my sandwich. Price includes tax and a tip for the slowest airport food service employee I have ever seen. (In hindsight, I shouldn't have left a tip. Sometimes I'm too polite.)
$47.82 CAD: my phone bill for the roaming minutes included in my travel pack and overage charges, covering phone calls to our airline's rebooking hotline, who ultimately couldn't do anything for us, then to another airline, who was experiencing a high volume of calls and kept me on hold while we rushed through the terminal (or multiple terminals, I didn't even know anymore at that point) trying to find a service desk for said airline or really, anyone who could help, and wondered why airports don't have general customer service desks so that you would know where to find what you're looking for. More roaming minutes were used to call our parents, the hospital where my sister works to let them know she'd miss her shift the next day, and then finally to a hotel booking hotline after we found some very helpful airline employees who took pity on two stupid, weary, very polite travelers, transferred us to the first flight home the next morning, and gave us the number of a hotline to call for discounted rates on airport hotels. (They were incredible. By some miracle,we weren't charged to re-book the flight, and I would gladly send them a bottle of wine if I could. Instead, I wrote the airline a very grateful email.)
$67.98 USD (including discount): stay at the Comfort Suites O'Hare Airport, which included shuttle service, during which we talked to a guy who was going to miss his wedding anniversary because his flight had an emergency landing. The Comfort Suites was the most affordable place we were offered by the discount hotline, and we decided not to spare any extra expense, not even to stay at the Doubletree instead and get free cookies. It turned out to be a much nicer hotel than we expected, and all we really needed anyway were comfortable beds and a clean shower. (That, and a toothbrush, because mine was in my checked bag, but the front desk didn't have any. Keep your toothbrush in your carry-on, friends.)
$0: tips for the shuttle drivers, which I feel terrible about, but both my sister and I were out of cash. I can't remember if I told the shuttle drivers so or if I just settled for thanking them profusely. Should I have tipped them in Canadian dollars, since I might have had some Canadian cash on me?
$0: breakfast, which was a day-old cookie butter sandwich I had made in Seattle the previous morning, and water, because I had no cash left to buy orange juice, and even if I did feel like leaving my gate (which I didn't), I wasn't sure if I'd be allowed to use my credit card on such a small purchase.
$0: transit home from the airport. Luckily our parents picked us up and dropped us off at my sister's where I had left a change of clothes, my bus pass and my key card for work. They didn't want to be reimbursed for the overpriced airport parking fees, so we probably saved about $20 by getting a ride instead of taking a cab or buying two tickets for the airport shuttle.
$7 CAD: a cookie and iced coffee at the Starbucks closest to my office, because I needed fuel and already missed being in friendly, caffeinated Seattle.
Total:
$ 148.56 USD (calculated with today's most recent exchange rate)
$ 162.81 CAD (calculated with the exchange rate inferred by my credit card company)
I consider myself extremely lucky that I didn't have to pay any additional fees for rebooking or baggage stuff, but you can be sure that I'll never miss another connecting flight. Just eat on the plane, everyone! A glass of ginger ale and whatever overcooked pasta dish the airline is selling are but a small sacrifice to make in exchange for actually getting home on time.
Erica works as a subtitle editor and moonlights as a hockey blogger. She had started to actually enjoy air travel until she missed this flight.
---
Support The Billfold
The Billfold continues to exist thanks to support from our readers. Help us continue to do our work by making a monthly pledge on Patreon or a one-time-only contribution through PayPal.