The Most Expensive Meals We've Ever Paid For
by Jazmine Hughes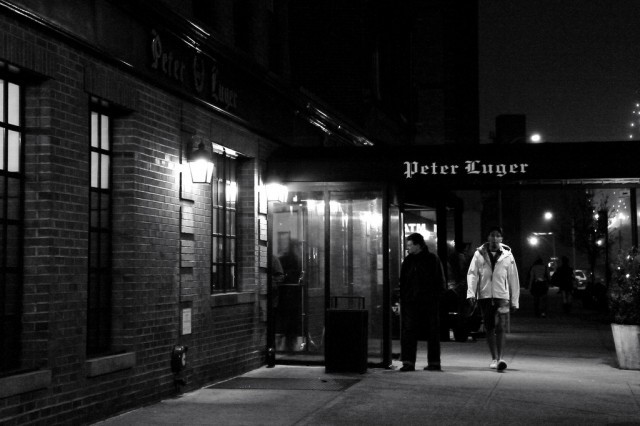 My first job out of college was fact-checking restaurant listings. Every day, I called 25 restaurants in New York City to see if any of their information had changed, asking if their curtains were still red, their bathrooms still adorned with lavender sprigs, if their salad was still served with strawberries, if their servers still donned bow ties. With time, I had a mental Rolodex of places I wanted to eat, and Peter Luger Steak House, a restaurant so fancy it has its own Wikipedia page, was at the top.
When given the chance to celebrate a two-and-a-half-year anniversary, I chose steak. My boyfriend was game. Happy steak-iversary to us.
If people judge the appeal of brunch places by the length of the assembled line, then I suppose we can judge dinner places by how far in advance one has to make a dinner reservation. Five weeks in advance, I called the steakhouse to get a table for a Sunday night dinner. Only two reservation times were left: 4:30 and 9:45. We took the latter.
I broke my "savings-are-to-be-saved" promise to myself and withdrew $140 dollars from my account. That night, decked out in our finest, we rode the B44 bus to Williamsburg (a cab would've cost too much).
Here is what we ate:
• Four slices of bacon: When people find out you're going to Peter Luger's, they tell you to order the bacon. They are right.
• One iceberg salad: This was my boyfriend's decision, and a foolish one, because no one should order salad at a steakhouse. It did, however, come topped with more bacon, so it was a draw.
• The porterhouse for two: This is the story we tell people when they ask us what the food was like. While waiting, we yammered. We fawned over the bacon. We giggled at the old-school service. We held hands across the dark wood table and made eyes at each other. Then the steak arrived. We shut up. Our hands were never far from our plates, our eyes were rolled back in our heads, our brains could not process the immense pleasure that could come from a cut of meat. It is easily the best thing I have ever tasted.
• Creamed spinach, which was pretty good.
• An ice cream sundae, some cheesecake, and a beer.
We rolled ourselves home, bags full with leftovers (they make you take the rolls) and the little chocolate coins they give you after dinner. My share was $120, the same I'd pay for a loan payment, a month's worth of groceries, or going home to see my parents three times. Still, it seems like a bargain.
I asked other people to tell me about the most expensive meal they ever paid for. Here are their stories:
Megan Reynolds:
My ex-boyfriend and I had both read Heat by Bill Buford around the same time, and were happily in thrall to the magic of Mario Batali by the time we moved to New York. When my ex got a job that paid an awful lot of money, he took us out for a night on the town at Babbo, which is on some charming street in the West Village. I am thinking very hard to remember what we ordered, but I think we got some sort of burrata appetizer, the love letter pasta which were basically very expensive ravioli, half a bottle of wine and a $75 order of osso bucco for two, which was one of the most delicious things I have ever eaten. We weren't really paying attention to price as we ordered, but made an effort to not go too HAM. The final bill was around $250-$300, which made me want to maybe throw up everything I had just eaten, because that is an AWFUL LOT OF MONEY FOR SOME PASTA AND STUFF.
He paid! Because he said he was going to, and because I was like, "Listen, I can leave some of the tip, but I do not have money like that, and this was your idea, fool." We did have leftovers, which I think I ate in a haze the next day, and the train ride home was uncomfortable, only because I was full up to my eyeballs and suffering from the meat sweats. Still, it was worth it.

Ellen Stuart:
My boyfriend Cam and I were on a roadtrip in the Midwest — he'd just graduated from college and I had just finished my sophomore year. We spent a couple days in Chicago and on our last night there we decided we wanted to go out for a nice dinner (meaning, like, $20-entree-nice). We didn't have smartphones (no Yelp) so we were relying on the Chicago guidebook we'd brought. Somehow we settled on Morton's, because the original is in Chicago (at the time I didn't even know it was a chain) and because Fodor's city guide said it was "$$."
We didn't even figure it out until we were sitting down. The least expensive steak on the menu was $60. At this point we'd already ordered drinks. Both of us being rule-abiding oldest children, we just stared at each other in horror, trying to figure out if there was any graceful way to pay for one Diet Coke and one $12 Guinness and get the hell out of there. There was not. We stayed.
We ordered the $60 steak, one side of hash brown potatoes and maybe a plate of asparagus. To the credit of Morton's, we were treated beautifully. The bill, including the tip, was $120. Now that we both have good jobs and live in a city, we've maybe spent close to that much on a meal a couple of times, on a birthday or anniversary, but as college kids from suburban New Hampshire, that bill was unfathomable. I sent a hissy email to Fodor's when we got home. The steak was delicious.

Dan Post:
I had always wanted to go to Joel Robuchon's restaurant in Las Vegas since it was one of the most expensive restaurants in Vegas (the fact that it had three Michelin Stars also kind of appealed to me). One of my family's favorite restaurants in Las Vegas also happened to be Pink's Hot Dogs right next to Planet Hollywood. My dad and I came up with an idea while we were in Vegas a couple years ago, mostly in a joking manner. We wanted to bet a large amount of money on roulette or blackjack or a sports game where if we won we would use our winnings to pay for dinner at JR's and if we lost we would go to Pink's Hot Dogs and have some very expensive hot dogs.
It was definitely a win-win. Unfortunately we couldn't get a reservation at Joel Robuchon, so instead we went to Le Cirque at The Bellagio, almost as good and (most importantly) super expensive.
We perused over the menu and found the tasting menu and quickly decided on it. While we waited for our waiter to take our official order, we decided since this was a (virtually) free meal we might as well go for the wine pairing with it.
The final cost of our meal for two was $580 after tip, but including our winnings it was only about $220. Still expensive, but well worth it for the meal we had. It may have even been a better meal than we would have had at Pink's.

Katie Schmidt:
I, a jobless college senior, (alarmingly, unknowingly) spent $300 on a dinner at Gotham Bar & Grill while entertaining a certain Australian boy-toy when he was in town for a visit. The dinner (for 2 people) was $250 with a $50 tip. He had paid for a Broadway show ticket and a Yankee game ticket (which I estimate totaled no more than $100), so I wanted to repay him. Also, after the waiter had taken my credit card, he placed the receipt in my date's hand instead of mine, despite the fact that the first name of the cardholder was quite obviously "Kathryn." When my date saw the look of horror on my face as a result of the price and the slight from the waiter, he offered to chip in, but pride prevented me from accepting. I made a point of not going out to eat/avoided shopping for quite a while.

John Sherman:
My boyfriend and I typically go Dutch, with the exception of our birthdays, but he'd recently learned the job he'd moved to New York to take might be disappearing, so I, steadily employed, quietly planned to pay for dinner so we could celebrate without adding to his cash-flow stress. I knew he likely wouldn't agree to this beforehand, irrespective of or maybe due to his job situation (we really love going Dutch), so we set out with a tacit understanding that we'd split the bill in some way, at least. We hadn't made a reservation, since it was a Monday in late January, only to discover/remember that our favorite spot is closed Mondays, so we decided to wander and see where our stomachs might lead us. This feels cosmopolitan and romantic on an April or September afternoon, but is physically punishing at 8 p.m. in January. We happened on Dino, defrosted our contact lenses, and enjoyed a lovely meal. After dessert, I checked the time and saw an email on my phone saying something I wrote would be published. In a fit of excitement, I insisted on covering the entire meal myself, and on the way home I bought a ($10) bottle of wine to celebrate. The publication paid $0, but I was too giddy with good news and a great night out to mind the expense, or even the weather. Cheap habits die hard, but a special occasion has a way of taking the guilt out of a pricey dinner. I paid with my credit card, comfortably covering the expense with my next paycheck, and left a cash tip. It came to $110.

Jessie Lochrie:
A few years ago, I had just moved back to NYC after a breakup and a few months spent licking my wounds in Massachusetts. A friend who I wasn't very close to invited me to her birthday dinner, along with my two lady BFFs. On the day of, both my lady BFFs bailed, and I decided to go anyway because I was hungry for new friends and everything in NYC is so exciting when you've been gone for a while, or you've just moved there.
The dinner is at a brand new, super trendy restaurant in Brooklyn. It ends up being about eight girls, all a few years older than me and gainfully employed, and absolutely WILDED OUT at this dinner. They ordered more or less everything on the menu for everyone to split, and who knows how many bottles of wine. Anyway, my share ended up being a hair over $100. Maybe it was $120. On a Tuesday night. As an unemployed college student. I texted my lady BFFs in shock, and they informed me that the birthday girl had a notorious reputation as a foodie and tendency to host these expensive dinners, which was half of why they'd ducked out.
"I meant to warn you!" one of them said.
Waiting for the train, I ran into the girl I'd been sitting across from at dinner. We ended up splitting a bag of chips she'd picked up at the bodega while waiting for the L because we were still hungry. Turns out $100 of perfectly roasted artichoke split with 8 other girls isn't that filling.

Ellen Cushing:
A couple years ago, in honor of our 10-year (!!) anniversary, my best friend and I decided to go out for a Very Fancy Dinner. We each wore bright red lipstick, and I'm pretty sure she wore a fur coat, and in retrospect we must've looked like grade-A loons, so dressed up on a Tuesday night at an impossibly-nice-for-24-year-olds-making-no-money-but-definitely-not-fancy-in-any-empirical-way New American restaurant in downtown Oakland. She got salmon and I got, I think, an entire roasted chicken and we split a couple bottles of nice wine. I believe the total came out to about $70 each. To this day it remains the loveliest date I've ever been on.

Anonymous:
Our friends were in from out of town, so we met at an Italian place on the West Side. The entrees were in the standard $20-$25 range and we shared a couple of appetizers. I know nothing about Italian wines so I deferred to our friend, who chose the first bottle. I had no idea what he ordered, but figured it was reasonably priced since none of us are ballers. At some point, we announced that dinner was our treat. After which they ordered five more bottles. End result: $460, before tip. My boyfriend and I paid for the whole thing. I'm really bad at confronting monetary situations, and I'll seldom ask for money that I am owed. When I do, I feel guilty. I didn't try to get out of it, but I feel like I should have. We put it on a high rewards credit card, and we CAN afford it, but only at the cost of other things and it just felt crappy. I was in a really bad mood for a few days. If I had eaten something exotic or exceptionally delicious, I wouldn't have felt as hurt, but I later saw the wine for $12 in a liquor store and I was like, "aww, man."
Jazmine Hughes lives in Brooklyn.
Photo: Mith Huang
---
Support The Billfold
The Billfold continues to exist thanks to support from our readers. Help us continue to do our work by making a monthly pledge on Patreon or a one-time-only contribution through PayPal.