How the Baby-Sitters Club Does Money: Kristy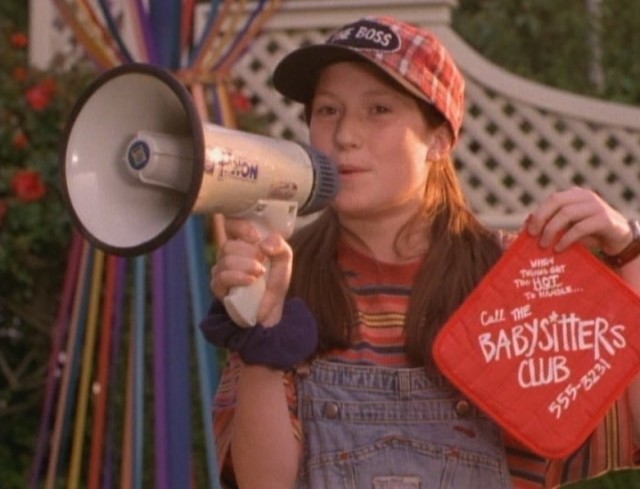 Kristy Hansen-Thomas has a mommy blog. She carefully tracks the money she earns from sidebar ads and the occasional product endorsement, which, of course, she clearly identifies as per FTC regulations.
The mommy blog doesn't earn her a lot of money, but that isn't the point. Kristy has always had three loves: kids, small businesses, and softball, and she's managed to structure her adult life to fit all of them in like puzzle pieces, pressed up next to "job" and "housekeeping" and "spouse" and the other responsibilities that a grown woman takes on, sometimes without choosing them.
Watson was adamant that Kristy would need to find her own way in the world, that she couldn't rely on his bank account for support; and, for the most part, Kristy did. She thought that she would start her own business after college, and tried first to become a kids' softball equipment wholesaler (the market was too crowded) and then tried to open an ice-cream store called Stoneybrook Scoops (failed after a year).
Watson did quietly provide financial support when the Hansen-Thomases decided to first foster and then adopt a pair of siblings; they also have two biological children along with a cat, a dog, and a parakeet. Kristy coaches youth softball and works part-time in a bank because she wants to show her children the example of a woman working and because, honestly, they need the money. She still thinks about starting her own business, not the mommy blog business but a real business, maybe after the kids are grown.
As for the BSC, well — Kristy tried to encourage her oldest daughter to take up the BSC mantle, but times have changed; nobody wants an 11-year-old girl to babysit their kids anymore, and in fact Kristy had a nosy neighbor knock on her door, daughter and younger children in tow, and threaten to call the cops if she ever caught Kristy's kids unsupervised again.
"They were supervised," Kristy said. "She was babysitting." But it isn't the same, anymore. In a single generation, letting a preteen watch younger siblings has slid from an indicator of maturity to a sign of child neglect.
So the BSC lies dormant, and Kristy watches her children grow up in a world that feels so different from the one she experienced — a world that's a bit overscheduled, where they have to count every penny, where a mom has to be a full-time babysitter even when her oldest kid is in eighth grade.
She just finished blogging about that one. It got re-blogged in the free range parenting crowd (and then in the helicopter parent crowd) and went a little viral. Every click gets her a bit more ad money. Kristy watches her Google Analytics, knowing that this little "blog business" will work for now and that someday she'll have another great idea.
---
Support The Billfold
The Billfold continues to exist thanks to support from our readers. Help us continue to do our work by making a monthly pledge on Patreon or a one-time-only contribution through PayPal.