What Cake Are You Wearing?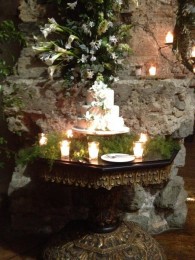 Wedding cakes are BACK, y'all, and better than ever, by which we mean, of course, fancier and more expensive.
Indeed, about 90 percent of couples offer cake, in some form, at America's two million weddings a year. That's a yearly expenditure of $2 billion, according to Mr. Markel, so cakes are still a vibrant segment of the $86 billion bridal industry.
After the 2008 recession, supermarket cakes for under $200 gained in popularity. But nationally, the average cost of wedding cakes has doubled over the last decade, and now "the average price per slice is about $7," Mr. Markel said, citing a low of $2.50 a slice in smaller areas to $15 and more in San Francisco and New York. "A few years ago, it was just, well, you get a wedding cake," said Mary Giuliani, a high-end caterer in Manhattan. "These days, it's like, what cake are you wearing? It's so much more stylish, tied in with couture."
$7 a slice! Who knew wedding cake was the most expensive cake you could buy? Okay, fine, maybe you did, but it's still shocking, isn't it? So how does the Wedding Industrial Complex manipulate its victims into paying such an exorbitant price? How else? TRADITION.
Laura Pietropinto, a Broadway assistant director who is to marry her fiancé, Justin Restivo, next month at the Metropolitan Club, said her five-tier cake (being made by Mr. Ben-Israel) will incorporate their white-and-pink wedding colors. Each tier will display textures from her gown. "It's the symbol of your union and your future together," she said. "We never considered not having a cake," she added, talking about their $3,000 cake. "It was about tradition."
The article goes on to detail more than you ever wanted to know about bare cakes; ombré cakes; rustic cakes; cakes that are taller than the average Billfold writer; and gluten-free, sugar-free, vegan and organic cakes, which, um, why bother? Serve a block of cold tofu on a cake plate instead and save yourself a thousand dollars. But the best detail of all the piece saves for last.
Couples are increasingly insistent on deliciousness, as well. "It used to be at weddings that there was this large decorative cake that tasted terrible and then a whole slew of enjoyable desserts on a buffet," said the celebrity chef Geoffrey Zakarian, who offers wedding cakes focusing on seasonal ingredients, fresh-baked cake and fresh buttercream at his restaurant the Lambs Club. "Now everyone wants the cake to be as wonderful as the food."
Can you imagine? $7 a slice, on average, and people actually want it to taste good? The nerve.
Of course, some people still refuse to bow to convention, preferring cupcake towers or sculptures of macarons or to park a Treats Truck outside. The last few weddings I've attended haven't had cakes or cake-equivalents; dessert has been a no-ceremony affair. Certainly it makes sense to me as a way to save money. On the other hand, they are pretty, and yummy, and the couple cutting the cake together makes a cute picture. Where do you come down on the issue: Ridiculous Expense or Sweet Tradition?
RELATED: Wisconsin police bring cake to celebrate the state's first day of same-sex weddings. Now that's cake we can believe in.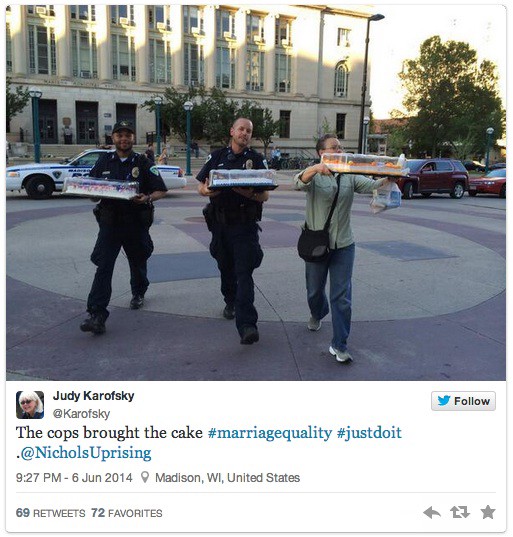 ---
Support The Billfold
The Billfold continues to exist thanks to support from our readers. Help us continue to do our work by making a monthly pledge on Patreon or a one-time-only contribution through PayPal.