How Muppets Do Money: Big Bird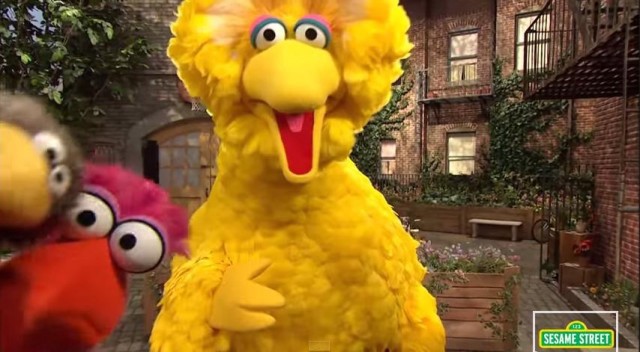 Big Bird didn't want to talk to me about money.
"I'm doing fine," he said, smiling. "What else is there to say?"
So I did an investigation of my own.
Big Bird still lives in the nest on Sesame Street where he grew up. By now, the nest's value has appreciated considerably, especially after Sesame Street's period of gentrification in the mid-1990s. You no longer see little girls walk down the street by themselves to buy "a loaf of bread, a container of milk, and a stick of butter" for their mothers, and the corner shop has been replaced by a Coffee Plant franchise.
Big Bird gets on a bus every morning and goes to work, and as far as I can tell doesn't talk about his job much. He doesn't have a LinkedIn. I asked Snuffy what Big Bird did for a living, and got "Ohhhhhh, he's in tech somewhere."
Even without his LinkedIn, Big Bird has a bit of an online presence, mostly through his charitable donations. Big Bird has, thus far, donated to 57 Kickstarters, 3 IndieGoGos, and 9 Patreons. He also supports Oscar the Grouch's non-profit Grouchketeers, which provides educational and after-school opportunities for underprivileged children and monsters. Oscar was not particularly pleased to admit this, but he's very proud of the work that Grouchketeers has been able to do with Big Bird's financial assistance.
He used to travel frequently, mostly with large tour groups, but I got the impression that Big Bird hasn't been able to do that as much recently due to the demands of his job. He is, however, very active in neighborhood activities, and a fixture at the frequent block parties, picnics, and other Sesame Street gatherings.
I was able to get in touch with the now-retired social worker Miss Finch to ask her what she knew about Big Bird's life and career. She was extremely huffy, and said that my questions were inappropriate. She mistakenly assumed I was implying that Big Bird had somehow achieved success despite his time in the foster care system. Then she told me that it wasn't a "system," and that I should go visit the website to educate myself.
On the Feathered Friends Foster website, Big Bird is listed as a high-level donor. The highest possible level.
I couldn't get many of the other Sesame Street residents to speculate on Big Bird's net worth or money management. Grover said Big Bird tipped well, but that was about it. Oscar, of course, had the last word.
"He's the millionaire next door," Oscar said. "Isn't it terrible?"
Previously in How Muppets Do Money: Prairie Dawn
---
Support The Billfold
The Billfold continues to exist thanks to support from our readers. Help us continue to do our work by making a monthly pledge on Patreon or a one-time-only contribution through PayPal.