The Invisible Labor of The Fashion Blogger Boyfriend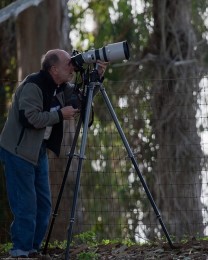 On just about any personal style blog, you'll see pictures of a pretty, young woman who rarely smiles, posing in carefully styled outfits on sun-dappled streets or in grassy fields. Sometimes, there's a dog in the picture, or a coffee cup from an indie purveyor.
What you won't see is the guy — and it's usually a guy — taking the photos. Many personal style bloggers enlist their boyfriends or husbands to be their photographers. But unlike when, say, Richard Avedon used Audrey Hepburn as his muse, some of these guys aren't an equal part of the collaboration — a few are even anonymous.
"You'll see these poor men during Fashion Week," says Bryan Yambao of the blog Bryanboy. "It's sad to see them tailing the girls. It's always the girls towering in sky-high heels and the little guy with the two camera bags taking her picture in the street. They're like little puppies following the girls' every whim."
Kayleen Schaefer at the Cut takes a look behind the DSLR to unveil the secret weapon of successful fashion bloggers everywhere: THE MEN.
(I want to say this is hetero-normative but I also want to believe that lesbians are too cool for personal style blogs?)
I am sure that creative collaboration is fun and rewarding for some couples — though in my own life, doing 'projects' with my significant other is more romantic in theory than in practice (in practice I like to work on things by myself and MY WAY). And I'm sure / I hope the dudes are benefiting from all that sponsored post cash money that these types of blogs can bring in. Plus you know, love. And men's role in society is to serve women. Et cetera.
That said, I hope that if I'm ever in need of a sad puppy to follow me around I can afford to pay them.
Photo: mikebaird