Shopping For Homes Among The Undead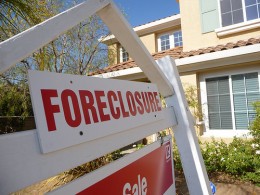 My wife and I began searching for a house in 2008, just as the market was crashing, just as those first waves of foreclosed homes and short sales were hitting the market. Priced out of Los Angeles real estate for so long, we were finally able to afford houses whose prices had been ridiculously inflated only six months earlier. Occasionally we went to those open houses with smiling realtors and bowls of candy set out, where owners had recently landscaped or repainted to enhance value, but we could never seriously consider any of these. The homes that mattered had lock boxes, were abandoned or in the process of being abandoned — the ones that reeked of disrepair and despair.
With "Are Foreclosed Homes the New Haunted Hauses?" Colin Dickey writes about zombie homes and uncanny real estate for the Paris Review Daily. It is so good.
Oh and obviously the best part: "We were about to leave when our realtor noted something we'd overlooked: scrawled in pencil on the living room wall were the words, a murderer lived here."
Genius.
Photo: Jeff Turner