Solving Tech's Diversity Problem Where It Starts: In School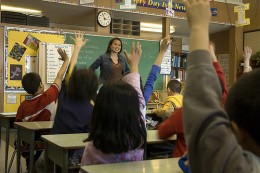 "All I knew back then was that I loved math," Battle said. "I didn't even know the [STEM] world existed, and nobody told me. We need to make sure little African-American girls know that this world exists."
Nona Willis Aronowitz's latest for NBC News is an informative look at the lack of diversity in the STEM fields and what can be done about it. An analysis of last year's College Board data shows that of 30,000 students who took AP Computer Science exam in 2013, only 8% and 3% of test takers were Hispanic and African-American, respectively.
Diversity in STEM fields is a national problem, but it varies by region: In states like Texas, California, New York, and Maryland, the statistics are not nearly as dismal as in states like Mississippi and New Mexico, where no African-American students took the AP Computer Science exams. In fact, in Mississippi, only one student took that exam, period. No students took it in Wyoming.
Many educators and legislators argue that "it all comes down to funding elementary and high schools early on," with efforts like the STEM Opportunities Act of 2013 (currently stalled in the House) that would bring additional research funding to places like historically black colleges and other minority-serving institutions. Things like Mississipi's Louis Stoke's Alliance for Minority Participation, which recruits minority students to STEM disciplines, are difficult to fund, but have been successful:
Funded by the National Science Foundation, the program provides scholarships for around 300 promising minority students statewide who are referred by faculty or, in some cases, recruited in high school. The program also helps the students to attend conferences, pursue graduate education, find employment and score internships.
Chris Bolden, 22, came to LSMAMP from Natchez, Miss., where he was raised by a single mom making just over minimum wage. "I pretty much figured I wouldn't be able to afford college," he said. But it seemed possible once he heard about the program at USM through an African-American student named LaShonda, who paid a visit to his high school class. He ended up getting a full scholarship studying microbiology and plans to go for his Ph.D. He and the other LSMAMP students make the rounds at schools around the Jackson and Hattiesburg area, encouraging kids to do the same.
Photo: audio-luci-store.it