Parents Are Unhappy? It's the Economy, Stupid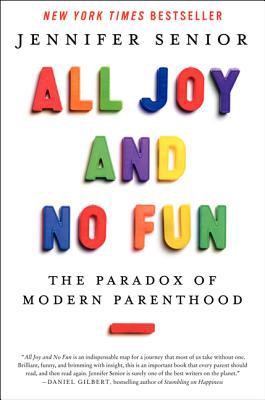 Parents are unhappy! Have you heard? Maybe from Gray Lady conservative Ross Douthat ("When I became a father, I expected to change in all the predictable ways … What I didn't expect is that parenthood would make me such a whiner") or Slate's Ruth Graham ("My Facebook feed is an endless stream of blog posts and status updates depicting the messy, tedious, nightmarishly life-destroying aspects of parenting"). Raising kids in our contemporary world is, as Jennifer Senior's new book puts it, All Joy and No Fun — and, as Lori Gottleib recently told us, no sex.
This is a sobering phenomenon, or it would be if it weren't totally overblown. Angst plays better on social media than humble gratitude. If I blabbered on Twitter about how awed I am on a daily basis by the tiny, hilarious critter who toddles around my house saying "Hi!" and "Bye!" to picture frames, you'd be howling "STFU Parents." Whereas everyone can relate to the indignity of scrubbing a baby butt free of gluey blueberry poop.
The larger point, though, is that parents seem extra stressed out these days, and for that we can blame the economy and no-holds-barred American capitalism. Senior lays out her case in an interview with The Rumpus:
They're terrified about the kind of income inequality their own child will face, and they feel they have to put their kid in perfect standing to beat that. We definitely know millennials are experiencing more income inequality. Millennial parents fear for their own lives. They're wondering how they're going to make ends meet and raise their own kid, who in turn has to be a super-kid. I think eighty percent of the pressures in parenting are economic. If you look at E.U. countries with state support, parents are happier than non-parents. To me, that means that when the state picks up the slack, things are better.
Are families really happier in the generally affluent, socialist-y European Union? Why yes they are, according to a Unicef report from 2007 and another from 2013. In fact, the extra-progressive Netherlands, home to pot, prostitution, and wooden shoes, tops both lists with highest family well-being. In those glorious, 2007 pre-Great Recession days, the US came in 20th, just ahead of the UK (21st); the more recent report reflects that the US has dropped to 26th, just ahead of Lithuania, Latvia, and Romania.
Unicef stresses that the data reflect much more than predictable differences between rich countries and poor ones. In fact, "there does not appear to be a strong relationship between per capita GDP and overall child well-being. The Czech Republic is ranked higher than Austria, Slovenia higher than Canada, and Portugal higher than the United States." Here in the US, though we are rich, we are anxious about our children's future, which leads us to try to raise "super-kids," which leads us to become whining crazy-people, at least on social media. Hopefully universal pre-K will help make it better.
---
Support The Billfold
The Billfold continues to exist thanks to support from our readers. Help us continue to do our work by making a monthly pledge on Patreon or a one-time-only contribution through PayPal.